Klyde Warren Park Parking
Conveniently located on top of Woodall Rodgers Freeway in Downtown Dallas, Klyde Warren Park is a perfect area for both relaxation and various activities. If you're planning a trip to the urban city park, Parking Access will provide directions and help drivers get a safe parking space. Discover the closest car parking facilities, daily costs, and information about meters and on-street restrictions. To avoid traffic, take advantage of the low-cost public transportation system running to the district. If you must drive, use our tips to find a convenient spot in the local lots in no time.
Affordable Parking Near Klyde Warren Park
The following self-parking structures have a $10 daily rate and are within walking distance.
A: 2000 McKinney

: 2000 McKinney Ave.

B: Park District Dallas

: 2199 Olive St.

C: Park Fast

: 1821 N. Pearl St.

D: 1900 Pearl

: 2221 Munger Ave.

E: Parkview at 1920 McKinney

: 2149 N. Harwood St.

F: McKinney & Olive

: 2240 N. Harwood St.

G: Ross Ave. Garage

: 2000 Ross Ave.

H: Bryan Tower Garage

: 719 Olive St.

I: The Crescent

: 2101 Cedar Springs Rd.
Find the listed Klyde Warren Park parking locations below.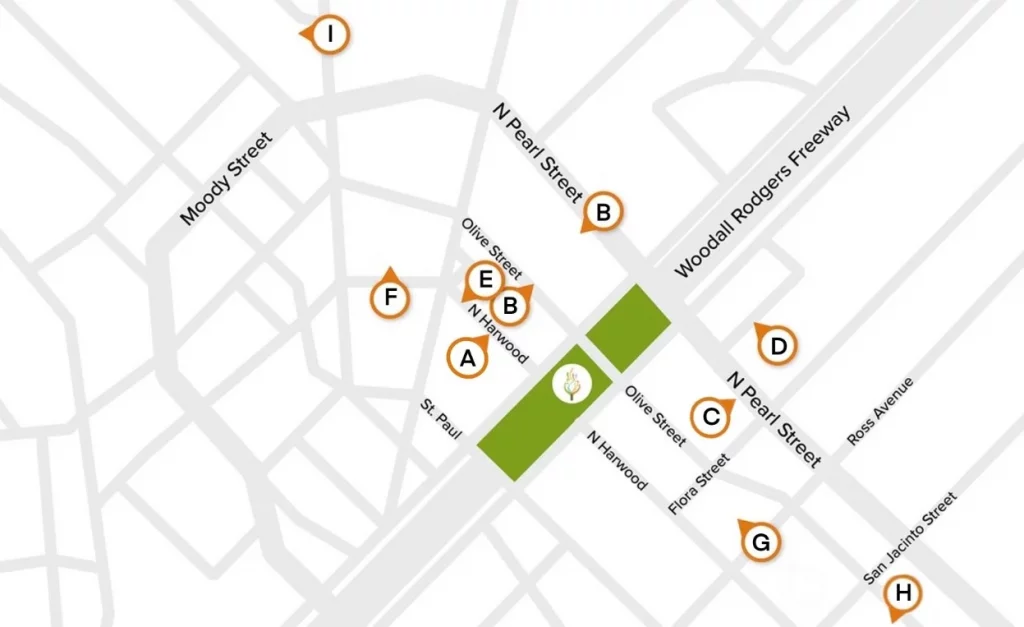 Valet Parking Availability
Mi Cocina at 2000 Woodall Rodgers Fwy provides a convenient $15 valet service for park visitors. However, if you grab a bite at this fantastic Mexican restaurant, you'll get parking validation and pay only $5.
It's no valet, but the Dallas Museum of Art offers automated parking and contactless payments for $15. The underground garage is open from 10 AM to 9 PM. 
Metered Spots Around the Park
On-street parking spots are available on several nearby streets. The time limit is two to four hours, so these are more suitable for short stays. Parking meters are in effect from 7 AM to 6 PM, and the rate is $2 per hour at most downtown locations. Regulations vary, so read the signs carefully to dodge pricey Dallas parking tickets.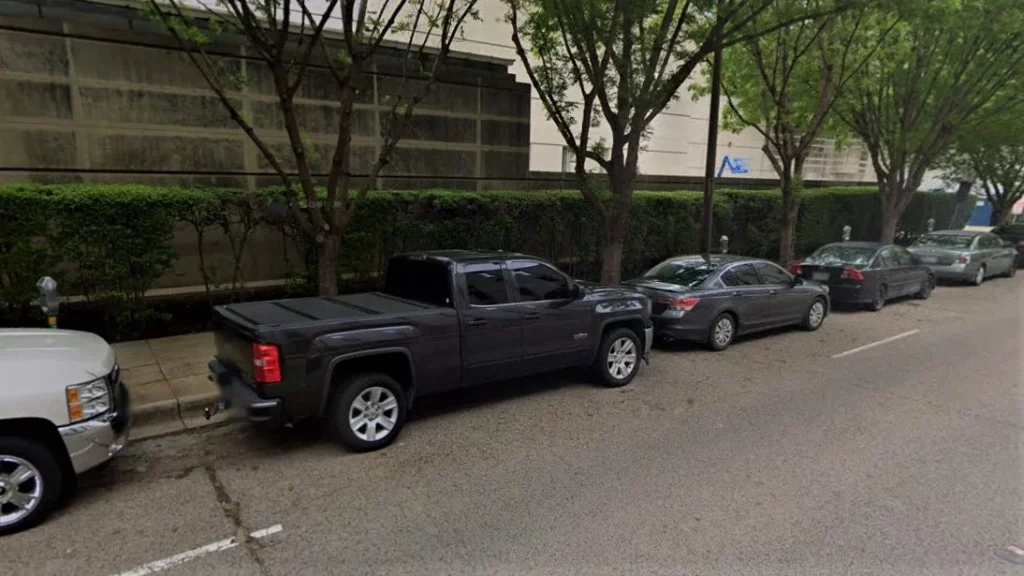 Take Public Transportation
Both Pearl/Arts District Station and St. Paul Station are within a 10-minute walk of the park. Use DART's Blue, Green, Orange, or Red Line to get to either. A local day pass is $6. 
Plenty of DART buses also stop on the streets around the park, including 1, 209, 237, 239, 305, 306, 308, and 378. A single-ride cash fare for bus rides is $2.50. Click here for additional info about all DART services.
You can use the M-line Trolley, which stops by all major attractions, hotels, and parks, including Klyde Warren Park. There's no fixed fare; name your price and drop cash in the fare box. See the route map & schedules.
Find Parking in the Dallas-Fort Worth Metroplex
Aside from Klyde Warren Park parking, we provide information on many attractions and venues in the DFW metroplex region.
We can also help you find and reserve cheap DFW Parking and Dallas Love Field Parking in no time.