This post also contains affiliate links and we will be compensated if you make a purchase after clicking on our links.
Famous for its weekly rodeos, Cowtown Coliseum also hosts other sports games and concerts. The arena is located in Fort Worth Stockyards, a historic city district, and it's easily accessible by car, van, or public transportation. Our guide will help you find a safe place to park at a low price and near the multi-purpose venue. Learn about the main Cowtown Coliseum parking lot, other local inexpensive structures, and free street spots. Whether you decide to drive or use a city bus, purchase tickets in advance for all events and performances. Use our tips to have a hassle-free visit, even on busy weekends.
Parking at Cowtown Coliseum
The Cowtown Coliseum parking lot is right next to the venue and offers a limited number of parking spaces. If you plan to use it, be sure to arrive early. Here are the current parking fees.
The Pay by Plate system is in operation; enter your license plate number at the kiosk to pay. It's placed at the entrance, next to a Stockyards sign with all the info.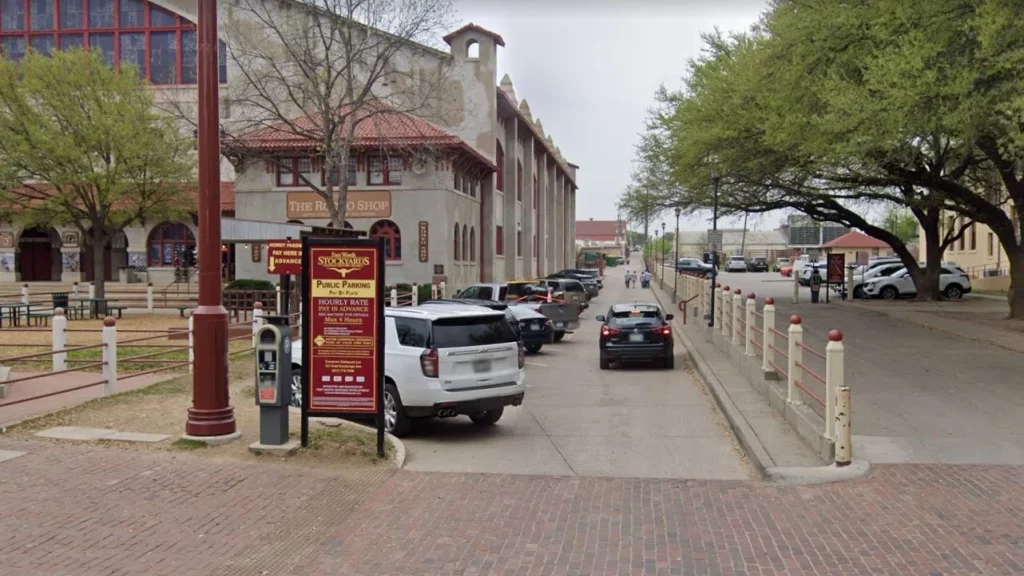 Valet Service
Provender Hall at 122 E. Exchange Ave. is just a minute away and offers convenient valet parking. Here are the rates:
$15 for the first 3 hours;
$20 for over 3 hours.
Hours vary according to the day, but the service is available until 10 PM or 12 AM.

Additional Nearby Options
If the main lot is full, consider using one of the ten closest car parking lots listed below. According to Forth Worth Parking, the weekend daily rate in all of them is $10, while event fees vary. 
| | | |
| --- | --- | --- |
| Parking Lot | Address | Walking Distance |
| Livestock Exchange Building | 131 E. Exchange Ave. | 1 minute |
| North Brick Lot | 141 E. Exchange Ave. | 2 minutes |
| Dirt Lot | 157 E. Exchange Ave. | 3 minutes |
| Adobe Lot | 2326 N. Main St. | 4 minutes |
| North of East Exchange Ave. | 151 E. Exchange Ave. | 3 minutes |
| Kerby A Lot | 2341 N. Main St. | 3 minutes |
| Leddy Lot | 2455 N. Main St. | 2 minutes |
| Horseshoe Hill Lot | 2457 N. Ellis Ave. | 4 minutes |
| Lower Lot | 203 NW 24th St. | 5 minutes |
| Saunders Park Lot | 141 NE 23rd St. | 6 minutes |
See the area map here.
Street Parking Availability 
Alternatively, you may park on the street if you're lucky enough to find a vacant spot. Free two-hour parking is available on E. Exchange Ave. from 8 AM to 6 PM. The number of spaces is limited, so it's almost impossible to find one during peak hours or before events. Arrive early, and please read the signs carefully to dodge parking citations.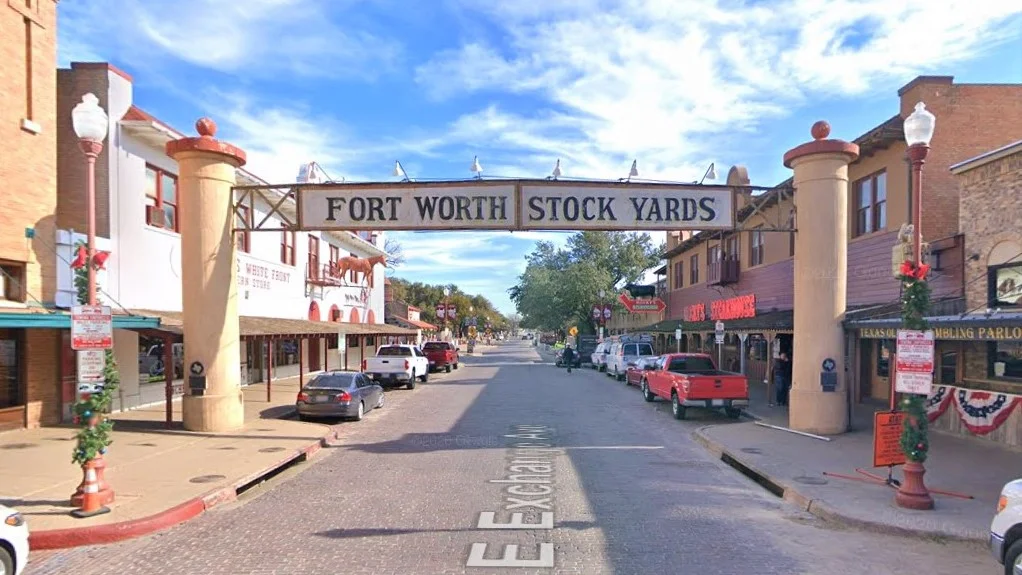 Public Transportation
Trinity Metro buses 012, 015, and 045 pick up and drop off on N. Main Street, steps away from E. Exchange Ave. Routes 012 and 015 operate daily to and from downtown Fort Worth, while 045 buses serve Tarrant County College. A local bus fare is $2. If you need a ride to Dallas/Fort Worth Airport, pre-book a DFW Airport Shuttle.
Park in the Dallas–Fort Worth Metroplex Easily
In addition to Cowtown Coliseum parking, we help drivers find convenient spots near the following locations in the DFW metroplex.
Use our assistance to reserve discounted DFW Parking or Love Field Airport Parking.