This post also contains affiliate links and we will be compensated if you make a purchase after clicking on our links.

The Battery Atlanta Parking
The Battery Atlanta and neighboring Truist Park provide an unforgettable entertainment experience an easy drive away from downtown Atlanta. The mixed-use complex, including merchants and bars, is located in Cumberland and hosts many special events. If you plan to attend one, we will help you locate multi-storey parking garages near the venue in no time. You'll also learn about free and on-street parking or how to get validation using store receipts. 
While limited metered parking is $7/hour, event rates and services at the official parking facilities vary. The following decks are available for all visitors; click on any for directions, or see the Battery Atlanta parking map below.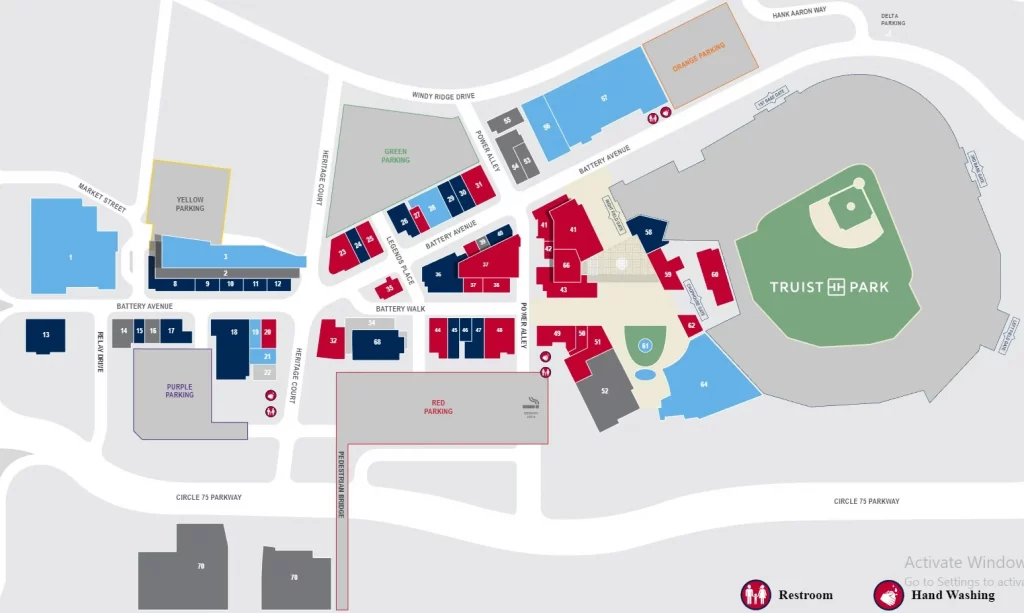 Visitor Parking on Non-Event Days
While non-event parking cost in the Orange Deck is $7/hour or $35/day, the following rates apply in the Red, Silver, Green, Yellow, and Purple Decks.
| | |
| --- | --- |
| Duration | Parking Rate |
| 0–3 hours | Free |
| 3–4 hours | $10 |
| 4–5 hours | $15 |
| 5–6 hours | $25 |
| 6–24 hours | $30 |
Hyundai Valet Parking is temporarily unavailable, but it used to be on the third level of the Red Parking Deck. The rates are as follows: $7 for 1 hour, $8 for 2 hours, $10 for up to 6 hours, and $35 per day.
Event Parking at The Battery Atlanta
Special rates start applying four hours before the scheduled event time and end two and a half hours after it. See the exact price for all events in the following sections.
Rates for Truist Park Events
If going to an Atlanta Braves game, park in the Green, Red, Yellow, or Purple Deck for the following price.
| | |
| --- | --- |
| Duration  | Game-Day Rate |
| 0–2 hours | Free |
| 2–3 hours | $20 |
| 3–4 hours | $30 |
| 4–24 hours | $50 |
Truist Club Valet parking members can take advantage of valet service in the Orange Deck. Look into the Truist Park Parking guide for more details.
Rates for Coca-Cola Roxy Events
You may use the Red, Purple, Yellow, or Green Deck for any Coca-Cola Roxy event. The first two hours are complimentary, and then the $20 rate applies. The Orange Deck provides valet service for all events, while the Hyundai Valet rate is $30.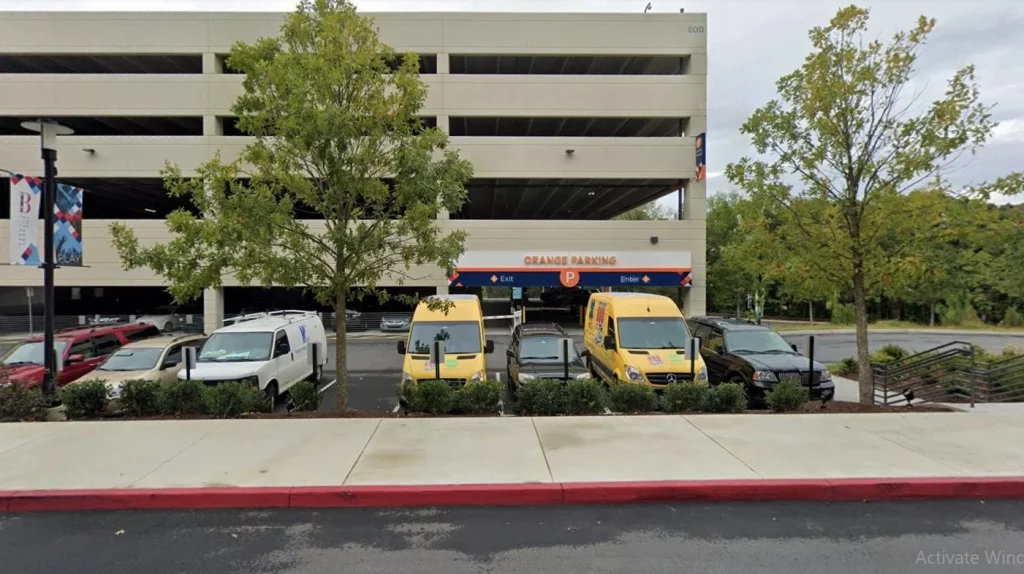 How To Validate Parking
On-site merchants and restaurants offer parking validations, which apply in the Red, Green, Purple, and Yellow Decks on event days. Any visitor who spends $50 will receive validation upon request. Note that you can spend $50 at one store or aggregate receipts from multiple vendors.
Transportation Alternatives
CobbLinc's Route 10 and Route 15 pick up and drop off within walking distance. Route 10 connects the Marietta Transfer Center and the MARTA Arts Center Station in Midtown Atlanta, which is served by several bus and subway lines. The one-way fare is $2.50.
Circulator Blue and Green also operate within the area and stop by The Battery daily. Working hours vary according to the day, but they start running around noon. Click on any link for additional information.
Find Parking in Atlanta in a Few Clicks
Parking Access offers valuable information regarding countless parking-related topics, such as Atlanta parking tickets or ATL parking. We can also help you find affordable spots near popular city locations, including the following.