Need guidance on parking tickets in Cincinnati? You're in the right spot! Here's an in-depth guide on how to avoid getting a Cincinnati parking ticket and how to take care of it if you get one. You'll also discover all payment methods and find a few helpful tips.
How To Avoid Cincinnati Parking Tickets
To help avoid costly parking infractions, you can learn about Cincinnati parking rules and meter rates. Staying up to date on the best alternatives to on-street parking can also help. Parking Access has already taken care of the heavy research for you! Keep reading to learn how to avoid getting a parking ticket in Cincinnati!
Cincinnati Street Parking in a Nutshell
On-street parking in the Central Business District and Over-the-Rhine is enforced Monday through Saturday from 9 AM to 9 PM. Parking is free for the first 10 minutes, but you'll need to pay if you intend to park longer. In other neighborhoods, meters are in effect from 8 AM to 6 PM. During Sundays and holidays, free parking is available in all city neighborhoods.
Pre-Book Parking
Pre-booking parking is excellent for helping drivers manage their time more successfully, and it helps avoid parking tickets. If you're headed to the airport, zoo, or popular sports venues, check out the following guides to find convenient parking without any hassle:
Use Public Transportation
Even though the best way to get around Cincinnati is by car, there are several forms of public transportation to take advantage of to avoid parking fines. The Southwest Ohio Regional Transit Authority (SORTA), the Transit Authority of Northern Kentucky (TANK), and the Clermont Transportation Connection provide bus services in Cincinnati. Almost all of these transit lines aim to improve traffic congestion in the Downtown area. 
Cincinnati Parking Violations & Penalties
The Cincinnati Parking Violations Bureau can answer any questions you have regarding penalties and procedures related to your ticket. To contact the Bureau, call (513) 352-4527. Office hours for the Cincinnati Parking Violations Bureau: Monday through Friday, 8 AM to 5 PM.
When you get a parking ticket, there will be a code on it. You can match your code to the one on the following list to determine how much your fine is.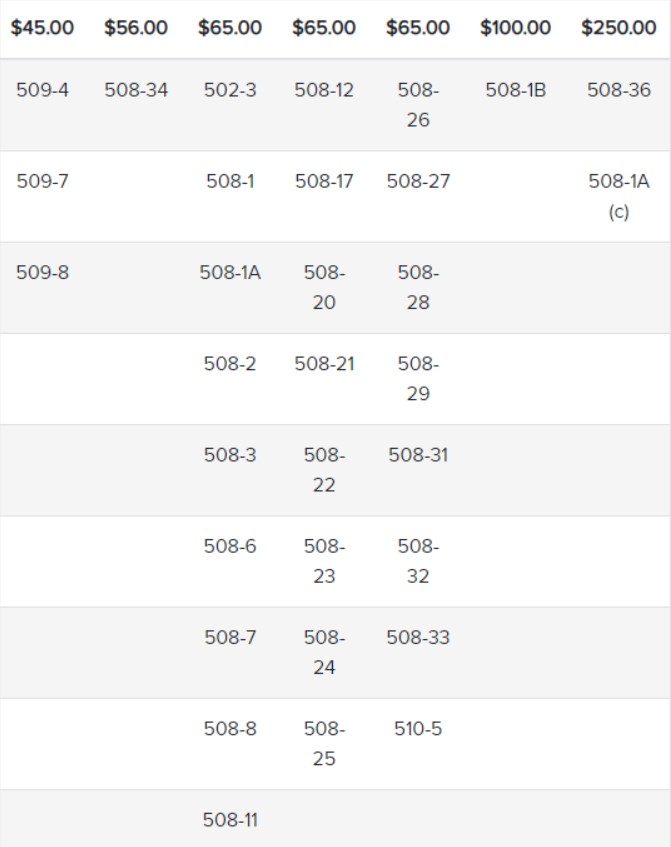 Dispute Your Cincinnati Parking Ticket
Whether you were parked correctly, there was no way to pay a meter, or your car broke down, there are more than a few reasons to justify a fine. To get it dismissed, though, you'll have to go through an appeal process.
You must request a hearing within 14 days of getting the ticket if you do not want to pay the fee. To start the appeal process, go to Citation Portal, fill out the form, and follow the steps to complete the process. It is also possible to begin the appeal process by requesting a hearing, and you can ask for it by letter or in person.
Pay Your Ticket Within 14 Days
If you don't pay your parking violation, you'll face outstanding fines and late payment penalties in addition to a base fine. It's essential to check with the jurisdiction where you received a ticket to determine the exact penalties. Any parking infraction fine not paid within 14 days will rise by $10, and the original fine of all violations doubles after 21 days.
Other ramifications that could occur from unpaid parking tickets include:
The longer you wait to pay the fees, the higher they will become.

Your automobile may be booted, in which case you must contact the city and pay your fines to have the boot removed.

Your car may be towed, in which case you must pay additional expenses.
Payment Methods
You can quickly pay for unpaid tickets by going online and using a debit or credit card. Alternatively, do it via mail or make in-person payments at the following address: Cincinnati Parking Violations Bureau, 805 Central Ave, Suite 110, Cincinnati, OH 45202.
If you go to the Bureau to pay for your ticket, you'll need to bring cash, a personal check, or a money order. You can mail a personal check or money order. However, note that a check wouldn't be acceptable if your vehicle was impounded or blocked. Regardless of the form of payment, you must include a copy of your ticket. If you lost the citation, get in touch with the Bureau to learn about the steps you must take to resolve the issue.
FAQs
How do I fight a parking ticket in Cincinnati?
The city council oversees the parking appeal or payment process. The best way to fight the ticket is in-person, at the City of Cincinnati's Office of Administrative Hearings, 805 Central Ave, Suite 110, Cincinnati, OH 45202. For more information about parking violations in Hamilton County, check out Parking Tickets Information.
How do I report a broken meter in Cincinnati?
Call 513-352-4527 to speak with someone from the City's Parking Enforcement and Meter Repair Section. 
Where should I pay a park for ng ticket in Cincinnati, OH?
You can pay for your Cincinnati parking ticket in person, over the phone, through the mail, or online. The following credit cards are accepted for parking fine payments: MasterCard, American Express, and Visa.
Fight Parking Infractions in Other Cities
Dealing with parking tickets is expensive and frustrating; avoiding costly fines is often as simple as taking necessary precautions and even arranging where you'll park ahead of time. That's where Parking Access steps in; we provide all the information you need to avoid, fight, or pay your citation wherever you are.
Aside from the Cincinnati parking ticket guide, we cover many other cities; go through the list below to learn more about: