Last Updated on August 10, 2022 by Snezana Grcak
UVU parking
Utah Valley University (UVU) is a public university in Orem, Utah founded in 1941. The campus offers several parking areas for visitors, students, and employees. Discover the most convenient lots and garages, get tips on securing parking permits, and learn about parking costs and restrictions in our comprehensive guide.
Visitor Parking at UVU
Visitors have several options for UVU parking. Note that payments are required on all lots from 5 AM to 10 PM, seven days a week. All visitor parking options are listed below.
Metered Parking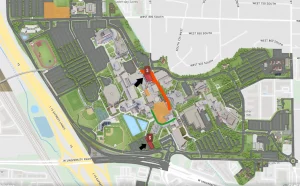 The campus offers two metered parking areas for visitors. See the map above for the location.
Facility 
Rate

Parking Garage Zone 80112

$1 per hour with 2 hours minimum

$10 daily maximum

L1 Pay Lot Zone 80101

$1 per hour with 2 hours maximum
Only credit card payments are accepted for these parking facilities. Visitors may pay at parking kiosks or via the Passport Parking phone application.
Pay-by-Phone Lots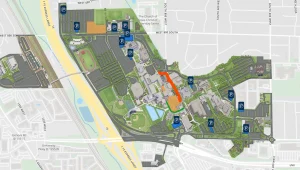 The map above displays 13 pay-by-phone lots accessible throughout campus. These surface lots charge $1 per hour with a 2-hour minimum and $10 daily maximum. Only payments made through the Passport Parking phone app are accepted here.
Yellow Lots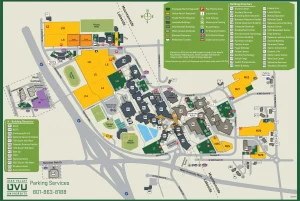 Visitors may purchase a Day Pass online and park in the campus' Yellow lots. Day Passes may be purchased by visitors, staff, students, guests, or faculty for $5 per day.
Permit Parking
While anyone can buy a Day Pass online and park in any of the campus' Yellow lots, employees, faculty, or students may find it cost-effective to purchase one-semester or two-semester parking permits online or at the campus' parking services building. Upon purchase, your license plate becomes your permit during the semester, so no physical permit is required.
For more information about parking permits, student parking, employee parking, and motorcycle and scooter parking, visit the UVU website.
Tips for Parking at UVU
In the morning, lots closer to campus buildings fill up faster, including Lots L3, L5, L6, L8, L14, M21, and M25. Plan well in advance when parking at these spots.
If the above are sold out, those visiting may consider parking in lots located a bit farther, including L9, L10, or M29.
Transportation Options
UTA bus lines 805, 807, 822, 830x, and 862 drop by UVU Station, an 8-minute walk from the campus. See schedules, stops, and fares at the UTA website. Students and faculty at UVU are eligible for free UTA passes with their UVU ID cards.
Alternatively, visitors may ride the UTA Frontrunner to Orem Central Station at UVU West Campus.
Parking Advice at Your Fingertips
Our experts can help you find the best parking lot in Utah. Read our guides on the state's most popular attractions, including:
In addition, our Salt Lake City International Airport parking guide may be helpful if you are flying out of the city!