SeaWorld San Antonio offers an array of exciting activities, family-friendly shows, and diverse events on a 250-acre land. The park is located less than 20 miles west of downtown and has a huge surface parking area. Whether you're coming for thrilling SeaWorld San Antonio rides or to get an up-close look at animals, we'll help you get a ticket and find convenient parking. You'll learn all about the park admission tickets, SeaWorld San Antonio parking prices, and top hotels in the area. Use all the info, the park map, and our helpful tips to have a stress-free day and enjoy your visit!
SeaWorld San Antonio Tickets & Passes
The best way to save up to 35% is to purchase SeaWorld San Antonio tickets online ahead of time. Prices and park operating days vary; we suggest getting your ticket at least ten days in advance to get the lowest rate! The list below includes expenses for all single-day and multi-day tickets.
| | | |
| --- | --- | --- |
| Ticket Type | Starting Online Price  | Full Price |
| Single-Day Ticket | $49.99 | $80.99 |
| 2-Day Ticket | $79.99 | $89.99 |
| 3-Day Ticket | $84.99 | $95.99 |
| Any-Day Ticket | $76.99 | $80.99 |
You could also purchase a 2022 Season Pass for as low as $104.99 and get unlimited admission through 2023. SeaWorld San Antonio also offers complimentary cards for teachers and preschool children, while groups of at least 15 people receive discounts!
SeaWorld San Antonio Parking in a Nutshell
San Antonio's SeaWorld has a large outdoor lot near the park, although the walking time depends on the location of a parking spot.
General parking tickets are available for purchase online and are valid for one of the scheduled operating days.

Parking tends to fill up quickly, so you may end up parking at the back of the lot if you arrive late. Visit an on-site parking toll booth to upgrade your SeaWorld San Antonio parking ticket to your preferred parking.

Up-close parking gets you near the park's main entrance and allows a shorter walk to the roller coasters.

If you purchase pre-paid parking online, you'll save even more time on arrival and be able to head to the park straight away.
The SeaWorld San Antonio parking lot map shows the location and size of the area.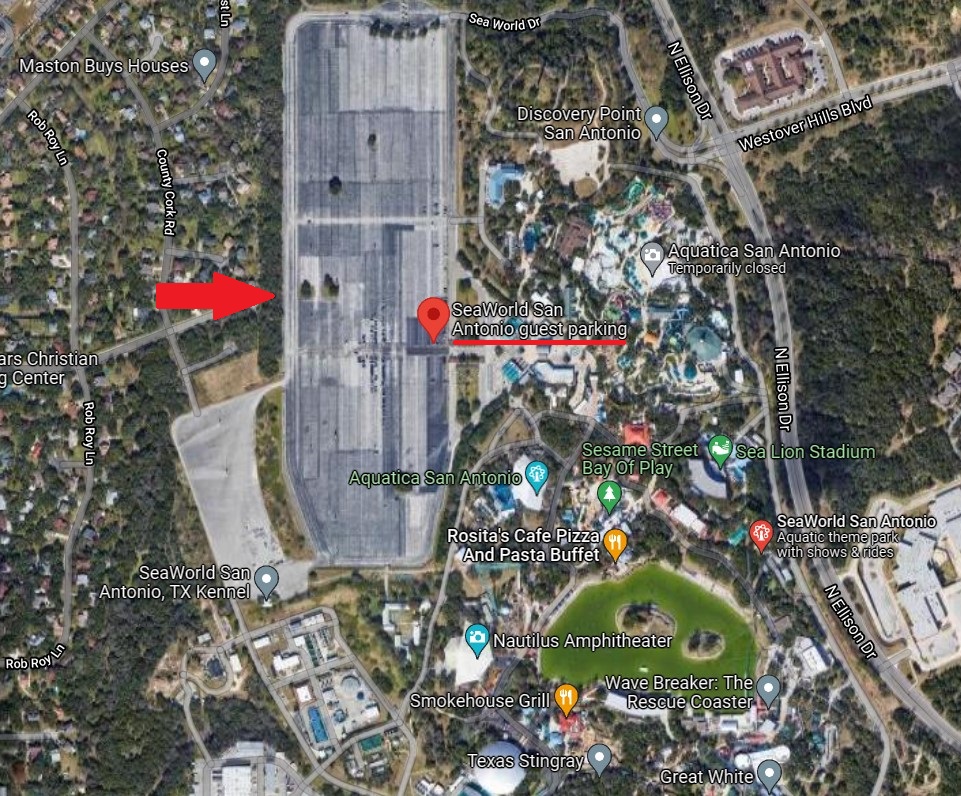 How Much Is Parking at SeaWorld San Antonio, Texas?
SeaWorld San Antonio parking prices vary based on the service and the day of reservation.
| | |
| --- | --- |
| General Parking | $30 |
| Up-Close Parking | $35–$40 |
The general fee is the same at other SeaWorld Parks, including SeaWorld San Diego and SeaWorld Orlando. Pre-paid parking passes are non-refundable.
Does SeaWorld San Antonio Have Free Parking?
If searching for a way to get free parking, SeaWorld San Antonio offers one option—season passes. If you purchase a 2022 pass, you'll get free parking and a 10% discount on various services within the park. An annual pass includes parking at no charge and 20% discounts in addition to unlimited visits.
ADA Parking at SeaWorld
San Antonio SeaWorld parking for guests with disabilities is available on a first-come, first-served basis. ADA spots are in front of the main entrance, and most of them are suitable for oversized vehicles like vans. Standard parking rates apply. If you need additional assistance, reach out to any attendant. SeaWorld visitors can rent a wheelchair for $20  or an ECV mobility scooter for as low as $85.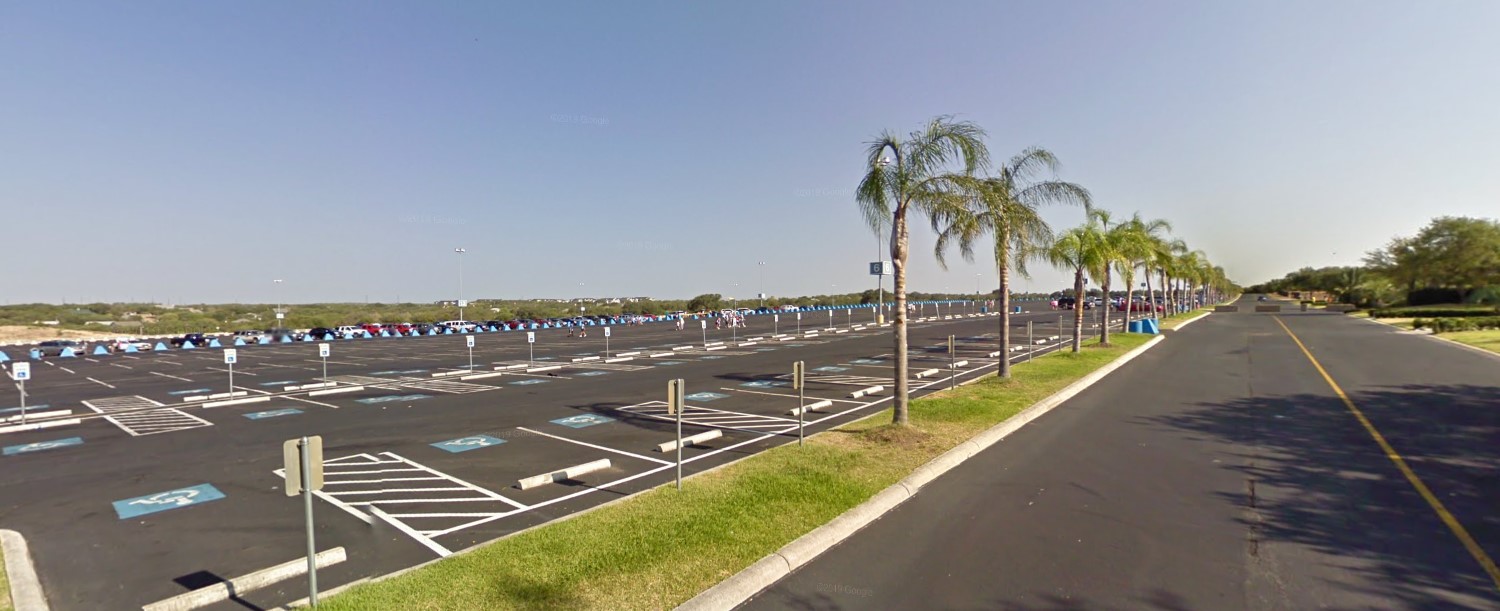 SeaWorld San Antonio Hotels
If you plan to stick around for a few days and properly explore the park, we suggest staying in a nearby San Antonio hotel. We listed the top five of SeaWorld's official hotel partners; most are located nearby and offer shuttles to the theme park. Click on any accommodation for additional info.
SeaWorld also provides special family vacation packages, so we suggest that you look into those offers as well.
Tips for Saving Time and Money
According to the park hours, SeaWorld San Antonio opens at 10:30 AM, so be sure to get there early to secure a convenient spot. Up-close parking is convenient, but there is one advantage for those who park at the back—it's easier to get out of the lot and avoid long queues. The park gets significantly busier once summer hits, so we recommend spring or autumn visits on non-event days. If you receive a SeaWorld San Antonio parking coupon, check out your special offers on the Promo Codes page.
Find Parking in San Antonio Easily With Parking Access
Here at Parking Access, you'll find helpful, up-to-date guides to finding parking at countless venues countrywide! We cover significant airports, arenas, stadiums, zoos, ski resorts, and much more. In addition to SeaWorld San Antonio parking information, city residents and visitors may use our help to learn more about the following.
Aside from on-site and off-site parking services and fees at SAT, you'll discover discounted parking deals at hotels like Homewood Suites and Courtyard San Antonio Airport. Use our safe booking system to reserve parking in no time!