San Francisco's largest convention complex, officially known as the George R. Moscone Convention Center, is located in the SoMa neighborhood. It covers three blocks and offers plenty of exhibition space and ample parking. If you're driving to the Moscone Center, this guide will help you get there and park your car quickly and without any hassle! You'll discover the Moscone Center parking garage location and prices, as well as the top budget-friendly alternatives. Use the info and our handy tips to save both time and money!
If you're not familiar with the area, use the following address for driving directions to the convention center: 747 Howard St, San Francisco, CA 94103.
Moscone Center Parking Garage
The official facility for all convention center visitors is the Moscone Center garage, open from 6 AM to 10 PM every day except on Thanksgiving. It's located at 255 3rd Street, a three-minute walk from the Moscone Center South entrance. The multi-level structure offers plenty of covered parking spots for standard-sized cars and has exits on 3rd Street and Howard Street.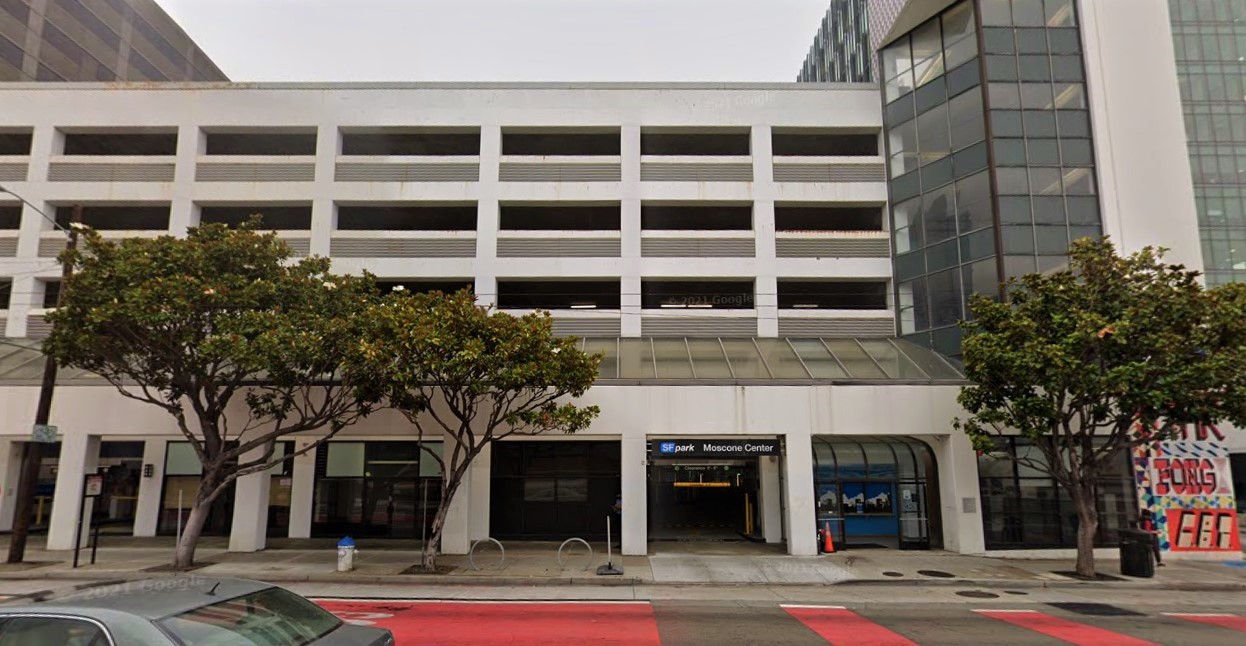 The Moscone Center parking height clearance is 6'6", and the visitors find it totally unsuitable for oversized vehicles. It's safer than it was, though, and a security guard is usually present in the later hours.
How Much Is Parking at the Moscone Center?
The Moscone Center parking cost in the main garage is $3 to $4 per hour, depending on the time of the day. Flat rates apply for specific times, events, or services; check out the complete price list below.
| | |
| --- | --- |
| Service/Duration | Parking Rate |
| Early Bird | $16 |
| 12 Hours | $29 |
| 24 Hours | $35 |
| Valet Parking | $38 |
| Event Parking | $7 – $55 |
| Monthly Parking | $345 – $435 |
Motorcycle Parking
Convenient parking stalls for motorcycles are placed behind the Moscone Center garage. Paying for parking is quick and straightforward—use your credit card or coins at one of the seven pay stations in the Moscone Center parking lot. 
Additional Parking Near the Moscone Center
While event rates vary, four-hour parking in the Moscone Center garage on a non-event day can cost up to $15. To assist you in finding a fairly-priced garage parking service, we looked into other parking facilities in the vicinity and listed those with similar or lower prices. The rates below apply for four hours of parking on a weekday. Event parking rates may differ.
| | | | |
| --- | --- | --- | --- |
| Parking Area | Parking Fee | Address | Walking Distance |
| 400 2nd St. Lot | $8 | 400 2nd St. | 10 minutes |
| 795 Folsom Valet Garage | $10 | 55 Mabini St. | 5 minutes |
| Archstone South Market Garage | $10 | 1 St. Francis Pl. | 6 minutes |
| Museum Parc Garage | $12 | 300 3rd St. | 4 minutes |
| Park Central Valet | $15 | 50 3rd St. | 5 minutes |
| Stevenson St. Garage | $15 | 155 Stevenson St. | 6 minutes |
Some visitors also recommend the Fifth & Mission/Yerba Buena Garage at 833 Mission Street, which is a safe nearby option but pricier than most garages. The hourly parking rate varies from $4 to $5, depending on the time of the day.
Street Parking Around the Moscone Convention Center
Metered parking is available on several streets around the George R. Moscone Convention Center, but it's not always available or easy to find. If you come across a vacant on-street parking spot, check the closest sign or parking meter for information. Most locations have time limits or other restrictions; be sure to comply with those regulations to avoid pricey parking tickets or towing.
Public Transportation in The Golden City
The best way to get to the convention center is by public transit—BART and MUNI are the quickest and most convenient options. The Montgomery Station is closer to Moscone North and South, while the Powell Street Station is near Moscone West. The walk to both stations takes less than 10 minutes. Caltrain offers another reliable transportation service, and it stops at the 4th St. & Townsend St. station.
Find Parking in San Francisco Wherever You Go
Here at Parking Access, you'll get all the relevant information and tips on finding the most convenient parking for the lowest possible price! In addition to the Moscone Center parking guide, city residents and visitors headed downtown can use our assistance to reserve parking near the following city attractions.
If you're flying out of San Francisco and looking for discounted parking, we have a perfect guide for you—check out SFO Parking.