This post also contains affiliate links and we will be compensated if you make a purchase after clicking on our links.
Discover the best deals and reserve a spot within minutes! You can get a discounted parking space at Prudential Center, several other arenas and stadiums, as well as numerous airports and cruise ports. All of that is possible thanks to Parking Access! We provide reserved parking tickets, clear and upfront pricing, guest reviews, and a complete guide on how and where to park. Discover Prudential Center parking prices during events and games, on-street parking information, and tailgating availability.
All About Prudential Center
Prudential Center is an amazing indoor arena situated in Newark, New Jersey. It is home to the New Jersey Devils, New Jersey Rockets, Seton Hall University, but it also hosts concerts and a variety of sporting events. Check out the upcoming Prudential Center events!
The multi-purpose arena is conveniently situated only two blocks from Newark Penn Station, and it's easily accessible via various public transportation services, including NJ Transit trains and buses, Amtrak, and PATH trains. This ground transportation option is recommended if you want to avoid driving and searching for a suitable parking spot.
The Prudential Center address is 25 Lafayette St, Newark, NJ 07102. If you're driving, keep reading our guide to discover the best spaces for your car. Safe visitor parking isn't always easy to find – so, we've listed everything you have to know about Prudential Center street location, driving directions, Prudential Center parking map, lots, groupons, and rates. 
Prudential Center Parking
All visitors looking for a close-in parking facility will be happy to hear that Prudential Center offers several day parking options within a short walk of the arena. Avoid going through countless sites in search of event parking rates and locations—we discovered all the official New Jersey Devils parking information. The main Prudential Center parking garage presented by Ford is the most convenient but also priciest option, so we suggest going through all the services before booking.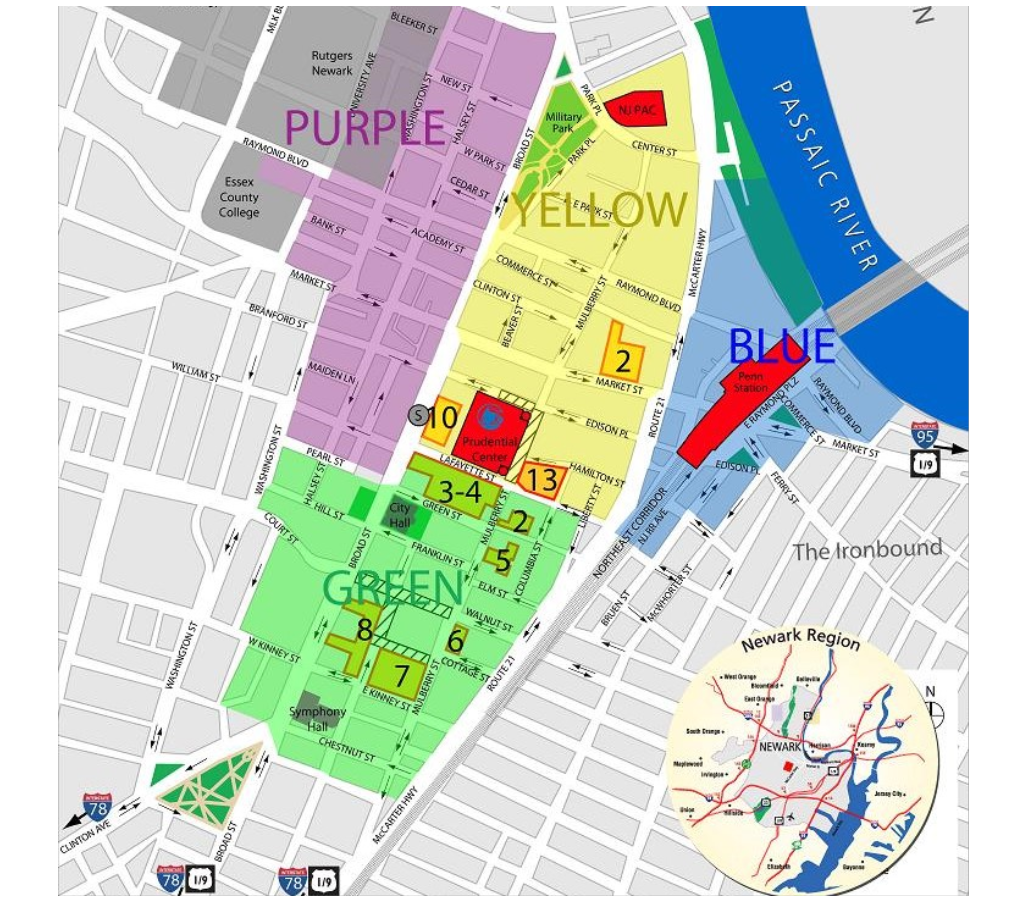 How Much Is Parking at Prudential Center?
The cost of the game-day parking pass varies depending on the event and parking facility, and we listed the general event rates. Note that your game ticket may serve as a parking ticket, too, so be sure to check before purchase.
If you reserve parking in advance, you might get a discounted parking rate and save some money. >>Reserve on Vivid Seats.

Accessible Parking
Handicapped parking is offered on a first-come, first-served basis in nearly all car parking facilities. The Prudential Center also provides many ADA services. Any vehicle using designated parking spaces has to display a disabled parking permit or license plate. Standard parking rates apply. Oversized vehicles should park in one of the surface parking lots without height restrictions.
New Jersey Devils Parking Near Prudential Center
Don't want to spend a fortune on a short-term parking space? Make use of convenient parking areas placed farther from the arena. Multiple lots provide cheap parking near Prudential Center, but no shuttle service is provided. If you don't mind taking a 10-minute walk, a downtown parking lot from the list below would be a great low-cost alternative. You can choose between a self-parking and valet parking service.
| | | | |
| --- | --- | --- | --- |
| City Parking Option | Starting Daily Rate | Address  | Walking Time  |
| Valet Parking Lot | $35  | 97 Lafayette St. | 3 minutes  |
| Valet Lot  | $35 | 246 Market St. | 2 minutes |
| DGL Parking Garage  | $20 | 266 Market St. | 3 minutes  |
| 131 Market Garage | $20 | 165 Halsey St. | 6 minutes |
| Prudential Lot | $15 | 265 Market St. | 6 minutes |
| Mulberry Garage | $15 | 42 Mulberry St. | 7 minutes |
Tailgating at Prudential Center
Unfortunately, according to Prudential Center parking rules, tailgating is not permitted. However, you can still have fun before or after any event; several great dining options and bars are available in the arena or nearby:
The Rock Bar & Grill
Redd's Biergarten
Chateau of Spain Restaurant
Mercato Tomato Pie
Edison Ale House
Find Parking Effortlessly Wherever You Go
Our international team and detailed guides will help you find and book discounted parking at countless locations across the country! Aside from Prudential Center parking information, you can look us up whenever you need a spot for events at the following venues:
If you're flying out of EWR, don't forget to look into Newark Airport Parking guide. Be sure to check out our offers whenever you need a reliable long-term parking spot and save up to 50%!