This post also contains affiliate links and we will be compensated if you make a purchase after clicking on our links.
Finding a safe and discounted parking space in Orlando is extremely simple with Parking Access by your side! We offer a complete guide on where to park, the Camping World Stadium parking map, downtown alternatives, car parking rates, and helpful tips. Keep reading to learn all the nitty-gritty and find a convenient parking spot for any event effortlessly!
Camping World Stadium
Conveniently located in downtown Orlando, Camping World Stadium has been hosting diverse events, such as the NFL Pro Bowl, Camping World Bowl, Citrus Bowl, and Cheez-It Bowl. It is situated at 1 Citrus Bowl Place, Orlando, FL 32805—check out the driving directions if going there for the first time. If you're not driving, use public transportation services to quickly reach the stadium; find out more about public transit in Orlando.
Our helpful Camping World Stadium parking guide offers information on event parking areas at and near the stadium. It may be difficult to find a reliable and affordable parking service before a big game or event, so we listed everything you have to know about the stadium parking locations and rates. 
All Camping World Stadium Parking Options
Camping World Stadium offers over 15 visitor parking lots around the stadium, but there are also downtown parking areas with shuttles to the venue. The Camping World Stadium parking map shows all the official lots, which offer diverse event parking services, including the following.
The cost of event parking at Camping World Stadium varies according to many factors, including the event, booking platform, and time of reservation. Pre-purchasing parking is the safest way of getting a reasonably-priced parking space. Go through all the options and get a mobile parking pass in no time on platforms like Vivid Seats!

Check out the map for precise locations before you keep reading to learn the essentials of each parking option. The map also shows the entrances and exits, such as the South Street exit.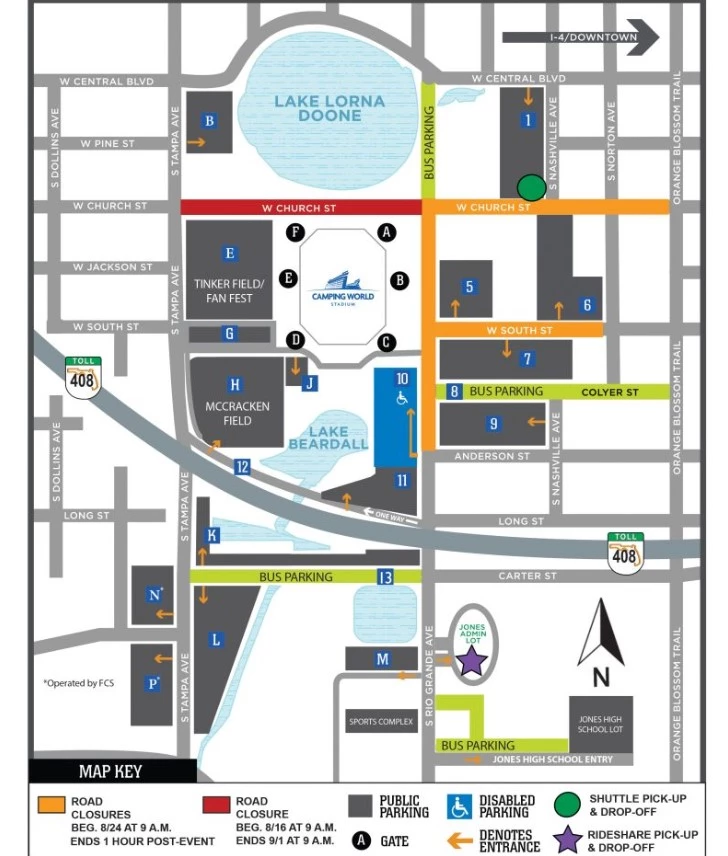 Accessible Parking
Disabled parking for Camping World Stadium visitors is available in Lot 10, which opens at 10 AM. To enter and park in this lot, everyone must display both a disability parking tag and an ADA parking permit. The cost per parking stall is $40 plus fees.
Camping World Stadium RV Parking
RV parking at the former Florida Citrus Bowl is available on a first-come, first-served basis in Lot 6, which opens at 8 AM. There's no in/out policy, so be sure to come with all the supplies. Note that you cannot bring any glass containers, but you must provide trash bags. 
If Lot 6 is sold out, Central Florida Fairgrounds is your best alternative, and RV rates start at $125 per night. For $200 per night, you can also get a water/electric hookup. Call 407-295-3247 for more info or reservations.
Downtown Parking Garages With Shuttles
The City of Orlando has an array of car parking facilities in the downtown area, and most of them are ideal for Camping World Stadium guests. Free shuttle service is available between the stadium and the following structures:
55W Garage Parking – 55 West Church Street;

Jefferson St Garage – 62 W. Jefferson Street;

Central Blvd. Garage – 55 West Central;

Washington St. Garage – 50 W Washington Street;

Orange Lot – 522 W. Central Blvd;

Courthouse Garage – 46 East Amelia;

Centroplex 2 Garage – 355 Alexander Pl;

Library Garage – 112 East Central Blvd;

Administration Garage – 300 Liberty Street.
When it comes to the Camping World Stadium parking rates, they depend on the event. For example, the rate in the Central Garage or 55W can be as low as $11 for some events. So, before your trip to Orlando's sports venue, see the official website for daily parking prices.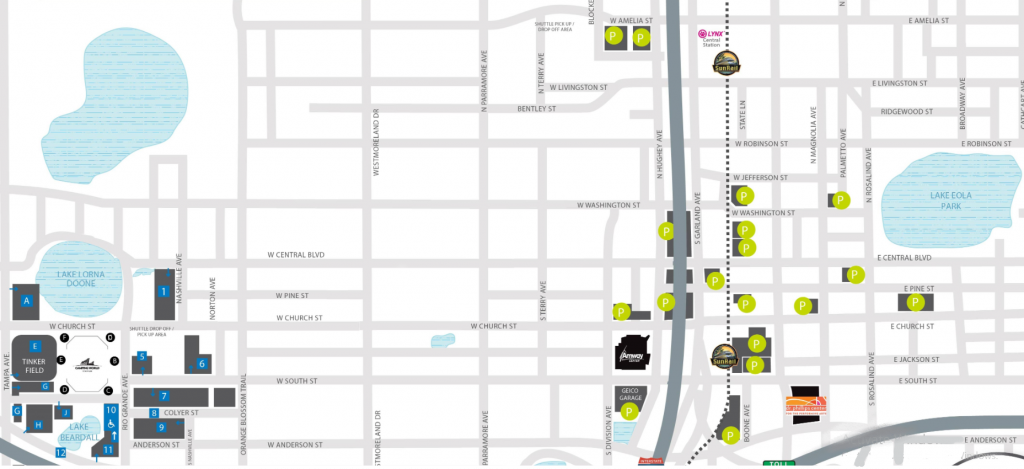 Additional Parking Near Camping World Stadium
Whether you're coming to check out the Citrus Bowl or a concert, you have several alternatives to the official lots. Depending on the lot, additional Camping World Stadium parking options in the area provide valet service, self-parking, and covered parking spots.
Aluminum Supply Lot and Plaza Parking Lot (at 750 S. Orange Blossom Tr.) are quite close but tend to be pricey. However, the Federal Court House Lot is a great choice for budget travelers in Orlando. The rate is $10, and the shuttles run to and from Camping World Stadium. The Post Parkside Orlando Garage is another cost-effective city parking facility with transfers to the venue.
Additionally, just added to parkingaccess.com, are 3 parking lots within 1 mile of the venue, which can be pre-booked at a starting rate of only $20.00!
Tailgating at Camping World Stadium
Apart from countless parking areas, there is another great thing about this stadium—visitors can tailgate and have an amazing game day experience! However, you have to follow some rules—learn Orlando's tailgating policies and suggestions before you go:
Create the tailgating space right behind your vehicle (up to 10 x 10 tents);

Present a pre-paid Camping World Bowl parking pass, and display it in the vehicle;

Kegs, loudspeakers, weapons, and fireworks are prohibited;

You cannot save parking spots for other people;

If you plan on tailgating with friends, you should all arrive together – you will flow into adjacent parking spaces if your cars are in line together;

Overnight parking is not allowed;

Follow the directions on your Camping World Stadium parking ticket (and the message boards along the road) to easily find the public parking lots.
Use our tips to come up with a good plan for events, so that you can enjoy and have fun.
Note: don't forget to look for COVID-19 updates before purchasing tickets and going to the game. Due to the pandemic, tailgating might be restricted.
Find Parking in Orlando Without Any Hassle!
In addition to Camping World Stadium parking, we can help you find cheap parking near other venues and city attractions! Click on any link below for additional information.
If you search for inexpensive MCO parking, check out our guide to Orlando Airport Parking to quickly discover the best deals and make a reservation in no time!