Cheap Long-Term Parking Near Manhattan Cruise Terminal! 
If your cruise ship departs from the Manhattan Cruise Terminal, we suggest that you find out all about car parking options nearby before starting your journey. This is a very popular port with a lot of passengers, and it might be hard to find a discounted parking facility. Luckily, Parking Access discovered important public parking information, and you can check it out below.
The Manhattan Cruise Terminal is situated in the lively New York City – 16 miles away from LaGuardia Airport and 25 miles from John F. Kennedy International Airport. Various ground transportation options are available to all cruise passengers. New York City is the home port of the following cruise lines: Carnival Cruise Line, Disney Cruise Line, Crystal Cruises, Norwegian Cruise Line, Princess Cruises, etc. 
Manhattan Cruise Terminal Parking
If you're searching for convenient Manhattan Cruise Terminal parking in New York, the official on-site parking area is a great option:
It's so close to the terminal entrance that you don't have to worry about shuttle services or transportation to the port
Your car will be weather-protected since it's an indoor parking area
However, that comes at a cost since the weekly parking rate is $280. The rate of $40 per day applies to the first 10 days of parking. If you plan on staying 11-14 nights, the price will be $400. So, the daily parking price will be lower if you need a long-term parking space ($28.57/day for two weeks).
Passengers driving oversized vehicles should note that the height restriction in the Manhattan Cruise parking garage is 8'3''.
The parking facility at Manhattan Cruise Terminal doesn't accept reservations for the on-site garage parking, which is available on a first-come, first-served basis. Manhattan Cruise parking coupons and discounts are also no longer accepted. For additional information on parking at Manhattan Cruise Terminal, call 212-641-4440 between 8:30 AM and 5:30 PM.
Off-Site Manhattan Cruise Parking
Parking near Manhattan Cruise Terminal is a much better option for budget travelers. Even though there are a lot of parking lots in the area, we singled out only the ones that are cheaper than on-site parking facilities. If you're willing to spend that amount of money, you might as well head directly to the cruise ship port and park there. 
So, we've listed all the parking garages and lots below. Check them out, find the most suitable parking spot, and save over $150 on long-term parking!
ParkRight is located at 670 W 43rd St, and it charges $300 for a 14-day cruise, which means that the cost for two-week parking would be $21.43 per day
Park N Save is at 601 W 57th St, 0.5 miles away from the cruise port
Icon Parking Hudson is placed at 524 W 51st St, between 10th Ave and 11th Ave
All the parking lots located are minutes from the cruise ship, depending on the traffic. BMW Building is also nearby, but its prices are even higher than the on-site ones.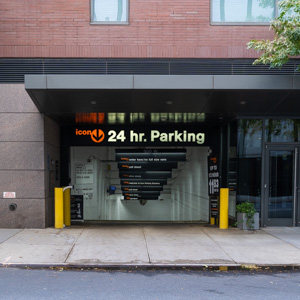 Returning to Your Long-Term Parking Lot
If you use the on-site covered parking facility, returning to your vehicle will be quick and easy. You will get to your car within a few minutes and be able to head straight home. On the other hand, if you book one of the off-site Manhattan Cruise parking areas, you have to check with the chosen company whether they offer free shuttle buses. If they do, arrange a post-cruise shuttle service to drop you off near your vehicle. If they don't, and you have a lot of luggage, grab a New York City taxi cab from Manhattan Cruise Terminal and arrive at the lot within minutes.
New York Park Snooze & Cruise Deals
A great number of Cruise Terminal passengers drive to New York City a day before their cruise ships' embarkation and stay in a nearby hotel with parking. This way, you can explore the city and do some sightseeing before getting a good night's sleep. 
Many New York City hotels provide discounted or free parking to their guests who spend at least a night there. Passengers also often get a free shuttle service to and from the Cruise Terminal. Check out our list below to discover the best Park and Cruise packages at hotels near the port with parking and shuttles.

| | | | |
| --- | --- | --- | --- |
| Hotel | Starting Rate | Distance | Phone Number |
| Ramada Plaza by Wyndham Newark International Airport | $199 | 15 miles | 800-946-5338 |
| Hampton Inn in Ridgefield Park | $203 | 11 miles | 855-605-0317 |
| Fairfield Inn & Suites North Bergen | $249 | 6.9 miles | 844-631-0595 |
| Hilton Garden Inn Ridgefield Park | $239 | 12 miles | 855-618-4697 |
Don't hesitate to try us out for your next beach cruise vacation! Parking Access has a safe and easy-to-use booking system that will allow you to reserve a low-cost cruise parking space in no time! Apart from Manhattan Cruise Terminal Parking, we can help you book a valet parking service at airports around the world, including the ones in New York City: JFK, Newark Liberty Airport, and LaGuardia. Check us out and reserve parking online to have a safe and stress-free trip wherever you go!
Passengers also search for: