Last Updated on August 19, 2021 by Nabila
Cheap Long-Term Parking Near the Cape Liberty Cruise Port! 
Searching for a reasonably-priced and secure parking lot near the Cape Liberty Cruise Port? ParkingAccess.com can help you find the best parking facilities in the area and book a car parking spot within a couple of minutes! The Cape Liberty Cruise Port Parking Guide provides all the necessary parking information, off-site parking areas, locations, and parking rates!
The Cape Liberty Cruise Port is a trans-Atlantic passenger terminal situated in Bayonne, New Jersey. For driving directions, use the following address: 4 Port Terminal Blvd, Bayonne, NJ 07002.
Two major cruise lines offer various cruises from this port – Royal Caribbean International and Celebrity Cruises. The closest airport to the Cape Liberty Port is Newark Liberty International Airport; it is 9.5 miles away and easily accessible via various ground transportation options. Keep reading to discover all secure parking services near the port!
Cape Liberty Cruise Port Parking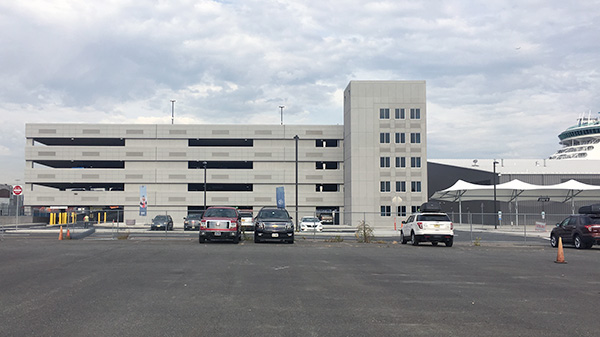 The on-site parking garage is definitely the most convenient parking option. Since the cruise port terminal is in a remote location, numerous cruise passengers choose this parking facility to avoid the hassle. According to the Cape Liberty Cruise Port's website, reservations are not required, and a parking space is guaranteed.
Garage parking is safe and located adjacent to the cruise ship terminal – so, you will need only a few minutes to reach the terminal and embark. As usual, the official cruise terminal parking area is quite expensive for people traveling on a budget. Therefore, if you want to cut your parking costs, check out other parking options.
The cruise port parking service offers a parking rate of $25 per day.
Oversized vehicles will be charged $50 per day. People driving campers and RVs should note that the height restriction of the covered parking garage is 7'4". However, an uncovered parking lot ideal for oversized vehicles is available right next to the parking garage.
Off-Site Cape Liberty Cruise Parking 
Nearby parking options north or south of the cruise port are a great parking alternative for everyone who wants to lower their expenses! Several companies in the area provide secure parking spaces for passengers, as well as free shuttle service to/from the cruise terminal. We discovered the best cruise parking structures nearby and listed their rates and locations below.
Parking Lot/Garage
Starting Daily Rate
Distance
Bayonne Cruise Parking
$13.99
1.5 miles
Motel 6 Lot New Jersey
$15.25
10 miles
Park 2 Go
$15.99 (outdoor parking)
$17.99 (indoor parking)
11 miles
The listed rates may not include fees or taxes, so the final price might be a bit higher.
Cape Liberty Cruise Port Parking — Returning to Your Long-Term Parking Lot
If you park in the on-site public parking structure, the return will be quick—your vehicle will be a short walk away. However, if you want to book a spot in one of the off-site parking lots, check whether they offer free shuttle buses, and arrange a post-cruise shuttle bus service after making an online reservation. In case they don't provide shuttles, grab a taxi cab, request an Uber, or arrange a shuttle transfer from the cruise terminal to your parking facility.
Park Snooze & Cruise Deals
If you wish to come to the city a day or two before your cruise ship leaves, book a nice hotel with free parking Several New Jersey hotels offer Park and Cruise packages that include free parking for up to 14 days! Some of them offer various amenities and perks like a free breakfast buffet and shuttle transportation to and from the port. If a hotel doesn't offer cruise port transportation, go to the front desk, and someone will help you arrange a ride. 
We listed several hotels with Park Snooze and Cruise deals—check them out below and find the one that meets your requirements:
| | | | |
| --- | --- | --- | --- |
| Hotel | Starting Rate | Distance | Shuttle Service |
| Country Inn & Suites by Radisson Newark Airport, NJ | $134 | 11.5 miles | Yes |
| Hampton Inn Newark Airport | $143 | 10.4 miles | Yes |
| Ramada Plaza by Wyndham Newark International Airport | $118 | 7.5 miles | No |
| Courtyard by Marriott Newark Liberty International Airport | $183 | 8 miles | No |
| Residence Inn Newark Elizabeth Liberty International Airport | $175 | 11.6 miles | No |
You can also go through other hotels near EWR that offer Park Sleep & Fly deals—call them to check if they can provide you with a suitable deal for your cruise trip!
ParkingAccess.com has got you covered—our guides save your time, while our offers save your money! Check us out before your next cruise vacation and use our secure process to make Cape Liberty Cruise Port Parking reservations. We can also help you find the best long-term or short-term parking deals at all the top airports and cruise ports. Happy cruising!
People also searched for: