Last Updated on August 20, 2021 by Nabila
The Best Parking for New Orleans Cruise Port Passengers—All Questions Answered
Apart from being a gateway for global trade, the Port of New Orleans is a great embarkation port for numerous cruise passengers. If you plan on starting your cruise trip in New Orleans, you should learn more about nearby parking options. We will provide all the Port of New Orleans parking details, off-site parking facilities, and information on free shuttle service to/from the cruise terminal.
Port NOLA—the Port of New Orleans—is located 1.4 miles from downtown New Orleans and about 15 miles from Louis Armstrong New Orleans International Airport. Its address is 1350 Port of New Orleans Pl, New Orleans, LA 70130. The Erato Street Cruise Terminal is situated past the bridge pier, while the Julia Street Cruise Terminal is just beyond Erato. The first is the terminal for Carnival Cruise Line and Disney Cruise Line, while the second hosts Norwegian Cruise Line and Royal Caribbean Cruise Line ships.
New Orleans Cruise Ship Parking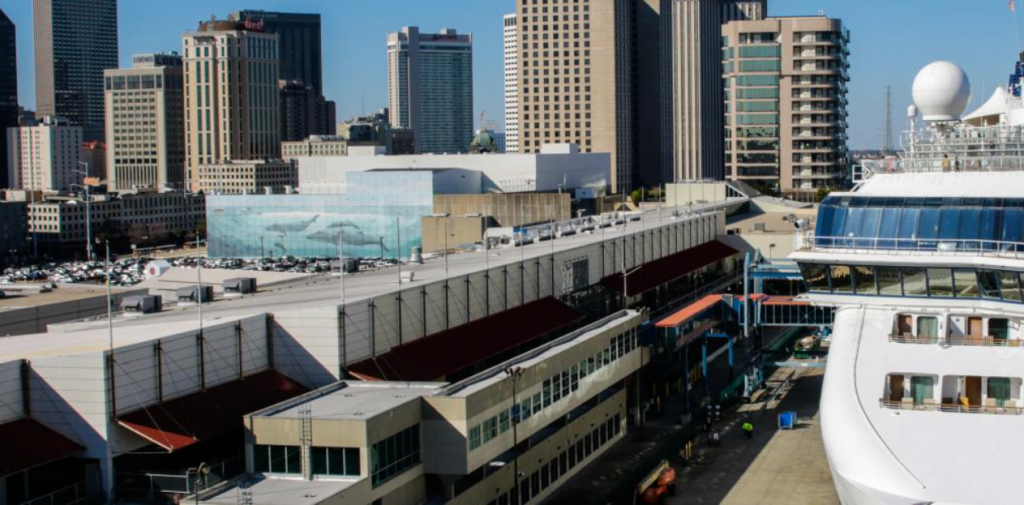 Each cruise terminal at the Port of New Orleans has its own parking facility:
The Erato Parking Garage is great for cruise passengers departing from the Erato Terminal. In fact, the third floor of the terminal building is the first level of the garage parking. To enter the garage, which is on the top of the terminal, use the following address: 1100 Port of New Orleans Place, New Orleans, LA 70130.
Passengers who start their cruise vacation at Julia Street Cruise Terminal are offered a convenient parking lot right next to the terminal, at 920 Port of New Orleans Place. Even though it's only a block away, the free shuttle service is available if needed. The Julia Street Terminal parking lot is lighted and patrolled around the clock.
Cruise parking rates start at $20 per day—listed below are the rates for long-term parking at the New Orleans Cruise Port:
| | |
| --- | --- |
| Duration | Rate |
| 4 days | $90 |
| 5 days | $110 |
| 7 days | $150 |
Cruise Terminal parking for oversized vehicles is $40 per day in both parking facilities. The height restriction in the Erato Parking Garage is 8′ 4″ on the third level and 7″ 6″ on higher floors.
During the spring and summer months, a lot of cruise passengers pass through the port and its parking areas. Therefore, the New Orleans Cruise Port also offers overflow parking lots near the terminals and shuttle buses to and from those lots.
New Orleans Cruise Parking Coupons and Off-Site Parking
We can help you cut your parking costs and save up to $100 on long-term parking! Check out New Orleans Cruise Parking Coupons and Groupons—port parking discounts and promo codes are often available to cruise passengers.
Independent parking companies near the port are a great alternative to pricey on-site parking structures. Go through the parking options below to discover the best off-site parking garages and lots in the area.
| | | | |
| --- | --- | --- | --- |
| Parking Area | Daily Parking Rate | Distance from the Port | Shuttle Bus Service |
| Cummins Parking Lot New Orleans | $15 | 0.9 miles | Yes |
| Howard Avenue Park and Ride | $14 | 1.4 miles | No |
| Fulton Place Parking – Garage Covered | $20 | 0.9 miles | Yes |
If you plan on taking a long cruise vacation, you may consider paying a monthly parking rate in one of the nearby facilities. The Port of New Orleans offers a 7-day parking spot for $150, but you can park off-site and pay $130 per month in the Howard Garage. Even if you come back in less than a month, it's still worth it!
Returning to Your Long-Term Parking Lot
Almost all New Orleans cruise terminal parking facilities offer shuttle transportation, so you will get a quick shuttle ride to the parking structure when you get back. To be sure the shuttle bus service will be ready when your cruise ship arrives, call your parking service provider when you come back to New Orleans. You can also arrange a post-cruise shuttle in advance, which is probably a safer idea. If you pick an off-port parking area without shuttle service, call an Uber/Lyft or taxi cab.
Park Snooze and Cruise Deals
People often ask for a free cruise parking space near Port New Orleans. The only way to get complimentary parking is by booking a hotel that offers Park Snooze and Cruise packages. Drive to the city a day before your cruise, get a good night's sleep, and start your journey refreshed while your vehicle stays in a safe parking spot. You might even get a free shuttle to the Erato Street Terminal or Julia Street Cruise Terminal.
Check out the best New Orleans hotels that provide free or discounted parking services to cruise passengers:
| | |
| --- | --- |
| Hotel | Distance |
| Wyndham New Orleans – French Quarter | 1.5 miles |
| Holiday Inn New Orleans West Bank Tower | 3.4 miles |
| Prytania Park Hotel | 1.3 miles |
| Holiday Inn New Orleans Downtown Superdome | 1.7 miles |
| Courtyard by Marriott New Orleans Westbank Gretna | 3.4 miles |
Cruise parking deals may have changed due to the COVID-19 pandemic—be sure to contact the hotel of your choice for more info.
Parking Access has your back whenever you need low-cost parking at the Port of New Orleans or any other major cruise terminal in the United States. Our helpful guides can also help you find a suitable spot at other important locations in New Orleans, such as Louis Armstrong Airport and Harrah's New Orleans. Don't hesitate to check out what we have to offer next time you need a reliable spot!
People also searched for: