This post also contains affiliate links and we will be compensated if you make a purchase after clicking on our links.
Find Carolina Panthers Parking Deals. Compare reviews and features with other top parking companies.
ParkingAccess.com offers a safe booking process that will provide you with the best parking deals and allow you to make a quick online reservation! Easily locate a discounted parking spot close to Bank of America Stadium, at several other stadiums and arenas, as well as countless airports.
Our guide tells you how and where to park, upfront pricing details, Bank of America Stadium parking tips, guest reviews, and Carolina Panthers tailgate parking. We also give you information on how to find parking near the stadium. Let's dive in!
Bank of America Stadium
All the Carolina Panthers' fans know about Bank of America Stadium located in uptown Charlotte NC. In addition to all Panthers home games, it has hosted other events, such as the Beer Festival, ACC Championship Game, CONCACAF Gold Cup, and the annual Belk Bowl. Bank of America Stadium provides over 75,000 seats, three entrances, and many other features inside the stadium. See the Bank of America Stadium seating chart.
Bank of America Stadium is situated at 800 South Mint St, a short drive away from downtown Charlotte, depending on traffic. See the driving directions to Bank of America Stadium if you want to avoid using public transportation. You should also check out our Carolina Panthers parking guide to find and book the best public parking space for vehicles. We discovered everything you need to know about the Bank of America Stadium parking tickets, rates, and locations.
Bank of America Stadium Parking
Finding a secure and convenient parking structure around the stadium before a big football game or a special event is not easy. If you don't reserve in advance, searching for a close-in parking facility on the NFC Championship game day can be overwhelming and time-consuming. That's where we step in, providing you with ample Carolina Panthers parking information.
Official Bank of America Stadium parking facilities are open to holders of season tickets only: Lot 1 (the Mint St. Parking Facility) is across from the North Gate, and Lot 99 is located at College St. and 4th St. downtown. The first vehicle parking facility is available for non-Panthers stadium events, too. 
Parking rates vary, but we found the approximate prices of Carolina Panthers season tickets:
Lot 1 – $650 per season;
Lot 99 – $300 per season.
You can find parking passes and tickets online or at the Bank of America Stadium ticket office. >>Reserve on Vivid Seats

Handicapped Parking
Lot 1 also provides an accessible parking area, and parking is available on a first-come, first-served basis. Apart from this structure, a great handicapped service for guests with disabilities is offered by Carolina's Medical Center. The center also offers an event shuttle service to and from the Panthers' ballpark for most events.
RV Parking at Bank of America Stadium Charlotte is operated by Premier Parking and Preferred Parking – get all the details about oversized vehicles' rates by calling 704-726-0788 or 704-375-6014.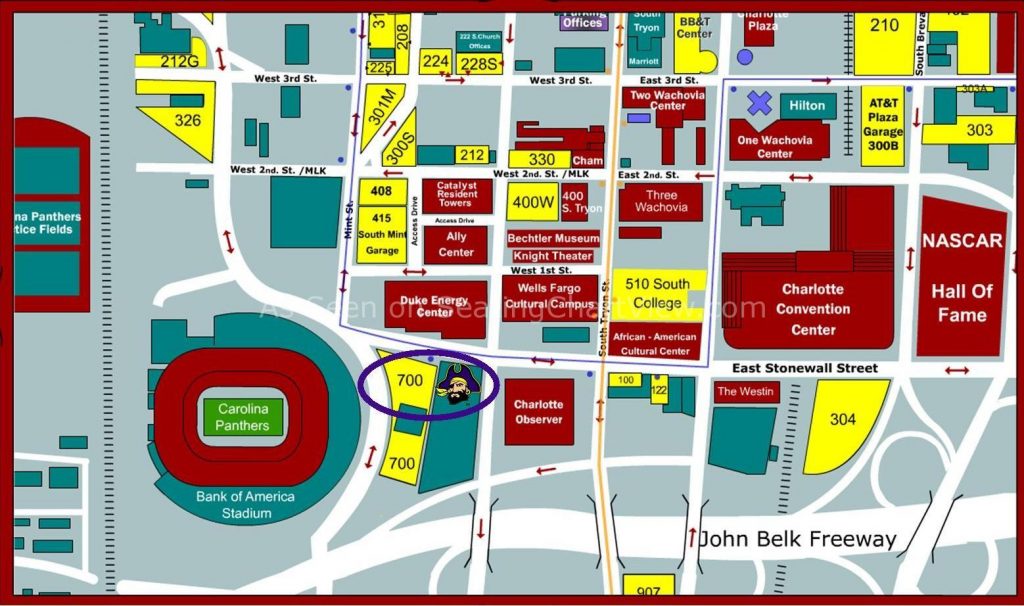 Carolina Panthers Parking near Bank of America Stadium
Visitors without Bank of America Stadium parking passes have to find additional parking options in the area. Luckily, over 30,000 event parking spaces are available within a 15-minute walk of the Panthers stadium at many parking garages/lots. Therefore, you can choose self-parking lots, on-street parking, valet parking, etc. Note that these car parking areas don't offer free shuttles.
We singled out the cheapest short-term parking providers near Bank of America Stadium with rates starting at $13. Our list below helps you find and book the spot that suits your needs.
| | | | |
| --- | --- | --- | --- |
| Parking Option | Rate | Address | Walking Distance |
| South Tryon Garage | $36 | 400 S. Church St. | 7 minutes |
| Cedar Yards Lot 3 | $36 | 624 McNinch St. | 7 minutes |
| Indoor Garage | $32 | 720 S Church St. | 6 minutes |
| 230 Tryon St. Garage | $25 | 130 W. 3rd St. | 9 minutes |
| Bank Plaza Parking Garage | $25 | 205 S. Church St. | 9 minutes |
| Parking Lot 123 | $25 | 123 S. Church St. | 11 minutes |
| 237 Tryon St. Garage | $19 | 237 S. Tryon St. | 11 minutes |
| W. Trade St. Garage | $13 | 116 W. 4th St. | 11 minutes |
Tailgating at Bank of America Stadium Parking
One of the best parts of the game-day experience is pulling into a Bank of America Stadium parking area and hanging out with friends before a National Football League game. If you're wondering where to tailgate at the Carolina Panthers game, don't worry – many event parking areas within the City of Charlotte allow tailgating. 
Although it is very fun, there are some risks to public safety, and so there are several important details you should know:
Open-flame cooking devices must be attended at all times;
All open-flame devices should be at least 25 feet of any building and 10 feet of any vehicle;
Each car park used for tailgating activities must have metal containers for the disposal of coals or hot ashes;
Any other kind of open fire is strictly prohibited.
Use our Carolina Panthers tailgate parking tips and information to come up with a good plan and have a great time!
Transportation to Bank of America Stadium
To avoid traffic and an exhausting search for a cheap Bank of America Stadium parking spot, visitors may use various transportation options for all events. You can catch an Amtrak ride from Raleigh to Charlotte for 1 PM games. Additionally, the LYNX Blue Line provides fast light-rail service to and from uptown Charlotte. If you wish to use a ride-sharing app, Lyft is the official partner for the Carolina Panthers events, and pick-up zones are available at each gate/exit. To get a taxi cab, you have to walk two blocks from Bank of America Stadium; the taxi stand is on Church St.
Apart from Bank of America Stadium parking availability, event parking fees, and tickets, we offer Charlotte Airport parking information, as well as on-site parking spots at numerous airports. So, don't hesitate to check us out whenever you need a parking spot!
All Rights Reserved.