The Long Beach Convention Center, Arena, and Performing Arts Center comprise the entertainment complex located at 300 E. Ocean Blvd. If you're planning a visit, the Parking Access team will help you find a convenient parking spot. Discover top Long Beach Convention Center parking options and rates, compare them, and book the best deal. You'll also learn about street parking availability and public transportation, the most practical alternative to driving. Use all the info and handy tips to have a stress-free parking experience on any event day.
Where To Park at the Long Beach Convention Center
Visitors driving to the venue can choose from four official Long Beach Convention Center parking options with over 4,000 spots within walking distance.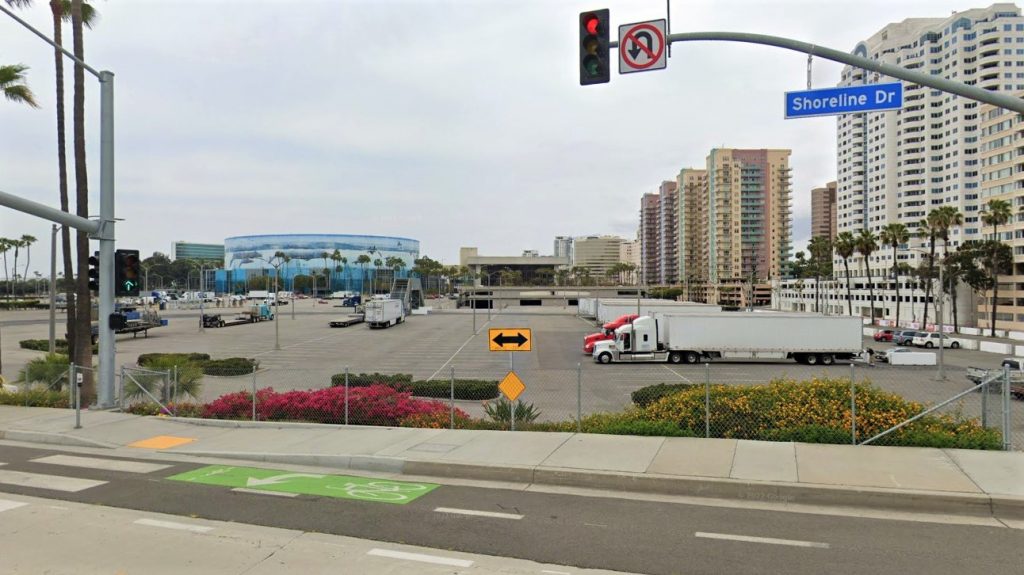 The main parking lot along Shoreline Drive is open daily and offers 1,500 parking spaces. Other options include the following.
Terrace Theater Parking Garage

: open mostly for theater events;

Arena Parking Garage

: open for conventions, tradeshows, and Arena events;

Promenade Parking Garage

: open for conventions, tradeshows, and special events.
These structures also provide EV charging stations and convenient ADA parking spots for patrons with disabled permits. 
How Much Is Event Parking?
All Long Beach Convention Center parking structures charge $15 per vehicle. However, rates may vary by event, so be sure to confirm it with an event manager in advance. Reservations aren't required, and you can pay on-site.
Additional Lots & Garages
If the main lots are full or too pricey for your budget, choose one of the top 5 nearby alternatives listed below.
| | | | |
| --- | --- | --- | --- |
| Parking Facility | Standard Daily Rate | Address | Walking Distance |
| 110 West Ocean | $5 | 110 W. Ocean Blvd. | 4 minutes |
| International City Bank | $10 | 249 E. Ocean Blvd. | 5 minutes |
| 211 East Ocean | $11 | 211 E. Ocean Blvd. | 4 minutes |
| Landmark Square | $12 | 111 W. Ocean Blvd. | 6 minutes |
| Hyatt Hotel | $12 | 200 S. Pine Ave. | 3 minutes |
Note that these are general parking fees, which may vary significantly on event days.
Tip: Check out our guide to Aquarium of the Pacific for more info about cheap parking in the area.
Nearby Street Spots
Many nearby streets have metered parking spots available for up to two hours. Drivers may park on any unpainted curb and use single-space or multi-space meters to pay. Depending on the location, the cost is $1–$2 per hour, and all meters accept cash and credit cards. Meters are in effect starting at 9 AM, and street parking is free after 9 PM.
Pay attention to the posted signs and park legally to avoid getting a Long Beach parking ticket.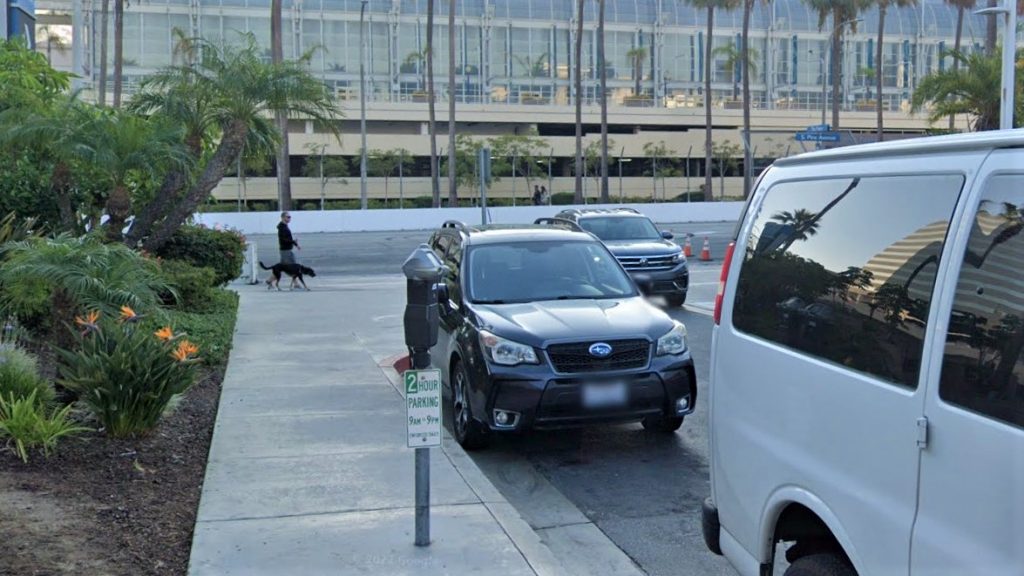 Public Transportation Options
1st St. Station on the A Line (Blue) of the LA Metro Rail system is a 10-minute stroll away from the venue. It connects downtown Los Angeles to downtown Long Beach for a $1.75 one-way fare.
Additionally, LBT buses 21, 22, 23, 61, 71, and 121 stop on East Ocean Boulevard, just several minutes from the building's entrance. The regular single-ride fare is $1.25; plan your trip here.
Find Parking for Any Event in the County
Aside from Long Beach Convention Center parking, we also help drivers find convenient spots at other venues in Los Angeles County. Here are some of them:
Also, if you're flying out of LGB or LAX, use our booking form to find discounted parking deals: