Located in downtown Evansville, Indiana, this multi-purpose arena hosts sports and entertainment events for up to 11,000 people. Whether you're coming to a concert or basketball or ice hockey game, we'll help you plan your visit. Find the most convenient and free Ford Center parking spot by comparing the top structures near the venue, including accessible areas. Not only will you discover cheap lots, but we'll also provide handy tips and info about public transportation, which is the best alternative to driving.
Top Parking Near the Ford Center
Although there's no official parking at the Ford Center, guests can easily find over 1,200 spaces in the vicinity. Discover the most convenient options in the following list.
| | |
| --- | --- |
| Lot/Garage | Event Rate |
| Lot behind the Civic Center  | Free |
| City-owned garages on Third St. and Sycamore St. | $7 |
| Stone Family Center Lot (enter on Locust St.) | $10 |
| DoubleTree Hotel Garage | $20 |
These are the official prices for all Ford Center events at the time of writing, but note that they are subject to change.

If you want to purchase a spot ahead of time, make a reservation through Vivid Seats in a few clicks.
Where To Find ADA Spots
Physically-impaired guests can find accessible parking spaces in front of the Civic Center and in most nearby lots and garages. These stalls are available on a first-come, first-served basis, and standard rates apply.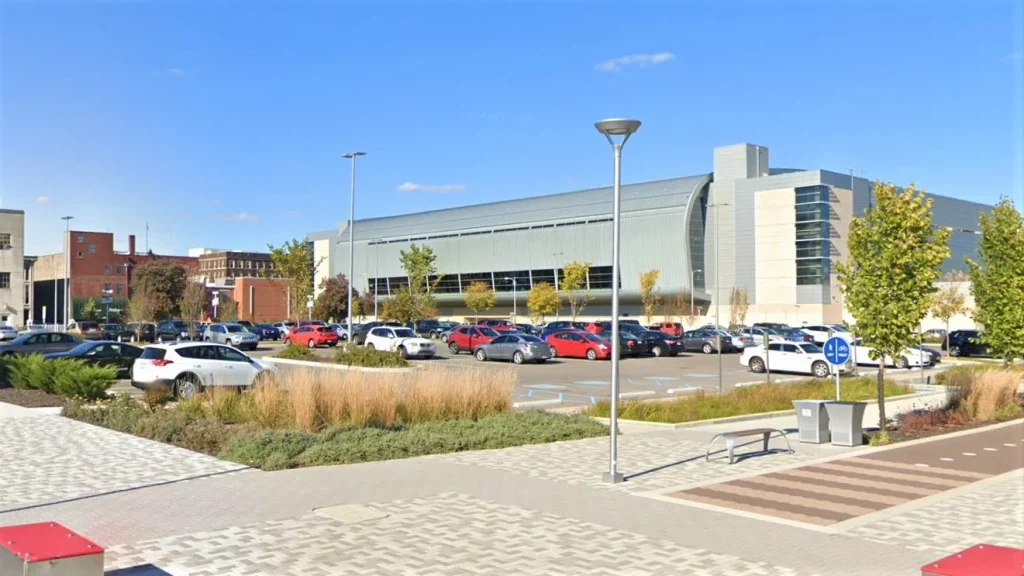 Park on Nearby Streets
If you need a spot for a couple of hours only, you can also park your vehicle on the surrounding streets. City of Evansville police monitor the streets from 8 AM to 5 PM Monday through Friday, so read the posted signs carefully to avoid getting a ticket. 
On most weekends, you can stay longer than two hours, but we recommend garages and lots for extended stays.
Public Transportation Options
The arena is located only a 5-minute walk away from the Metropolitan Evansville Transit System terminal. The METS buses run between 6:15 AM and 12:15 AM Monday through Saturday, while the operation ceases at 6:15 PM on Sundays. The standard fare is $1.50, and you may see all routes and more info here.
Find a Spot Easily Wherever You Go
Aside from Ford Center parking, our team will help you find a spot at Evansville Airport or other venues nationwide. We've also covered popular locations in nearby cities, such as St. Louis: