Searching for convenient parking near Busch Stadium can be frustrating before a major event, let alone finding a street parking spot. Luckily, Parking Access is here to provide all the relevant car parking information and help you plan the visit to the St. Louis Cardinals' home venue. Our Busch Stadium Parking Guide comprises on-site and off-site visitor parking services, event rates, maps, tailgating info, and St. Louis Cardinals parking tips. You'll also learn more about public transportation in Saint Louis.
Busch Stadium
All baseball fans in St. Louis know very well that Busch Stadium is the home of the St. Louis Cardinals. The stadium is also called New Busch Stadium and can seat more than 44,000 people! If you're interested in Major League Baseball, you'll be able to check out exciting events at Busch Stadium, such as playoffs and MLB All-Star games. The venue has also hosted major concerts by artists like Ed Sheeran, Metallica, and Billy Joel.
The Busch Stadium is less than a mile from downtown St. Louis, and the address is 700 Clark Ave, St. Louis, MO 63102. The venue is accessible by car and public transit, and we'll also help you compare the two options and find what works for you. Let's dive in!
Busch Stadium Parking Options
A search for a safe and cheap St. Louis Cardinals parking spot before a big game can be stressful and exhausting. Cardinals fans have two parking options when coming to Busch Stadium – snatching up one of the official hourly parking spaces next to the stadium or finding an available center garage parking spot in the downtown area near the stadium.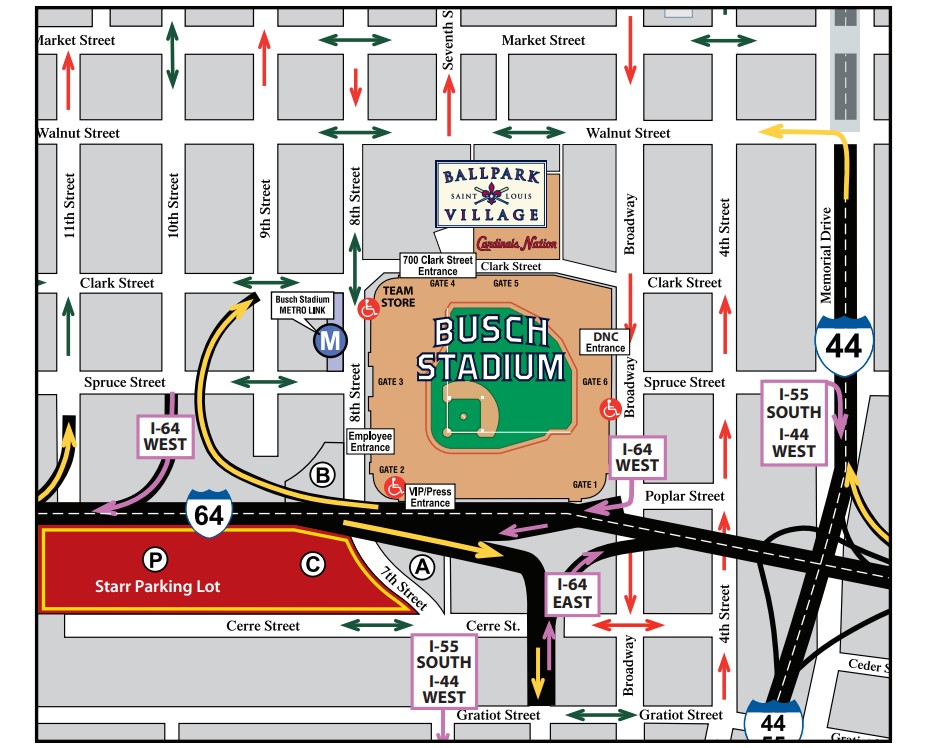 The Starr Lot is within short walking distance of the venue. Being right across from Gate 2, the official Busch Stadium parking lot allows easy access and provides safe parking to all baseball enthusiasts.
The Busch Stadium parking garages are a 5-minute walk away from the stadium: at 200 South Broadway and 100 South 9th Street. Busch Stadium Parking Garage West and East offer covered parking spaces, and the rates are similar to those of the private Cardinals lots. We suggest that you arrive early if you want to find a suitable spot.
How Much Is Parking at Busch Stadium?
The Busch Stadium parking cost for most baseball games is $20. We always recommend pre-booking; it saves your time and possibly money if you know where to search for an event parking pass!  >>Reserve on Vivid Seats

Accessible Parking 
ADA parking for Busch Stadium guests is obtainable on a first-come, first-served basis in the following parking structures:
Stadium West Parking Garage near Gate 3;
Stadium East Parking Garage near Gate 5.
Any visitor occupying an ADA spot has to own a disabled parking permit, license plate, or placard. Standard parking rates apply, and overnight parking is not permitted in Stadium East and Stadium West Parking Garages. For additional handicapped parking regulations, call (314) 241-7777.
Cardinals Parking Garages Near Busch Stadium
St. Louis Cardinals fans searching for a more affordable public parking space usually have to walk a couple of blocks to find it. So, if you don't mind taking a short stroll, check out our list below and choose a low-cost car parking facility nearby. Whatever lot you opt for, early arrival is recommended.
Here are the top 3 options for baseball fans who are willing to take a long walk to the stadium on a Cardinals game day.
| | | | |
| --- | --- | --- | --- |
| Car Parking Location | Event Rate | Address | Walking Distance |
| Shoe Lot | $10 | 1300 Spruce St. | 9 minutes |
| Squared Lot | $10 | 1504 Washington Ave. | 19 minutes |
| S&H Tucker Blvd. Lot | $5 | 1231 Gay St.  | 18 minutes |
These are the prices for Pirates at St. Louis Cardinals Home Opener, and they may vary for other events.
Street Parking Near Busch Stadium
If you've planned to find free street parking for Cardinals games, it's going to happen only after 7 PM and if you're lucky. We suggest that you park a couple of blocks from the stadium; chances are you'll more easily come across a vacant metered parking spot. If you choose this option, be sure to read the signs carefully to avoid dealing with St. Louis parking tickets.
Tailgating at Busch Stadium Parking
Unfortunately, tailgating at Busch Stadium parking facilities is not allowed. However, St. Louis Cardinals fans should check out the Ballpark Village and its dining options and grab a beer on a game day. You may visit one of the many bars across from the stadium and a couple of blocks away. Our suggestions are Ballpark Village, Paddy O's, and Cardinals Nation. Each of these places can provide you with a great beer and tasty food at a reasonable price.
Transportation to Busch Stadium
Public transportation is a great way to avoid traffic and often pricey parking near Busch Stadium. Luckily, you have a lot of options. MetroLink is a perfect choice, and you can take the train to the Stadium Station, which is located right across the street from the ballpark. Bus services like MetroBus and Redbird Express can get you to the downtown area. St. Louis Cardinals fans may also take the #99 Downtown or #40 Broadway Trolley; you can find the stops near Busch Stadium.
Find Parking Easily Wherever You Go!
Aside from Busch Stadium parking lots for St. Louis Cardinals games, we cover countless other venues and locations. You can check us out whenever you need cheap car parking for New York Yankees, Philadelphia Phillies, Washington Nationals, Pittsburgh Pirates, Miami Marlins, Baltimore Orioles, and Kansas City Royals games. Check out the following guides for additional info!
If you plan to fly out of St. Louis, check out our STL Airport Parking guide to learn more about the best on-site and off-site parking deals!