This post also contains affiliate links and we will be compensated if you make a purchase after clicking on our links.
Washington Nationals Parking
The most popular ballpark in the Washington DC area, Nationals Park, is located by the Anacostia River in Navy Yard. As an MLB Nationals team's home field, it has hosted countless exciting baseball games. If you're planning a visit, do it ahead of time to get the best parking deal on the spot. Our guide will provide information on nearby city parking garages, stadium fees, and tickets. Book a game-day space in advance and park your car in a safe public lot or take the Metro instead. We'll cover all the options and make your arrival stress-free.
About the Venue
Nationals Park is a large and popular venue with a capacity of over 40,000. The address is 1500 South Capitol Street SE, and it's accessible from Interstate 395 (via the Southwest Freeway) and Interstate 295 (via the Frederick Douglass Memorial Bridge). The ballpark is home to the Washington Nationals, a professional baseball team that competes in Major League Baseball. Apart from sports games, Nationals Park hosts a wide range of other events. 
Washington Nationals Parking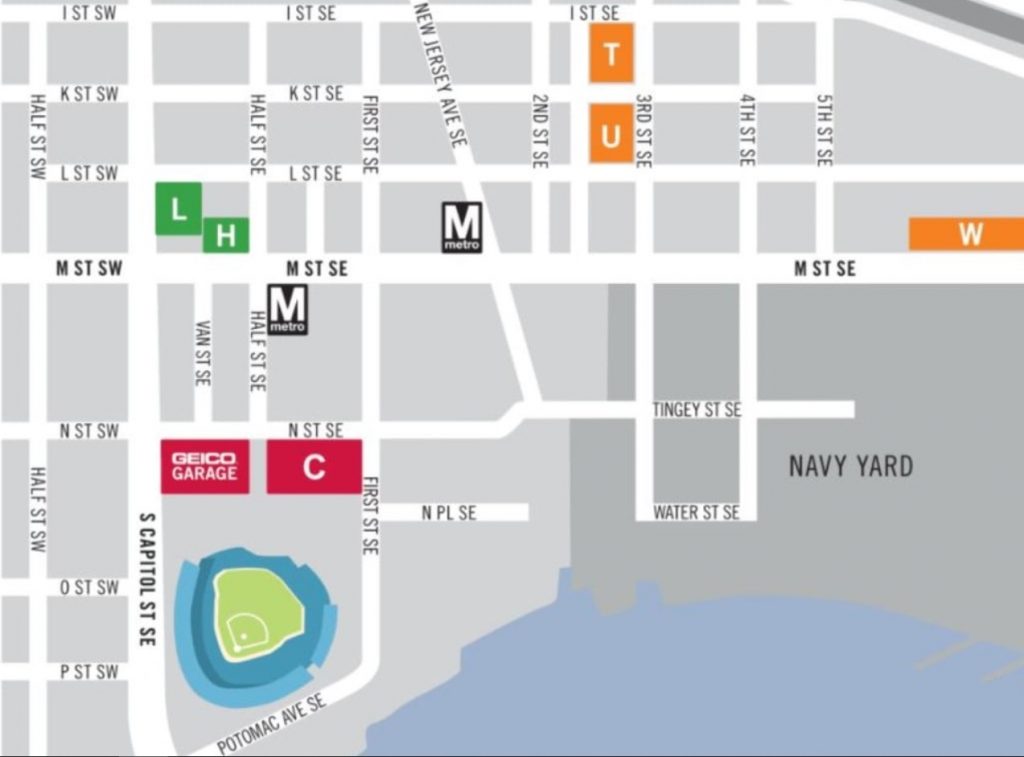 The parking process is often an expensive and overwhelming endeavor in a vibrant city like Washington D.C. In order to get affordable parking spaces close to Nationals Park, you should plan ahead and give yourself extra time to find the most suitable spot that fits your budget.
Each lot and garage parking facility opens two and a half hours before the start of a game and closes one hour after the end of the game. As you can see on the Washington Nationals parking map, five visitor parking lots and two parking garages are available to season ticket holders and the general public:
| | | |
| --- | --- | --- |
| Parking Option | Distance to the Gate | Walking Time |
| GEICO Garage: N Street SE | 180 ft | 2 minutes |
| Parking Garage C: First Street SE | 0.1 miles | 2 minutes |
| Lot Parking H: Half Street SE | 0.2 miles | 3 minutes |
| Lot T: 3rd Street SE | 0.5 miles | 9 minutes |
| Lot U: 3rd Street SE | 0.5 miles | 9 minutes |
| Lot W: 7th Street SE | 0.7 miles | 13 minutes |
When it comes to the general parking rates, they depend on the location and time of reservation. Naturally, the closer you are, the more you have to pay. The on-site daily rate is also higher during large-scale events. The prices often go over $50, but if you park about a mile from the park, you can pay $20 for a convenient parking space.
Making a Nationals Park parking reservation in advance is highly recommended! >>Reserve on Vivid Seats

Accessible Parking
Handicapped parking is obtainable at each Washington Nationals Park parking facility. For season ticket holders, ADA parking spaces are available in all parking facilities. If you aren't a season ticket holder, search for a spot at parking garages B and C. All vehicles using designated parking spots have to own a disabled parking permit, license plate, or an ADA placard. Standard parking rates apply.
Cheap Parking Near Nationals Park
Washington Nationals fans who don't want to spend a fortune on parking should use short-term parking areas located farther from the park. Several self-parking options in the area can provide you with both safe and affordable car parking services. If you're willing to take a 15-minute walk to the stadium, off-site public parking is an alternative that may cut your cost. 
You can choose among discounted on-street parking, valet service, and covered parking garages available on a first-come, first-served basis. Several downtown parking options offer daily rates available for pre-booking for less than $20, including the 1100 4th St. SW garage with a $17 rate. Note that the prices vary based on the event or game at Nationals Park. To get the best price, please book Washington Nationals Park parking in advance—the drive-up prices are much higher on a game day. You may come across a street parking space as well, but be sure to park properly and avoid getting a DC parking ticket!

Public Transportation Options
The main method of public transportation to the ballpark is the Washington Metro system. Since the stadium is only one block from the Navy Yard-Ballpark station near the park's center entrance, it's heavily used by numerous fans on Washington Nationals game days. Metrorail fares range from $2 to $6. Metrobus is also an option, and the one-way cost is $2, while D.C. Circulator is available for only $1!
Additional Helpful Parking Guides
Apart from Washington Nationals parking information, we can help you learn more about Washington DC Parking in general, as well as parking at the following locations:
Going on a trip and searching for convenient parking near your terminal? We cover all major airports in the country and the area! Read through the guides below to discover all about on-site and off-site parking facilities and prices: