National Mall parking
Situated in downtown Washington, DC, the National Mall is home to several attractions, including historical buildings, museums, and memorial parks. Visitors will find plenty of parking areas around the site, including cheap surface lots, free parking spaces, and affordable metered street parking. Discover the most convenient parking areas, updated rates, and tips on public transportation. The National Mall is located between Independence and Constitution Avenues.
Parking at National Mall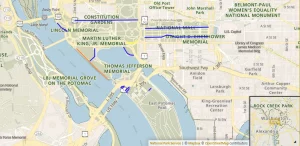 Most lots in the National Mall area are metered and cost $2 per hour with a 3-hour time limit. The map above from the National Park Service indicates all available parking spaces. Metered parking is enforced daily from 7 AM to 8 PM (except December 25).
Note that parking meters do not accept coins and cash. Payments must be made using credit cards, debit cards, or via the website or Parkmobile app.
Parking Area
Additional Information 

Constitution Avenue NW between 15th Street NW and 22nd Street NW

Convenient to Vietnam Veterans Memorial, Constitution Gardens, German American Friendship Garden

Independence Avenue SW between 15th Street and Maine Avenue

Metered bus-only parking near the Washington Monument

Jefferson Drive SW

Convenient to the Smithsonian Castle, Freer Gallery of Art, African Art Museum, Hirshhorn Museum, National Air and Space Museum, National Museum of the American Indian, and the Washington Monument

Madison Drive NW

Convenient to the National Museum of African American History and Culture, National Museum of American History, National Museum of National History, National Gallery of Art (Main & East Building).

Along Ohio Drive SW between 23rd Street SW and Inlet Bridge

Convenient to the Jefferson, Franklin, and Lincoln Memorial.

Parkway Drive NW

Convenient to the MLK Memorial and Thomas Jefferson Memorial.

West Basin Drive SW

Convenient to the MLK Memorial and Roosevelt Memorial. There are ADA metered spaces here.

Lots A, B, and C (Ohio Drive SW, East Potomac Park)

Buckeye Dr SW

Convenient to the Jefferson Memorial and George Mason Memorial
Free Parking Near National Mall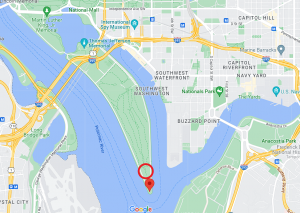 Around 400 free National Mall parking spaces are available at Hains Point, East Potomac Park (red circle). The lot is nearly two miles from the park so prepare to do a bit of walking.
Accessible Parking
ADA parking is available at the Franklin Delano Roosevelt and World War II Memorials, the Washington Monument, the Lincoln, Jefferson, and Lincoln memorials, and the Tidal Basin.
Alternative Transportation Options
Several WMATA bus lines stop near the park, with stations that are less than a five-minute walk. The Silver, Orange, or Blue Metrorail lines drop by the Smithsonian station, just a six-minute walk from the park. Calculate your fare using the WMATA Trip Planner.
Additionally, D.C. Circulator's National Mall Route offers easy access around the National Mall and convenient access to uptown attractions.
Find Parking Without the Hassle
If you're exploring National Mall, check out our guides on Lincoln Memorial parking and Jefferson Memorial parking.
Looking for a flight out of town? Reserve parking using our airport parking guides: