Lincoln Memorial Parking
The Lincoln Memorial, one of the most visited memorials in Washington, DC, receives more than six million visitors annually. Our in-depth parking guide offers all the information you need about daily rates, free lots, alternative surface lots and garages, and how to use public transportation.
The memorial anchors the National Mall and is located at the following address: 2 Lincoln Circle Circle, NW, Washington, DC 20037
Memorial Hours & Admission
The memorial is managed by the U.S. National Park Service and is open all week, 24 hours a day, including holidays. Rangers offer interpretive programs and answer visitor questions from 9:30 AM to 10 PM (except December 25th.)
It is free to visit the memorial, and reservations are not required. However, several activities like commercial photography, weddings, and demonstrations require a special permit.
Convenient Parking Near the Memorial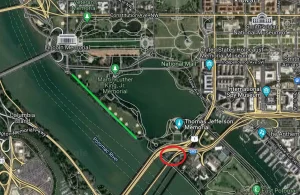 The most convenient free all-day parking near Lincoln Memorial is located south of the memorial all along Ohio Drive, SW near the Potomac River (green line).
Additional free parking is located below the Thomas Jefferson Memorial (red circle). This parking spot offers free three-hour parking. When parking here, we recommend visiting all the memorials you encounter along the way (e.g., George Mason Memorial, Thomas Jefferson Memorial, Martin Luther King Jr. Memorial, Frankin Delano Roosevelt Memorial) to make the most of your time.
Additional Parking Near the Memorial
In addition to the abovementioned lots, consider these affordable commercial parking garages north of the memorial. The rates listed below are for a three-hour stay.
| | | |
| --- | --- | --- |
| Address | Rate | Distance  |
| 2400 Virginia Ave. NW  | $24 | 0.5 mi |
| 533 21st St. NW | $30 | 0.6 mi |
| 600 New Hampshire Ave. NW | $14.95 | 0.8 mi |
| 800 22nd St. NW | $23 | 0.7 mi |
| 2650 Virginia Ave. NW | $23 | 0.8 mi |
Prices are subject to change and may differ between parking platforms or at different times of the day. Some of the options above may provide free parking extensions when you reserve parking through applications like SpotHero.
Street Parking Availability
Several metered parking spaces are located along Constitution Avenue. The rate is $2.30 per hour, and the maximum stay is 2 to 3 hours. Do not park here between 4 PM to 6:30 PM on weekdays as these become rush-hour lanes. Offenders will incur a $50 DC parking ticket.
Handicapped Parking
Accessible parking for vehicles with handicap stickers is available south of the memorial on Daniel French Drive. Spots are limited, so we recommend coming early, especially on weekends.
Take Public Transit to the Memorial
The most convenient way to get to the memorial is via Metrorail or Metrobus. Take the Silver, Orange, or Blue Metrorail lines which drop by the Smithsonian or Foggy Bottom stations. Metrobus lines 32, 34, and 36 stop near the museum. Calculate your fare using Trip Planner.
We Help You Find The Best Parking Spots
Our packing experts have developed hundreds of guides on popular destinations around the United States. Read more about Washington DC parking rates, or check out our guides below:
Flying out of the city? We make finding parking in airports easy: