This post also contains affiliate links and we will be compensated if you make a purchase after clicking on our links.
Whenever someone plans on going to an important game, one of the largest issues seems to be finding a suitable parking space. To avoid parking problems, fans can either use other transportation services or reserve a car parking spot in advance. Making an advanced reservation is also cost-effective. So, to help you out, we have created this guide with all the relevant Citizens Bank Park parking information. Below are all the stadium parking locations, parking fees, money-saving tips, tailgating info, etc.
Citizens Bank Park
All baseball lovers in Philly know about Citizens Bank Park, a major ballpark situated near downtown Philadelphia. It is a part of the South Philadelphia Sports Complex. The baseball stadium is home to the MLB's Philadelphia Phillies and seats nearly 43,000 visitors. Apart from amazing sporting events, the stadium has been hosting other special events like concerts. Some of the popular musicians who have played at CBP are Billy Joel, Paul McCartney, Justin Timberlake, Jay-Z, and Beyoncé.
Guests who are driving to Citizens Bank Park have an array of public parking options nearby. We are going to help you book the best Philadelphia Phillies parking spots by listing all the event parking structures at and near Citizens Bank Park. Discover more about the official visitor parking facilities and reserved parking areas to be able to find the most affordable spot near the stadium.
Citizens Bank Park Parking
As you can see on the Citizens Bank Park parking map, a great number of self-parking lots are situated around the ballpark. A lot of short-term parking spaces are available for regular vehicles, oversized vehicles, buses, and customers with a preferred parking pass. The campus parking map also shows you all the important details, such as the exact locations of each accessible parking area and the entrances.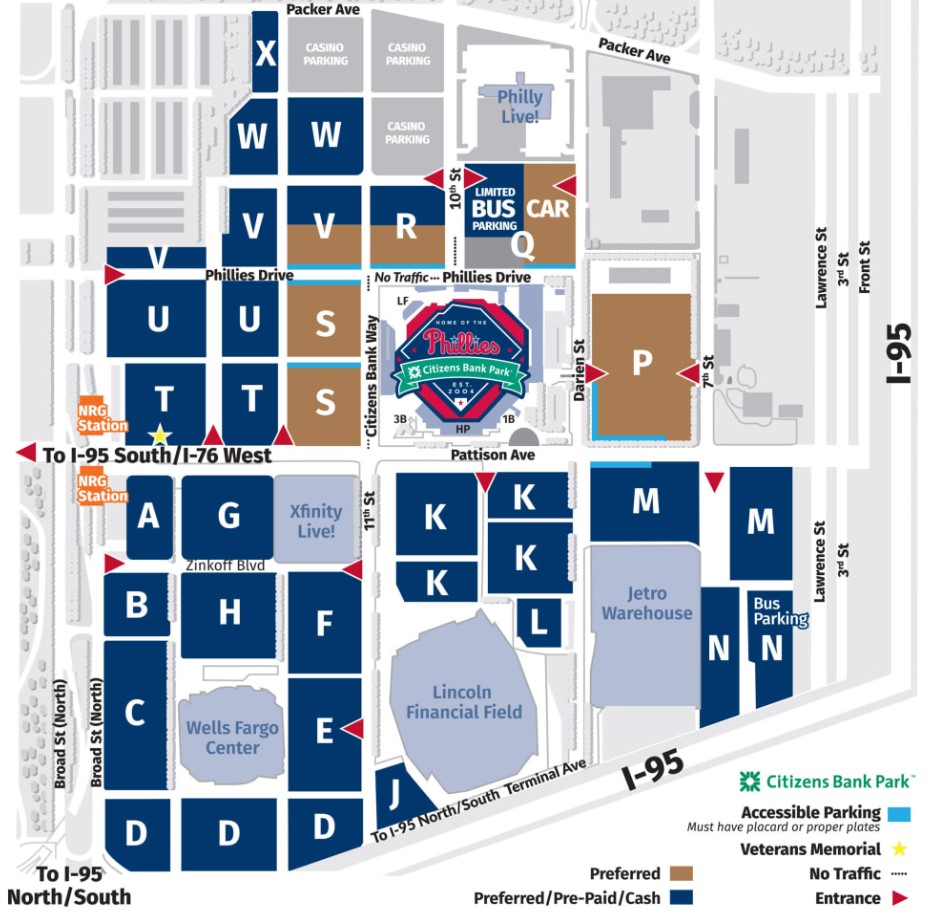 We advise you to arrive early and park in the first available parking lot since the price is the same in all of them. The car parking rate is $22. Oversized vehicles that take up more spaces are charged $40, while bus parking is available for $44. Preferred parking customers can park wherever they want using their long-term parking pass. Lots such as P and S are for these customers only. Every other area is open to all visitors coming to see Philadelphia Phillies games. To get the best deal for any 2022 season game, reserve Philadelphia Phillies parking in advance! >>Reserve on Vivid Seats

ADA Parking
Handicapped parking is available in the lots closest to Citizens Bank Park, as you can see on the map. Visitors have to own a disabled parking permit, license plate, or placard to use the accessible parking spots. Standard parking rates apply to all Philadelphia Phillies games.
Philadelphia Phillies Parking Near Citizens Bank Park
Since the vehicle parking lots around the ballpark provide nearly 21,000 spaces, the majority of baseball game fans usually park there. However, we discovered a couple of additional parking options that can reduce your expenses. This will require arriving earlier than usual, but at least you'll be able to get a cheap parking spot or even a free one!
You can find free parking on Lawrence Street, which is 2 blocks east of the stadium. There's limited on-street parking, and it's not too far away from Citizens Bank Park. So, if you come early, you can get a free parking space and use your spare time to check out some sports bars in the area.
The other convenient parking alternative for Philadelphia Phillies games is the Jetro Lot, a 10-minute walk away from the park. It is situated at 3899 South Darien Street and features a secure but not covered parking structure. The daily parking rate at this lot starts at $15, which is cheaper than the official Citizens Bank Park facilities.
Tailgating at Citizens Bank Park
Tailgating activities are allowed in the Citizens Bank Park parking lots A-H, M, and N during the 2022 season. These lots open 5 hours before the scheduled start time so that Phillies game fans could have plenty of time to have fun with friends. Alternatively, you can visit a sports bar before or after a Philadelphia Phillies game. Below are the most popular bars only minutes away from Citizens Bank Park.
Chickie's & Pete's
Broad Street Bullies Pub
NBC Sports Arena
Stadium Grille
Public Transportation in Philly
Citizens Bank Park is located at 1 Citizens Bank Way, and you can reach it via various ground transportation options. Public transit is the cheapest way to get to any MLB game or event, and SEPTA's Broad Street Line has a station a short walk away from the ballpark. NRG Station is situated at Broad & Pattison. Trains run every 10 minutes, and the one-way fare is only $2.50. You may also use SEPTA Bus Routes 4 and 17 to travel to Citizens Bank Park. Call Septa at 215-580-7800 for additional info on Broad Street Line or buses.
Other Helpful Parking Guides
Parking Access provides all the relevant details that help you make your trip, visit, and parking process much simpler! Aside from Citizens Bank Park parking, we cover other major venues and popular attractions in the city, including:
If you plan on flying out of Philly, our in-depth Philadelphia Airport Parking guide will give you all the information you need: on-airport parking fees, handicap parking availability, and off-site lots with shuttles to and from the terminals. Use our safe booking system to get a spot in no time and save up to 50%!