This post also contains affiliate links and we will be compensated if you make a purchase after clicking on our links.

Forest Park Parking 
The 1,326-acre Forest Park is a perfect place for families, nature lovers, and those engaging in diverse sports activities. It's open from 6 AM to 10 PM, and most parking lots are also open during these hours. See the park entrances on the map below, and then read about free and paid Forest Park St. Louis parking services.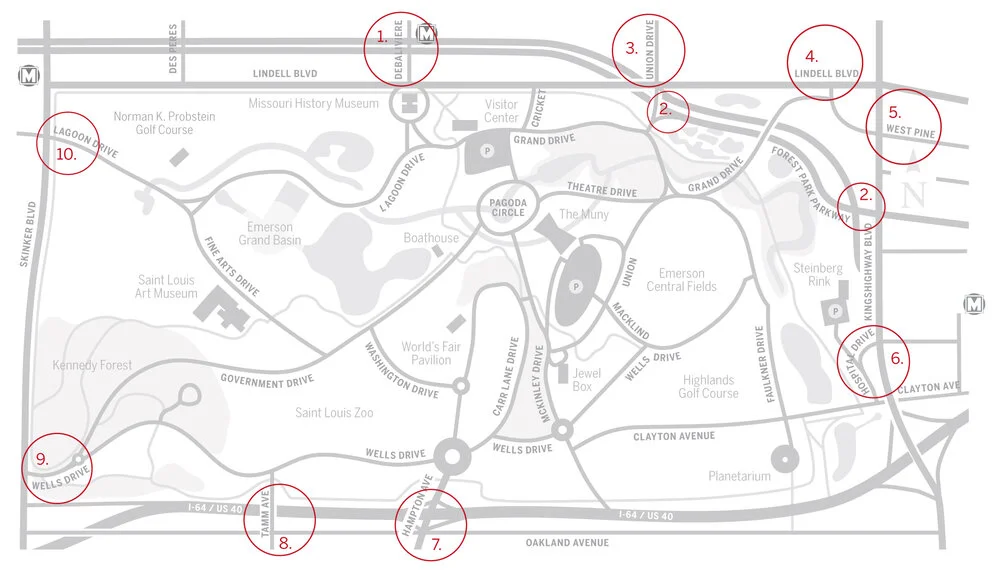 Free & Paid Forest Park Lots
If searching for a free Forest Park parking lot, choose one of the following areas.
Festival & Parking Plaza

(Upper Muny Lot) is a huge lot for Muny patrons and other park users. Call the Department of Parks, Recreation, and Forestry at (314) 289-5300 to get bus/RV parking permits. 

Lower Muny Lot

is northeast of the Muny. It also allows bus and RV permit parking.

Missouri History Museum Lots

are placed around the building.

Highlands Golf & Tennis Center Lot

is accessible from Clayton Avenue, which also offers street spots.

Boathouse Lot

is a small lot accessible from Government Drive.

Central Fields East Lot

is on Wells Drive, while the

West Lot

is on Macklind Drive.

Boeing Aviation Fields North Lot

is ideal for cars, RVs, and buses, while the

South Lot

accommodates standard cars only.

James S. McDonnell Planetarium Lot

is west of the Planetarium.

Norman K. Probstein Golf Course Lot

offers ample parking for golfers. Guests can also find alternative street parking on Lagoon Drive.

Steinberg Rink Lot

is south of the skating rink and accessible from Jefferson Drive.

Visitor Center Lot

(East and West) is south of the Visitor and Education Center. It's suitable for any motor vehicle and those using the Forest Park Explorer.

Saint Louis Art Museum East and West Lots

offer free parking for its guests.

Richard Hudlin Tennis Courts Lot

is accessible from Clayton Avenue.
Here are the lots with paid parking spaces.
Saint Louis Science Center Lot

is a large paid parking lot behind the building, and the cost is

$10

per vehicle.

Saint Louis Art Museum Underground Lot

east of the building charges

$15

per day or $5 for members. Validate your ticket to get the discount.

St. Louis Zoo North Lot

on Government Drive and the

South Lot

on Wells Drive charge

$15

per vehicle. The rate applies throughout the peak season, and there are no overnight parking passes.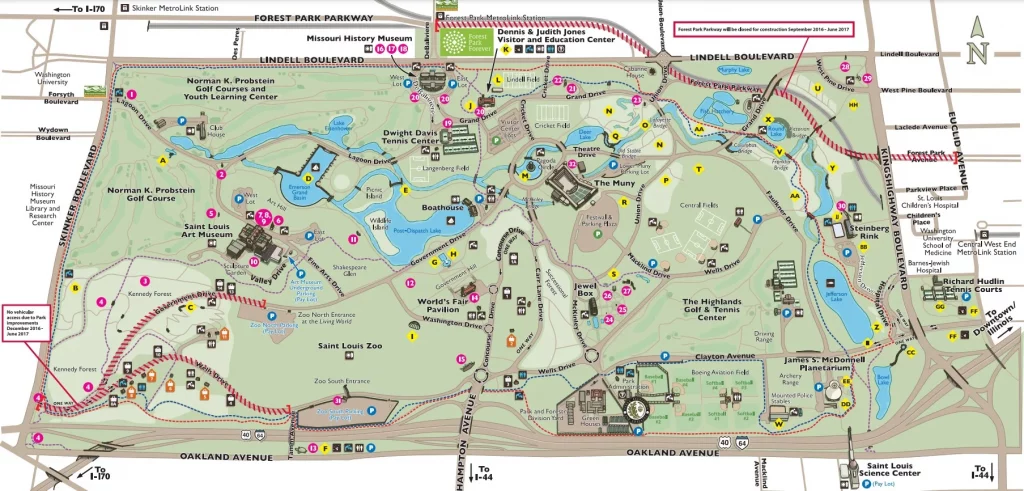 See the full Forest Park parking map here.
Public Transit in St. Louis
MetroLink operates a couple of lines that stop around the Park. Skinker Station is near the northwest corner of the park and is served by Blue Line. Forest Park-DeBaliviere Station is north of the park and served by Blue and Red Lines. These trains also stop at Central West End, which is just east of the park. The MetroLink fare is $2.50.
Other Helpful Guides
St. Louis residents and visitors can use our assistance to learn more about the following.