This post also contains affiliate links and we will be compensated if you make a purchase after clicking on our links.
Stifel Theatre parking
Located at the center of downtown St. Louis, Stifel Theatre (also known as Kiel Opera House or Peabody Opera House) is a historic performing arts venue that has hosted several of entertainment's biggest names. The theatre lacks an official parking area, but our comprehensive guide offers tips on nearby garages, affordable off-street and on-street options, updated parking costs, and public transportation.
Convenient Parking Near Stifel Theatre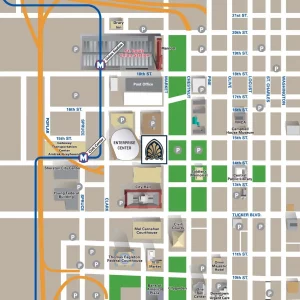 The map above displays all parking spots within the immediate vicinity. To help you in your search, we listed below the nearest and most affordable options in the downtown west neighborhood and beyond.
City-Owned Lots and Garages
The lots and garages below are owned by the City of St. Louis. These are great options for visitors looking to save. The following table displays both standard rates and event rates, but the hourly prices listed are only for the first hour. Additional hours have different prices. Rates may change without notice.
Facility 
Address
Rate
Hours

City Hall Lot

1201 Clark Avenue

Standard: $2/hour

Event: $10 – $20 

6 AM to 7 PM, Monday to Friday

Kiel Center Garage

1515 Clark Avenue

Standard: $1/hour

Event: $10 – $20

6 AM to 6 PM, Monday to Friday. 

Central Downtown Garage

707 Pine Street

Standard: $3/hour

Event: $5 – $10

6 AM to 8 PM, Monday to Friday.

Justice Center Garage

1115 Clark Avenue

Standard: $3/hour

Event: $15 – $20

5 AM to 8 PM, Monday to Friday.

Cupples Station Garage

421 South 10th Street

Standard: $2/hour

Event: $15 – $20

5 AM to 8 PM, Monday to Friday.
Metered Parking Near the Theatre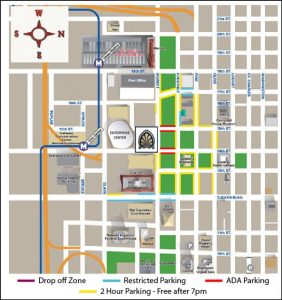 Free 2-hour street parking is available near the theatre on several streets, including Olive, Pine, Chestnut, and Market St. ADA-accessible parking can be found on 15th and 14th Streets between Market and Chestnut. Keep an eye out for posted signs and time limits to avoid incurring a St. Louis Parking Ticket.
Additional Parking Near the Theater
Stifel Theatre visitors will find parking in several commercial lots and garages within downtown St. Louis. We listed the best options below. To guarantee a parking spot, you can book Stifel Theatre parking in advance via applications like SpotHero. The rates listed below are for a three-hour stay.
| | | |
| --- | --- | --- |
| Address | Rate | Distance |
| 1401 Locust St. | $25 | 0.3 mi |
| 1300 Spruce St. | $8.75 | 0.4 mi |
| 1523 Saint Charles Street | $10 | 0.3 mi |
| 215 S 8th St. | $20.50 | 0.6 mi |
SpotHero may offer free parking extensions for the facilities above when you purchase a mobile parking pass in advance.
Transportation Options
MetroBus lines 4 and 32 drop by the 14th Street @ Market Sb bus station, a 3-minute walk from the theatre. Likewise, lines 10 and 31 stop by the Civic Center Transit Center station, just a 4-minute walk from the theatre.
Visitors may also ride the MLB metro to Stadium Station, just a minute's walk to the theatre. See stops, schedules, and fares using the Metro St. Louis Trip Planner.
We Make Parking in St. Louis Easier
Find awesome parking spaces with our guides on the following venues and attractions: