Greater Columbus Convention Center Parking
Peter Eisenman's urban design project, the Greater Columbus Convention Center, is located on N High Street (accessible from W Nationwide Boulevard). It offers a unique event experience for downtown conventions, trade shows, private celebrations, and other events. If you're planning a visit, we'll help you save time and book a low-cost space. Find the location of any GCCC parking facility or a public lot a short walk away. You can also park in these facilities when going to the Hyatt Regency or Hilton Hotel.
Find Parking at Greater Columbus Convention Center
Drivers can choose from several car parking options located in the immediate vicinity. Discover their locations and event parking fees in the following list. Then, check availability and pre-book a Greater Columbus Convention Center parking spot online.
| | | | |
| --- | --- | --- | --- |
| Parking Facility | Event Rate | Address | Walking Distance |
| Goodale Garage | $15 | 70 East Goodale Street | <1 minute |
| South Garage | $15 | 50 E Nationwide Boulevard | 2 minutes |
| Vine Garage | $15 | 37 Vine Street | 2 minutes |
| Ohio Center Garage | $15 | 400 N High Street | 3 minutes |
| North Surface Lot | $15 | 50 E Goodale Street | 1 minute |
| East Surface Lot | $12 | 80 East Nationwide Boulevard | 6 minutes |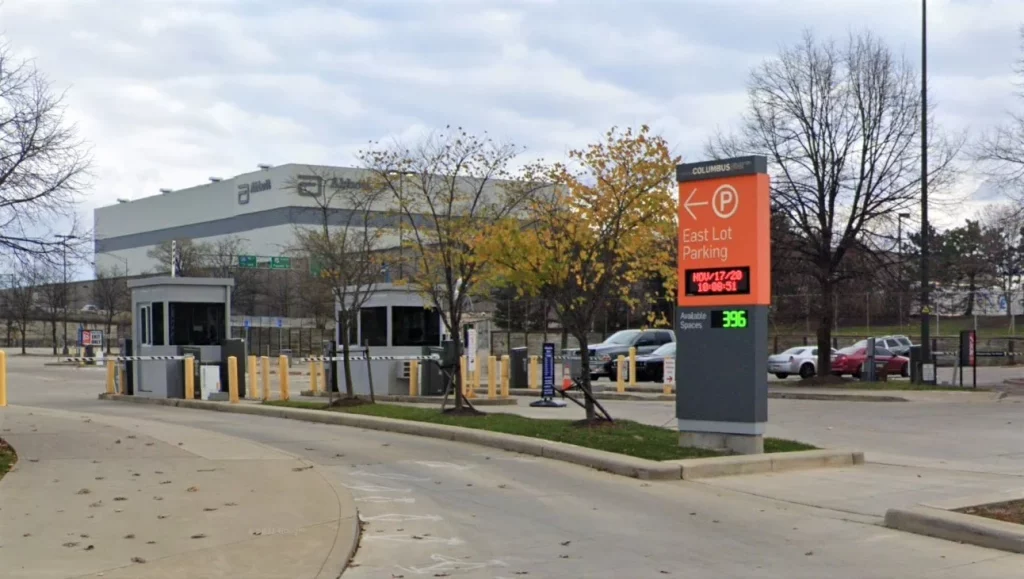 Aside from being the cheapest, East Parking Lot is also suitable for oversized vehicles. Bus and large truck drivers should reach out to [email protected] to purchase a GCCC parking pass in advance. 
On-Street Parking Availability 
Limited metered parking is available on many nearby streets, and meters are in effect from 8 AM to 10 PM. Some spots have a 30-minute or 3-hour limit, while others have no time limit. The hourly parking rate is $1 on most streets. The fee may vary according to the location or time of the day; read the signs carefully to avoid parking tickets.
Additional Lots Near the Venue
SpotHero users can find cheaper options and purchase a mobile parking pass in no time. Here are the best downtown Columbus parking facilities in the area with convenient access to the venue.
| | | | |
| --- | --- | --- | --- |
| Parking Lot | Daily Rate | Address | Walking Distance |
| Lot 35AB | $5 | 164 Vine St. | 7 minutes |
| Lot 35D | $10 | 97 Spruce St. | 4 minutes |
| Lot 35E | $10 | 165 W. Vine St. | 8 minutes |
The Blue Jackets' home arena is a 5-minute walk away, so you should look into Nationwide Arena or VividSeats for more awesome parking deals.
Take a Bus to the GCCC
Columbus residents and those staying in a city hotel can use public transit to reach the convention center. Several COTA buses stop right on N High Street: 1, 2, 5, 102, and AirConnect. Buses 72, 74, and 75 pick up and drop off on Vine Street. The COTA bus fare is only $2, and you can utilize COTA's website to organize your trip.
We Make Parking Safe and Affordable
Not only does the Parking Access team help you find discounted spots, but we also provide helpful tips to make the entire process safe. Aside from GCCC parking, you may use our assistance to compare prices and book Nationwide Arena. If you tend to park on the streets, learn how to avoid, fight, or pay parking tickets effortlessly.
Those who are planning a trip out of CMH can reserve on-site Columbus Airport Parking or park in the off-site lots like OhPark or Park With The Shark.