This post also contains affiliate links and we will be compensated if you make a purchase after clicking on our links.
Located in downtown Columbus, Nationwide Arena is a great place to catch an NHL game. The arena was built on the historic Ohio State Penitentiary site and got its name because Nationwide Insurance sponsors it. The award-winning Nationwide Arena opened its doors to great fanfare in September of 2000 and has since hosted the NHL All-Star Game, regular season and playoff hockey, NCAA championships, conferences, and a multitude of concerts and touring events. Our Nationwide Arena parking guide will help you save time and better understand car parking options, handicap parking availability, and parking rates.
Nationwide Arena Parking Options
There are more than 15,000 parking spaces available within a 15-minute walk radius of the Nationwide Arena district. This number varies depending on the event itself and the days of the month. >>Reserve on Vivid Seats
Guests can enjoy both prepaid or pay at the counter to secure a parking spot at the arena. It is always advisable to book your parking spot in advance for popular events as it is challenging to find one on the event day itself. 

Parking Garages
Here is a list of the Nationwide Arena parking garages available around the venue for Columbus Blue Jackets games:
| | | | |
| --- | --- | --- | --- |
| Parking Facility | Address | Rate | Walking Distance |
| McConnell Garage | 335 John H McConnell Blvd. | $20 | 6 minutes |
| Marconi Garage | 245 Marconi Blvd. | $10 | 10 minutes |
| Neil Ave. Garage | 300 Neil Ave. | $10 | 4 minutes |
| Arena Crossing Kilbourne Garage | 425 N Front St. | $15 | 13 minutes |
| Front St. Garage | 285 N. Front St. | $15 | 3 minutes |
Parking Lots
Arena's official website also recommends several nearby lots:
Buggyworks Lot at 448 W Nationwide Blvd
Vine Lot at 441 Park St
Northbank Lot at 291 Neil Ave
Flats On Vine at 191 Vine St
Hocking Lot at 260 Hocking St
Fletcher Lot at 450 W Nationwide Blvd
Arena Crossing Lot at 425 N Front St
Most of them have a regular parking rate of $3 for 2 hours of parking. The Flats On the Vine lot is available for $5 per 2 hours, while the Northbank Lot on Neil Avenue is the most expensive—the cost is $8 for a couple of hours. The Nationwide Arena parking map below shows the locations of all parking facilities.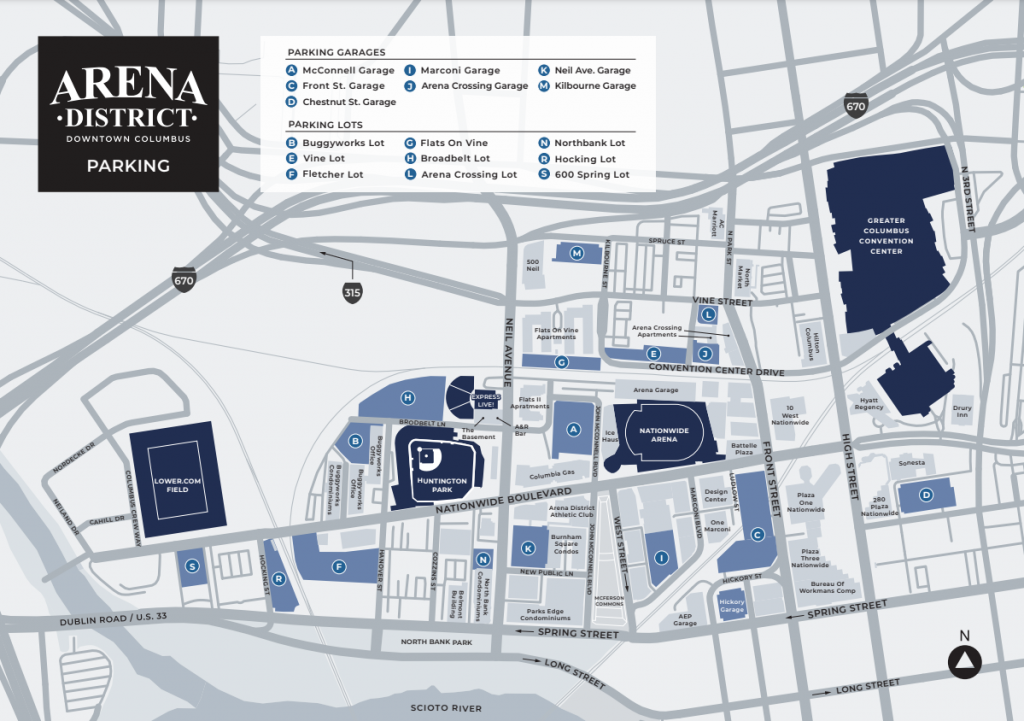 Accessible Parking
The Arena is committed to providing ADA accessibility, and all surrounding parking lots and garages offer accessible spaces. It is required that you must have a state-issued disabled parking hangtag. For guests with special needs, a section on McConnel Blvd is dedicated as a drop-off. Here are the suitable access points:
The North entrance of the McConnell garage
North-east access to the Front Street garage
Check out the Accessibility page to learn more about ADA services at the venue.
Columbus Blue Jackets Parking Near Nationwide Arena
Aside from the listed garages and lots, there are a few reasonably-priced lots in the area operated by Park Place. They allow pre-booking, so feel free to reserve your spot in advance through sites like ParkWhiz and save up to 50%! Here are the prices on Blue Jackets game days:
| | | | |
| --- | --- | --- | --- |
| Parking Area | Event Rate | Address | Walking Distance |
| Lot 19 | $6 | 228 N. Lazelle St. | 9 minutes |
| Lot 17 | $6 | 260 N. 4th St. | 9 minutes |
| Lot 14 | $6 | 201-203 N. 4th St. | 10 minutes |
| Lot 35 | $10 | 148 Vine St. | 6 minutes |
Park & Dine
Marconi Garage offers parking space at only $3 for the first two hours when dining at the select district restaurants.
Marconi Garage is located at 245 Marconi Boulevard.
You can dine at restaurants like Nada, Boston's, Ted's Montana Grill, or Sunny Street Cafe and have them validate your ticket.
Upon exiting the parking lot, present your validated ticket, and they will charge you accordingly. If it is only 2 hours, you will have to pay $3 only; if you park for more than 2 hours, you will have to pay for the additional hours.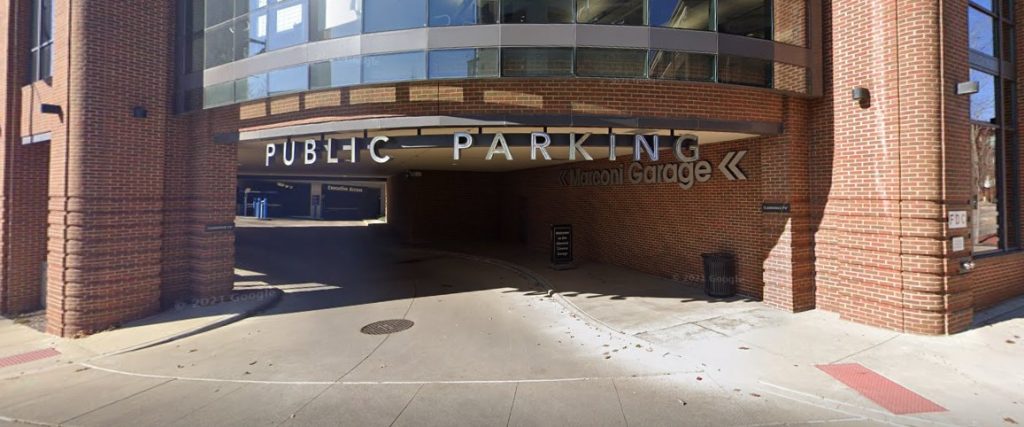 Additional Parking Options 
Apart from Columbus Blue Jackets parking services, you can learn more about overnight parking options at the local motels within a 15-mile radius of the Nationwide Arena:
Plan to fly out of Columbus soon? Have you considered where you're going to park your car? Our in-depth guide to Columbus Airport Parking has everything you need: on-airport parking rates and availability, handicap parking information, and all the off-site parking companies with shuttles to and from the terminal.