Located in the heart of Downtown Detroit, Huntington Place is in the top 20 largest convention centers in the United States. Formerly known as TCF Center (2019–2021), Cobo Center (2010–2019), and Cobo Hall (1960–2010), it was built by the City of Detroit and opened in 1960.
If you need to visit Huntington Place or any other place in Downtown Detroit, you can park your car using any of the parking spaces this convention center offers. Read on to find the most convenient parking options that you can find at this convention center and nearby places.
Garage Parking at Huntington Place
Currently, the convention center offers nearly 4,200 parking spaces at the Congress Street Garage, Washington Blvd. Garage, the Roof Deck, and the Joe Louis Garage. These facilities offer accessible parking spaces available on a first-come, first-served basis., monthly options, and valet services for events. 
Huntington Place parking fees may vary depending on the location and parking duration. Expect to pay around $20 during events, and be sure to have your credit card at hand. Learn more about each garage below, and then compare them with the nearby alternatives.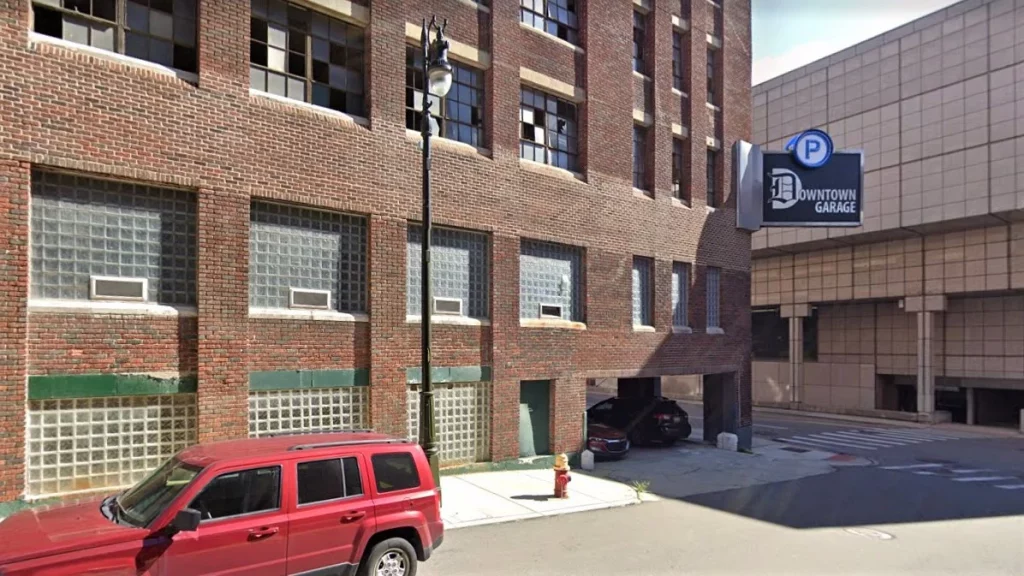 Congress Street Garage
The Congress Street Garage is located underneath Huntington Place at the intersection of First and Congress streets. It offers 56 uncovered and 350 covered parking spaces, and it's open for monthly parking and special events.
Washington Blvd. Garage
This garage is also underneath Huntington Place at the corner of Washington Blvd and Larned St. It has two levels, offering 640 covered parking spaces.
You can park your car here Monday-Friday from 6:00 AM to 10:0 PM. The parking hours vary for events and weekends.
Roof Deck Parking
The Roof Deck Parking is located on the venue's roof at the intersection of Third and Congress Streets. It offers 1,200 covered parking spaces, and it's open Monday-Friday from 6:00 AM to 11:00 PM. Again, the parking hours vary for events and weekends.
Joe Louis Garage
The Joe Louis Garage offers 1,600 covered parking spaces, and it's located at 900 W. Jefferson. Note that it only provides parking services for large events.
Nearby Lots
You can also find many nearby garages and street spots where you can park your car. These options will come in handy if Huntington Place parking spots are full. All the following options are located close to the convention center, and you can reach them within minutes on foot.
| | | | |
| --- | --- | --- | --- |
| Parking Facility | 3-Hour Cost | Address | Walking Distance |
| Shelby St. Parking Lot | $15 | 525 Shelby St. | 4 minutes |
| W. Larned St. Lot | $10  | 154 W. Larned St. | 6 minutes |
| Jefferson Ave. Lot | $20 | 701 W. Jefferson Ave. | 9 minutes |
Remember that the parking fee mentioned above is subject to change, especially during event days. We suggest you check the updated rates and book a spot through SpotHero.
Also, if you come across an on-street parking stall, be sure to read the signs carefully to avoid pricey tickets.
Public Transportation Options
The Huntington Place monorail station is on the facility's fourth floor, and you can take the Detroit People Mover to get there. It's a quick and affordable way to travel around downtown—a one-way ride is only $0.75.
Several DDOT bus lines stop at the nearby Washington & Jefferson stop: 3, 6, 9, 16, and 40, while Transit Windsor operates the Tunnel Bus that also makes stops there. The DDOT 4-hour pass is $2.00, while the latter costs $7.50.
Find a Spot Wherever You Go
Our useful guides will help you locate the most convenient spots at or near other popular locations in the city, such as the Detroit Institute of Arts, Ford Field, Comerica Park, and Little Caesars Arena. Plus, if you're flying out of the city, be sure to check out the best airport deals here.