Opened on 30 August 2008 in the Deco District of Tulsa, Oklahoma, the BOK Center, or Bank of Oklahoma Center, is a multi-purpose arena that hosts indoor sports and entertainment events. Whether you're going to an ice hockey game or a concert, we'll help you plan your visit—discover the most convenient BOK Center parking lots and garages near the venue. Additionally, you'll learn about ADA parking availability, on-street spots, and public transportation, the best alternative to driving. Let's dive in!
Top Parking Near the Bank of Oklahoma Center
Currently, the Bank of Oklahoma Center doesn't own and operate any parking lots. However, there are several nearby options, offering more than 9,000 available parking spaces that you can use. We have chosen the cheapest lots and garages within walking distance of the venue for your convenience.
| | | | |
| --- | --- | --- | --- |
| Parking Facility | Event Rate | Address | Walking Distance |
| Boulder Block Lot | $7 | 120 N. Boulder Ave. | 8 minutes |
| Lot A | $8 | 32 W 1st St. | 3 minutes |
| One Place Lot | $10 | 255 W 3rd St.  | 2 minutes |
| Philtower Garage | $10 | 432 S. Cincinnati Ave. | 9 minutes |
| Undercover Lot | $10 | 120 W 3rd St. | 3 minutes |
| One Place Tower Garage | $11 | 202 S. Cheyenne Ave. | 2 minutes |
Note: The listed BOK Center parking fees are subject to change and may vary according to the event. Look for the best deals on SpotHero and ParkWhiz and compare them to find the cheapest spot for any occasion.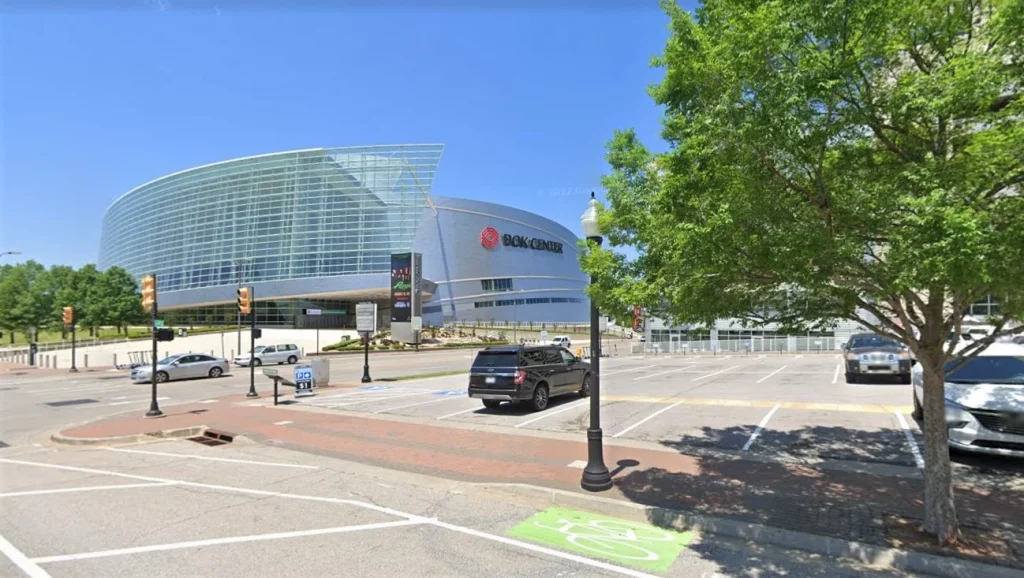 Where To Find ADA Spots
Most parking lots in Tulsa Deco District, such as Philtower Garage and Arts District Lot, offer parking spaces for physically-impaired guests. All the parking lots discussed above are located within walking distance of the BOK Center.
However, it'll be difficult for guests with impairments to cover that distance. Therefore, you should drop them off on West 3rd Street between Frisco Avenue and Denver Avenue before parking your car.
Park on Nearby Streets
If you need a parking spot for a couple of hours only, consider using on-street parking. Metered parking is limited to just 2 hours in Tulsa Deco District and is enforced from 8 AM to 5 PM, Monday through Friday. Wherever you park, be sure to read the posted signs and choose the space carefully to avoid getting a ticket.
Public Transportation Options
The Bank of Oklahoma Center is just a 3-minute walk from the Denver Avenue Station. The Tulsa Transit buses operate between 05:00 AM and 07:30 PM, Monday through Sunday. 
You can get a 3-hour pass at $1.75 and a 1-day pass at $3.75. Check out all Tulsa Transit bus routes here.