Agganis Arena parking
The Agganis Arena at Boston University is a multi-purpose sports arena hosting several events, including hockey, basketball, boxing, tennis, and concerts. Our guide gives you the low down on on-site parking, nearby parking facilities, updated costs, and transportation tips. The arena is located at 925 Commonwealth Ave, Boston, MA 02215, United States.
Parking for Agganis Arena Events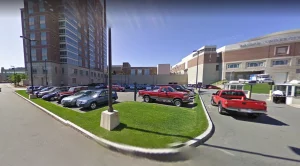 The arena's on-site parking garage and lots (1 & C2) are available for both transient and public parking from 7 AM to 11 PM, except for event days and holidays. These lots are closed to Boston University employees during various University events.
On-site parking facilities open 90 minutes before an event or performance and the cost for event-day parking is as follows:
| | |
| --- | --- |
| Event | Rate |
| Terrier Hockey Games | $12 |
| Special Events | $15.00 – $30.00  |
The rates above are subject to change. Payments must be made using Visa, MasterCard, American Express, or Discover.
Additional Agganis Arena Parking Lots
Apart from the official parking facilities, the following parking areas may be provided to accommodate more guests during select events:
Lot B – Langsam Garage & Lot (142 Gardner Street)
Lot D – Buick Street Lot (25 Buick Street)
Lot E – CFA Lot (855 Commonwealth Avenue)
Lot F – Essex Street Garage & Lot (148 Essex Street, Brookline)
Lot H – Upper Bridge Lot (1 University Road)
Lot R – 766 Commonwealth Avenue Lot (766 Commonwealth Avenue, Brookline)
Unless otherwise noted in advance or permitted by attendants at the time of the event, Boston University's lots D, E, F, H, and R are only for staff with permits and do not permit guests to park.
Street Parking Availability
The venue's official website warns against parking on nearby neighborhood streets due to their residential nature. To avoid pricey Boston parking tickets, look for alternatives in the following section or opt for public transit.
Additional Lots in the Area
If the lots above are full, you may find parking at the nearby surface lots and garages below. We whittled down the closest and most affordable options. The rates listed below are for a six-hour stay and may change depending on the date or nearby events.
| | | | |
| --- | --- | --- | --- |
| Facility  | Address | Rate | Distance  |
| Courtyard by Marriott Cambridge lot | 777 Memorial Dr.  | $20 | 357 ft |
| Stars of Boston Garage | 55 Green St. – Right Garage | $15 | 0.7 mi |
| The Arcadian Hotel garage | 1200 Beacon St. | $14 | 0.7 mi |
| Fenway Center Bower garage | 771 Beacon St. | $15 | 0.4 mi |
| Trilogy Garage | 180 Brookline Ave. | $18 | 1.2 mi |
You may receive free parking extensions for the lots above by securing a SpotHero mobile parking pass and reserving a spot in advance.
Use Public Transportation
Ride MBTA bus lines 8, 57, 60, 65, and 8A to Kenmore Square and hop on the westbound "B" train to reach the Babcock Street stop two blocks from the Arena.
Alternatively, you can ride the "T" Subway Green Line to reach the Armory Street subway station, just a 10-minute walk away from the arena. See schedules or calculate your fare with the MBTA website.
We Make Parking in Boston Easier
Get awesome parking tips from our numerous guides on Boston attractions, including:
Additionally, our Boston Logan International Airport parking guide allows you to compare prices on on-site and off-site parking options.