SoFi [Hollywood Park] Stadium Car Parking (On-Street Options!)
SoFi Stadium is one of the few venues, set in urban LA, shared by two NFL teams—the Los Angeles Chargers and Los Angeles Rams. It's located in Inglewood, 15 miles from downtown LA, and easily accessible by car. Apart from the National Football League games, the venue has hosted various events, including the Super Bowl and WrestleMania. Parking Access will help drivers find an event parking space and purchase a mobile pass i no time. Learn about main on-site parking areas, newly announced designated prohibited spaces, off-site lots with shuttle service, on-street parking spaces, and game-day tailgating hours. You'll also find information about local public bus transportation like the Metro.
SoFi Stadium Parking Zones
The Rams and Chargers stadium offers an extensive range of visitor parking areas located around the venue. The lots are divided into nine zones:
Platinum Parking Zone
Yellow Parking Zone
Blue Parking Zone: Lot N >>Reserve on Vivid Seats
Brown Parking Zone: Lots C & D >>Reserve on Groupon
Green Parking Zone: Lots A & B >>Reserve on Vivid Seats
Orange Parking Zone: Lots E, F, G, H >>Reserve on Vivid Seats
Pink Parking Zone: Lots I, J, P, Q >>Reserve on Vivid Seats
Purple Parking Zone: Lots K, L, M >>Reserve on Vivid Seats
Retail Zone: Lost 1, 2, 3, 4, 5

The map shows the location of each event parking area and zone: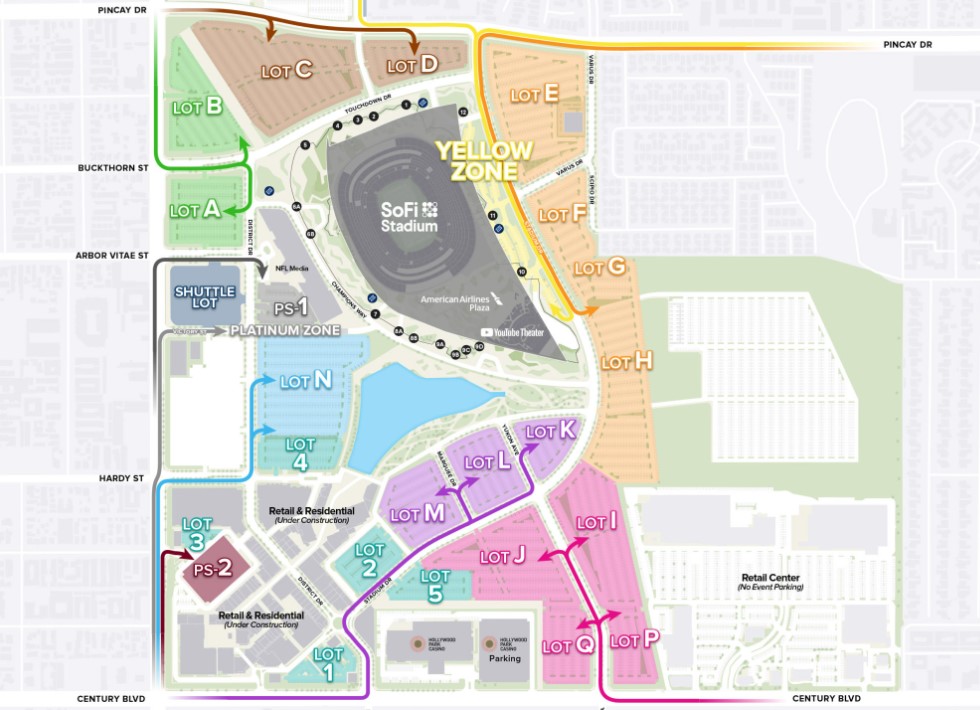 Parking reservations are required, and we suggest booking a parking pass as early as possible since parking is limited. Download the pass into your phone and show it to the parking staff upon entry.
Get Guaranteed Instant Parking Reservations Now on Vivid Seats
Super Bowl Parking + Shuttle
There are several parking and shuttle options available for Super Bowl.
For only $4, you can park at the Harbor Gateway Transit Center and take a shuttle to/from SoFi between 9:30 AM and 8:30 PM via the 7x Stadium Express.
Additionally, the Blue and Purple lots have shuttles running.  As well as the 111th Street shuttle, which also takes care of the 98th Street and two other lots called the Airport Spectrum Parking Garage and Hilton Airport Parking Garage. It's $40 plus the $10 shuttle cost.
Accessible Parking
All structures offer handicapped parking stalls, which are available on a first-come, first-served basis. Each vehicle occupying such a spot needs to own and display a disabled parking permit, placard, or license plate. A valid stadium parking pass is also required! Accessible shuttles often operate within the lots before and after the events, so feel free to use them.
Parking for Oversized Vehicles
Oversized vehicle parking spaces for RVs, limousines, shuttle vans and buses are available in Lot P. The Pink Zone is the only one that accommodates such vehicles. Each visitor has to have a parking pass to enter the lot. 
How Much Is Parking at SoFi Stadium?
The downside to the official on-site parking service is the parking cost, according to its many visitors. Not only is parking restricted and cramped, but it's also high-priced. A  parking pass for season ticket holders is $60 per game, while other visitors pay as low as $80. The single-game parking rate is even higher for oversized vehicles and tailgating spots. For these reasons, we suggest looking into the below-listed remote parking options.
Parking Near the Venue
On-street parking isn't available for SoFi Stadium events, and the residential parking program is in effect on all streets. If you don't have a residential permit, leave your car in an off-street lot to avoid parking tickets or towing. The Forum is a short walk away and offers more affordable parking services, so we suggest looking into The Forum Parking guide. It might help you find a spot for as low as $20 on sites like SpotHero.
IPark&Go: Remote Parking + Shuttles
Multiple locations in Inglewood, as well as a couple of lots in El Segundo and Los Angeles, offer IPark&Go services. These package deals include remote parking and shuttles to and from the City of Inglewood's Intermodal Transit Facility, which is right next to the stadium. The shuttle fare is $7 per person, while parking rates start at $23. See all the remote parking information in the list below and reserve parking online to lower your costs.
| | | |
| --- | --- | --- |
| Parking Facility | Address | Parking Prices |
| Civic Center Garage | 1 Manchester Blvd, Inglewood | $33 – $40 |
| Inglewood Public Library | 101 W. Manchester, Inglewood | $33 – $40 |
| Senior Center Garage | 333 East Queen St, Inglewood | $33 – $40 |
| Locust Street Garage | 115 South Locust St, Inglewood | $33 – $40 |
| SFII Flyte | 2222 E Imperial Hwy, El Segundo | $23 – $30 |
| Playa District | 6870 Park Terrace, Los Angeles | $23 – $30 |
Tailgating at SoFi Stadium
SoFi Stadium and Hollywood Park allow tailgating in the Pink Zone only, and parking is limited, so we suggest pre-booking a parking pass as early as possible. The lots open four hours before kick-off, and we urge you to follow tailgating rules to have the best game-day experience:
One parking permit is available per person, per vehicle.
Guests aren't allowed to purchase additional spaces.
Fire lanes and driveways must remain unobstructed.
Only propane grills and natural gas grills are allowed.
Overnight parking is forbidden.
All tailgating activities end at kick-off.
Tailgating is allowed for select events only.
Transportation to the Stadium
Want to avoid driving and worrying about finding a suitable spot? Use the Metro C Line to the Hawthorne/Lennox Station, and then hop on a free Metro SoFi Stadium shuttle bus! Complimentary shuttle buses run every 5 to 8 minutes several hours before kick-off and an hour and a half after the game. Note that, although these shuttles are free, standard fares apply for regular bus and rail service. Regular buses that stop near SoFi Stadium include Metro Bus lines 115, 117, and 212.
Guests who need a ride to or from Los Angeles International Airport should pre-book a shuttle to LAX or request a Lyft at LAX. If you decide to use app-based transfers, the rideshare drop-off point is at 3695 Pincay Drive, a short walk away from the entrance.
Electric Vehicle Charging Stations at SoFi Stadium
SoFi Stadium offers eco-friendly transport solutions. EV charging stations in select parking zones make it easy for EV owners to recharge while attending events. These stations accommodate various electric vehicle models, ensuring a smooth experience for all. Check the website for info on station locations, availability and fees.
Family-Friendly Parking Areas
SoFi Stadium provides family-friendly parking near the entrance, with extra space for strollers and child seats. Check the map and reserve a spot ahead of time to make your visit stress-free.
Safe and Well-lit Walking Paths from Parking Zones to Stadium Entrance
SoFi Stadium prioritizes visitor safety and comfort. Illuminated paths connect parking zones to the entrance, with clear signage for easy navigation. Security personnel are on-site to assist and ensure a secure environment.
Other Southern California Parking Guides
Our team creates comprehensive guides that offer information on parking at countless locations in the area! Apart from SoFi Stadium parking, we cover the most popular venues in Greater Los Angeles:
If you plan on flying out of Los Angeles, check out our guides to LAX Parking. Use our tips to find and book the most convenient spot and avoid getting an LA parking ticket!