Clearwater Beach, FL, is an ideal place for everyone who loves long beautiful sun-drenched beaches. In fact, it was awarded Florida's Best Beach Town, while TripAdvisor named it the best beach in the U.S. in 2019. Exciting beach activities like jet-skiing and parasailing attract many visitors year-round, while others can take a walk along the beachfront promenade lined with cafes and restaurants. Sounds inviting, doesn't it? There's only one thing that may cause stress here, and that's finding affordable and convenient Clearwater Beach parking.
So, we dug into parking on Clearwater Beach, FL, to find all the options and provide you with helpful Clearwater Beach parking information. Here's what you'll discover: public parking lots, garages, parking permits, street parking availability, hotel parking options, and some useful tips. Let's dive in!
Clearwater Beach Parking Lots
The simplest way to find a suitable and reasonably-priced car parking spot is by arriving early. This way, you'll have more chances of getting a spot in a convenient location. So, the time of your arrival is crucial.
North Beach Parking Plaza is the largest Clearwater Beach parking structure with plenty of covered parking spots. It's located north of the roundabout. The main parking garage is the only one that offers overnight parking services and is open 24/7. The hourly rate is $3, while the maximum daily parking cost is $30. North Beach Parking Plaza also provides 15 minutes of free parking. Also, there's an option of monthly parking ($40) for anyone who needs a long-term parking space.
In addition to North Beach Parking Plaza, the town allows you to find and get a spot in many other lots. So, look at our list below to see all city parking lots open to the general public, as well as their addresses:
Lot 30 (for Marina activities only) at 25 Causeway Boulevard;
Lot 31 (Pier 60) at 160 S. Gulfview Boulevard;
Lot 32 at 420 S. Gulfview Boulevard;
Lot 34 at 429 Mandalay Avenue;
Lot 35 at 461 Mandalay Avenue;
Lot 36 at 4 Rockaway Street;
Lot 37 (Avalon-Kendall) at 6 Avalon Street;
Lot 38 (Family Aquatic & Recreation Center) at 51 Bay Esplanade;
Lot 39 (McKay Field) at 605 Mandalay Avenue;
Lot 43 (Gateway) 390/1 East Shore Drive.
All of the listed car parking areas have the same hourly parking price, which is $3, and the time limit of 5 hours. Lots are open between 6 AM and 11 PM (except for Lot no. 38, which opens at 8 AM). Also, most of them are open after hours and allow parking at no charge.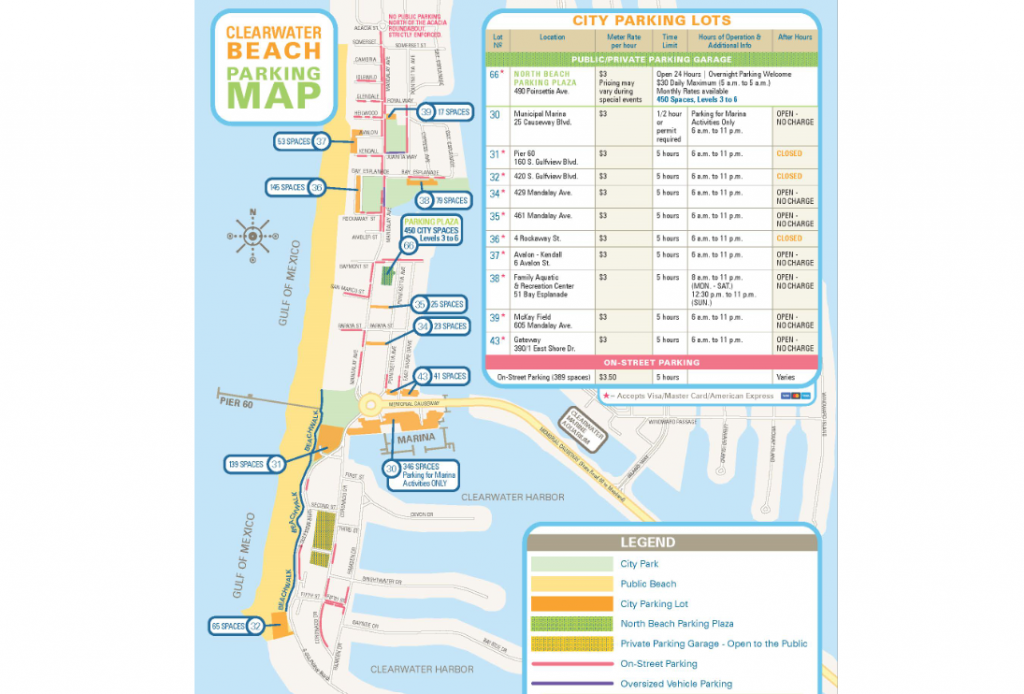 Street Parking
When it comes to on-street parking in Clearwater Beach, FL, there are 389 parking spaces located both south and north of the roundabout. Metered parking rate is $3.50 per hour, and there's also a time limit of 5 hours. It's usually hard to find a public parking space on the streets (and it is a bit pricier than the lots), but if you come across one, feel free to use it.
Hotel Parking
Some Clearwater Beach hotels provide private parking areas not only to their guests but to Clearwater Beach visitors as well. Of course, the guests are entitled to free parking, while others have to pay. For example, Hyatt Regency Clearwater Beach Resort and Spa (at 301 South Gulfview Boulevard) offers a self-parking service for $25 per day and valet parking for $29 per day. An affordable alternative is provided by Holiday Inn & Suites Clearwater Beach, which has a self-parking option available for a daily rate of $20.
How To Pay For Parking
The city of Clearwater has a "Pay by Plate" parking system, which makes paying for parking much simpler and more convenient. Clearwater Beach parking lots and garages have pay-by-plate parking kiosks that require your license plate numbers before paying. Full-color display screens provide step-by-step instructions on parking transactions.
Clearwater Beach visitors may also pay for parking via the Parkmobile parking app. The app also allows you to extend your parking session and sends reminders when your session is about to expire. It's available on the App Store, the Google Play Store, and the Microsoft Store. Clearwater residents who use the Parkmobile app are eligible for a discount program.
With the exception of Lot no. 30, each car park (including North Beach Parking Plaza) accepts Visa, Master Card, and American Express credit cards.
How To Purchase a Parking Permit
Several types of parking permits are available and provided by the city of Clearwater, FL. For example, there's a permit for beach employees, city employees, marina employees, etc. Each Clearwater Beach parking permit refers to one particular lot, except for the resident recreational permit that allows parking in Lots no. 36, 37, 38, 39, 44, and 68. If you wish to purchase any parking permit, you can easily register on the City of Clearwater Citizen Portal.
Additional Information
Florida has so much to offer! If you wish to explore the inviting waters of Florida's Gulf coast, visit other beaches and cities near Clearwater Beach, FL. Quiet Sand Key is very close and perfect for relaxation; it has over 700 car parking spaces near the beach. Belleair Beach is less than 10 minutes away and provides two parking lots with free parking spots. Indian Rocks Beach in Pinellas County offers beautiful beaches along the Gulf of Mexico. Indian Shores is also located a short drive away. St. Pete Beach is a 30-minute drive away (via Gulf Boulevard), and this famous resort city attracts many visitors. We recommend going to Treasure Island to enjoy the calm beach, white sand, and clear water. Treasure Island also has several parking lots, such as the City of St. Petersburg Municipal Beach lot, Gulf Front Park, and Tern Lot.
If you're flying out of Tampa International (TPA) Airport or St. Pete-Clearwater International (PIE) Airport, be sure to compare parking rates, check shuttle times, and read customer reviews before booking. TPA is 30 minutes from Clearwater Beach, FL, while PIE is a 20-minute drive away (approximately 9 miles from downtown St. Petersburg).
Covid-19 Travel Update on Clearwater Beach, St. Pete Beach, Indian Rocks Beach
Wondering if you could come to Clearwater Beach, St. Pete Beach, Belleair Beach, Redington Shores, or any other place in the area during the pandemic? Don't worry; you can still have fun with your friends or family in St. Pete/Clearwater, FL. Simply check out up-to-date information before your trip and find out the status of local businesses and how to visit responsibly. If you plan on having a spring vacation, see how travel restrictions affect traveling.
Apart from Clearwater Beach parking information, Parking Access can help you get the best and most affordable spots in many other places, such as Miami Beach and Wrightsville Beach, as well as countless airports. Don't waste your time on a search for parking; let us help you find the most suitable spot!