This post also contains affiliate links and we will be compensated if you make a purchase after clicking on our links.
Book Raymond James Stadium Parking Deals
Parking Access is your go-to choice whenever you're searching for convenient parking at or near major stadiums, arenas, and airports. To discover useful car parking information for any event, game, or trip, check out our guides and then use our booking system to make a reservation on the spot! The Raymond James Stadium Parking Guide will give you all the relevant details on official parking services, parking near Raymond James Stadium, and tailgating. You may also use it to find out the event parking rates and see the stadium parking map.
Raymond James Stadium
Commonly known as Ray Jay, Raymond James Stadium is a large multi-purpose stadium very popular among NFL fans. It is the home field of the Tampa Bay Buccaneers, as well as the South Florida Bulls football team. The sports venue is located in Tampa, Florida, a 10-minute drive away from the city center.
NFL fans surely know that Ray Jay has been the site of a few Super Bowls. The first Super Bowl was in 2001, the second one in 2009, and Super Bowl LV in 2021, when the Buccaneers became the first team ever to play and win a Super Bowl in their home stadium.
If searching for driving directions, type the following address into your mapping app: Raymond James Stadium – 4201 N Dale Mabry Hwy, Tampa, FL 33607. For real-time traffic or road closure updates, you may use the free Waze app. Once you get there, you can choose between several Ray Jay parking structures. However, we suggest that you discover all about the event parking options beforehand and have a stress-free game day. Keep reading for Raymond James Stadium parking lots, prices, tips, and more!
Raymond James Stadium Parking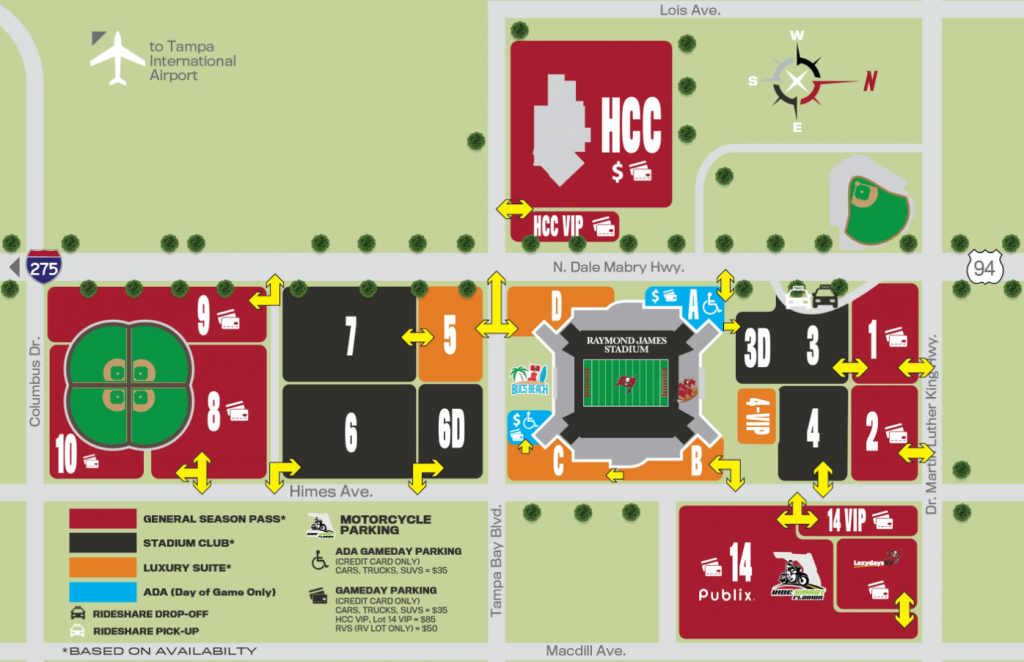 Plan on coming to check out a Tampa Bay Buccaneers game or some other event at Ray Jay? As you can see on the Raymond James Stadium parking map, you have plenty of options! Overall, there are 14 parking areas within walking distance of the sports venue. However, some of them are available to season ticket holders only. The list below will give you an answer to the question of how much is parking at Raymond James Stadium:
| | |
| --- | --- |
| Vehicle Type | Parking Rate |
| Cars | $30 |
| Trucks and SUVs | $35 |
| RVs | $50 |
The Tampa Bay Buccaneers parking spaces are available on a first-come, first-served basis. You can pay using major credit cards; cash is accepted in the HCC Lot only. If you wish to park in the HCC VIP Lot or VIP Lot 14, the cost will be $85. Also, VIP parking spots can be reserved in advance. Motorcycle parking is available in Lot 14. >>Reserve on Vivid Seats
You can use the official Bucs App to access your Raymond James Stadium parking pass, and then have it ready to be scanned by an attendant.

Accessible parking
ADA parking at Raymond James Stadium is available in Lot A/3D off Dale Mabry, as well as Lot B/C off Himes Avenue. These spots are as close to the entrance as possible. Be sure to bring proper identification since a disabled parking permit is required. You cannot book a handicapped parking spot in advance, but you may call 813-350-6500 for additional help.
If driving an electric vehicle to an NFL game, you can find a few EV charging stations nearby, including the ones at 2625 N Grady Ave and 2223 N Westshore Blvd.
Tailgating at Raymond James Stadium
Although tailgating used to be permitted, the Covid-19 pandemic affected the stadium's policies. At the moment, both tailgating and recreational activities within the Tampa Bay Buccaneers' parking lots aren't allowed. For up-to-date information regarding this topic, feel free to check Raymond James Stadium's website.
Transportation to Raymond James Stadium
Sports fans who don't drive, or simply want to avoid the exhausting search for a cheap spot, can use ridesharing apps to reach the sports venue. Uber and Lyft drivers pick up and drop off Ray Jay visitors at the mass transit area along Dale Mabry Highway. Note that the pick-up area is subject to change for concerts and some larger events. Alternatively, you can grab a taxi cab. Anyway, whichever option you choose for your visit, be sure to get to the stadium on time, which is about an hour before the game.
---
In addition to Raymond James Stadium parking options, you can use Parking Access to find parking at other sports venues, including:
Plan on going on a trip soon? Have you considered how you're going to park your car at the airport? Our guide to Tampa Airport Parking has all the info: on-airport parking rates, handicap parking availability, and all the off-site parking companies with airport shuttles.