This post also contains affiliate links and we will be compensated if you make a purchase after clicking on our links.
Book Tropicana Field Parking Deals
Important games and major events always attract many visitors, and that's why it is so hard to find a convenient parking space. Avoid this hassle by using public transportation services or cabs, and drivers can save a lot of time and money if they plan ahead. Parking Access gives you all the valuable information on car parking at Tropicana Field lots, parking tips, and a safe booking process. To discover all about Tropicana Field parking availability, map, locations, and vehicle parking rates, keep reading our guide.
Tropicana Field
The Trop—which is a commonly known name for Tropicana Field—is a domed stadium mostly used for Major League Baseball games but also college football games. It is the home of the MLB Tampa Bay Rays since 1998. Apart from sporting events, the ballpark has hosted many concerts by well-known musicians like Eric Clapton, Depeche Mode, Guns 'N' Roses, and R.E.M.
The stadium is conveniently located in downtown St. Petersburg, at 1 Tropicana Dr, St. Petersburg, FL 33705, which allows you to easily reach it. Use public transport or ride-sharing apps to get there and avoid circling the area in search of a cheap parking spot. A free shuttle service is provided to all Tampa Bay Rays games. The shuttle bus goes around St. Petersburg, starting an hour and a half before any game. The Baseball Looper Trolley picks up and drops off sports fans at Gate 4.
Visitors who are driving will have no issues if they make a parking reservation in advance and get there on time. That's where we come in! Check out all the valet and self-parking facilities at and near Tropicana Field and choose the most suitable one.
Tropicana Field Parking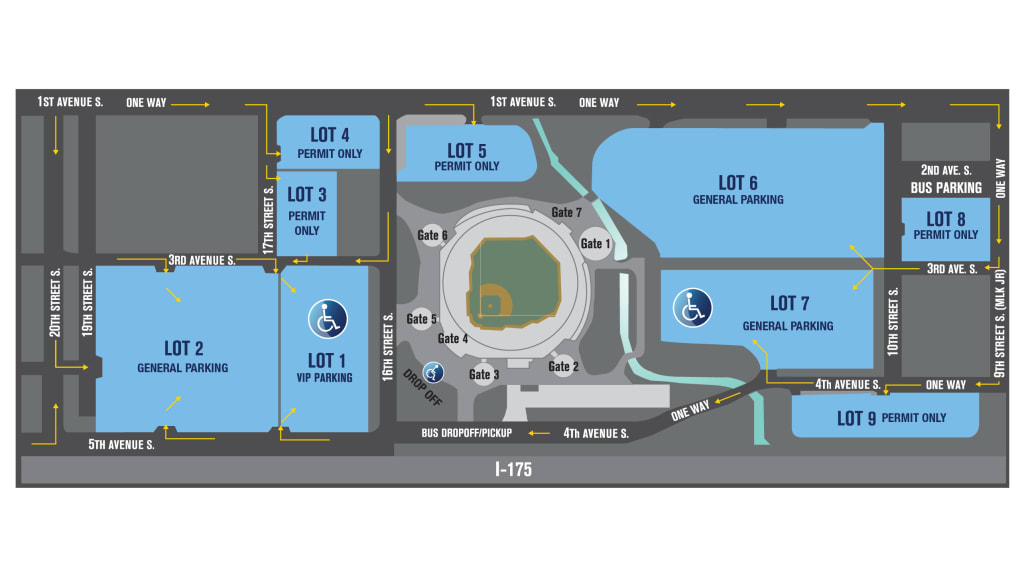 The Trop offers several public parking options to its visitors. Tropicana Field Lot 1 is a Premium Parking lot for guests sitting in premium areas, just like Lot 4. If you wish to park here, purchase a pre-paid parking ticket since you might not find a drive-up visitor parking ramp. Lot 6 and Lot 7 are a 3-minute walk from the field gates, and these are the most suitable Tampa Bay Rays parking options for the general public. Lot 2 also doesn't require permits, while Lots 3, 4, 5, 8, and 9 do. >>Reserve on Vivid Seats
Daily and hourly parking rates vary by game, but the prices start at $15—you can find online Tropicana Field parking tickets for $15 to $25. Reserved parking fees are not included. Making an online reservation in advance will allow you to have a quick and hassle-free event parking experience. Free Tampa Bay Rays parking spots aren't available anymore.

ADA Parking at Tropicana Field
As you can see on our Tropicana Field map, accessible parking is available in Lots 1 and 7 (near the entrance). Visitors can park in the designated handicapped parking spots only if they have a disabled parking permit, license plate, or placard. Standard parking rates apply, and handicap parking spaces are available on a first-come, first-served basis.
Rays Parking Near Tropicana Field
Downtown parking areas can be a great alternative to the Tropicana Field parking lots if you want to reduce your expenses. However, we do not recommend using metered parking because the ballpark visitors often end up with parking tickets. If you do find a metered space, please look for signs or read the meter to check if it is enforced 24 hours. If it is, look for another spot.
Apart from on-street parking, we have discovered some independent daily parking structures nearby. Some of them require a 10-minute walk to/from the Rays' field, but they are safe and more affordable than the official Tropicana Field parking services. Check out the locations of downtown car parks and choose the most suitable one for a Tampa Bay Rays game. Note that rates are subject to change.
| | | |
| --- | --- | --- |
| City Parking Facility | Address | Daily Rate |
| McNulty Garage — Covered Parking | 175 2nd Street South | $7.50 |
| One Progress Plaza Lot | 255 1st Avenue South | $7.00 |
| John Hopkins Middle School Lot | 701 16th Street South | $5.50 |
| Suntrust Garage Parking | 309 2nd Avenue South | $5.00 |
Surface lots are more suitable for oversized vehicles, and we do not recommend the Suntrust parking deck or McNulty Garage if your vehicle is higher than 6'. 
Tailgating at Tropicana Field
If you wish to have the best game-day experience with your friends, we have a great suggestion. Tailgating activities are allowed in the Tropicana Field parking areas, which open two and a half hours before the first pitch. Be sure to follow the posted guidelines, and have some pre-game fun with your friends!
Major League Baseball fans who don't want to tailgate can hit a bar near Tropicana Field. Several of them are close to the Trop, and you can stop by and have a craft beer or maybe grab a bite. Check out some of the best bars in the area:
Engine No. 9 at  56 Dr. Martin Luther King Jr. Street North
Ferg's Sports Bar & Grill at 1320 Central Avenue
Independent Bar St.Petersburg at 1049 Central Avenue
The Lure at 661 Central Avenue North
---
In addition to Tropicana Field parking garages and lots, you can use Parking Access to book overnight parking at countless airports. If you plan on going on a trip soon, go through our guide to St. Pete-Clearwater Airport Parking to discover on-site parking prices, off-airport parking providers with free shuttles, and much more!