Whether you're searching for a convenient valet parking service or discounted parking spot, Parking Access can help you find it and book it. Our reservation process is simple — compare all the rates and make a secure parking reservation in no time! 
If you plan on going to a game of the Milwaukee Bucks basketball team or another event in the Fiserv Forum, we suggest that you check out all the public parking options nearby. Major events tend to draw a lot of people, which can make it hard to find parking. Accordingly, we'll provide you with Fiserv Forum parking information and enable you to find the best spot!
Fiserv Forum
Opened in 2018, Fiserv Forum is practically a new multi-purpose arena that has been hosting exciting basketball games, great concerts, and various other events. It's home to the NBA Milwaukee Bucks. The venue is situated in downtown Milwaukee, at 1111 Vel R. Phillips Avenue, Milwaukee, WI 53203, which is minutes away from the city center. 
The convenient location allows visitors to easily reach the arena using public transportation services, cabs, or their own vehicles. Bus routes 19, 33, and 80, operated by the Milwaukee County Transit System, can take you to and from Fiserv Forum. Lyft is allowed to pick up and drop off along the avenue, so you may use ride-sharing services as well. Drivers who are looking for safe visitor parking facilities nearby have many options. Below are all the Fiserv Forum parking structures, as well as downtown parking areas.
Fiserv Forum Parking
The arena offers many self-parking spaces close to the Fiserv Forum entrances, and game fans who want a quick parking service can make advanced parking reservations. The two parking decks are more expensive than the on-street parking spots, but street parking is limited and hard to find. 
The 5th Street Parking structure, located at 1215 North 5th Street, can be accessed from McKinley Avenue. To reach it, take exit 73A to McKinley Avenue, then turn left and proceed east. Turn right on 5th Street, and proceed to the second entrance. The event parking garage is open 24/7 for short and long-term parking. Maximum daily and hourly parking rates vary, but you will have to pay at least $25.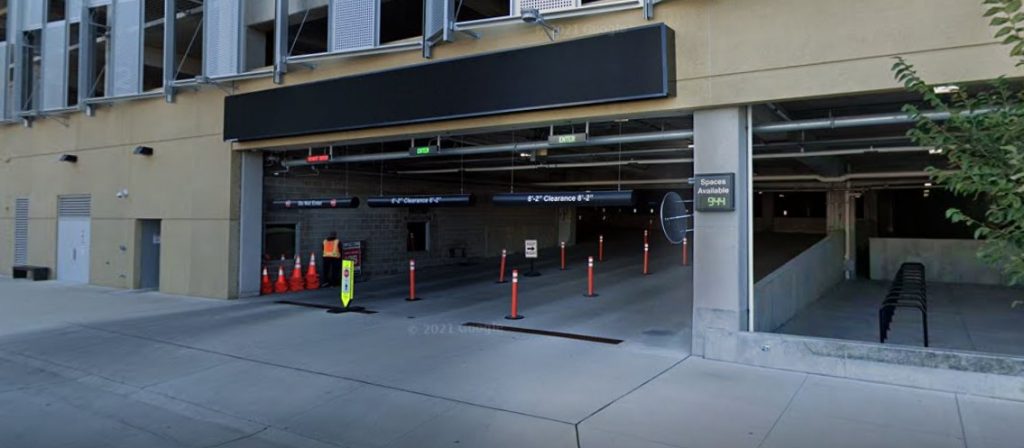 Accessible parking is available, and you may ask a parking attendant for directions. Visitors have to own a disabled parking permit, license plate, or placard to use these spots.
People driving oversized vehicles should note that the height restriction is 8'2" on the first 2 floors, after which the maximum height is 7'2".
Electric vehicle charging stations are also available in the 5th Street garage — two EV charging stations are on the second level, and the third level station can accommodate one electric vehicle.
Highland Structure is another Milwaukee Bucks parking area situated at 1030 N 6th St, a 4-minute walk away from the arena. The Highland parking facility is open during all Milwaukee Bucks games, and the short-term parking tickets are available online. Daily parking rates aren't always the same. Usually, visitors pay as low as $20-25 (parking fees not included). You can also purchase a general parking pass for the N 6th Street structure.
Fiserv Forum doesn't provide a valet service at the moment. Free parking for bicycles is available in the 5th Street garage parking, adjacent to the main vehicle parking entrance. It's available on a first-come, first-served basis.
Milwaukee Bucks Parking Near Fiserv Forum
Finding both cheap and convenient parking lots before a major event isn't easy. Rates drastically change whenever Milwaukee Bucks play an important game, and that's why we tried to find more affordable downtown alternatives. This way, you can cut your costs, but you'll need up to 10 minutes to reach the arena after you park the car. Check out our list below for all the important details regarding the best car parking near Fiserv Forum:
| | | |
| --- | --- | --- |
| Parking Lot/Garage | Address | Daily Rate |
| 1214 N Water St. Lot | 236 E Knapp St. | $5 |
| Milwaukee Center Garage | 111 E Kilbourn Ave. | $14 |
| SpringHill Suites Valet | 744 N 4th St. | $15 |
| North Water Street Lot | 1233 N Water St. | $15 |
| 5th St. Lot | 630 N. 5th St. | $15 |
| 6th & Wells Lot | 601 W Wells St. | $15 |
| Penny Lot | 728 N James Lovell St. | $20 |
Tailgating at Fiserv Forum
Tailgating is not permitted in the Fiserv Forum car parks, but we have other great suggestions for you and your friends. Check out any of the downtown bars and pubs before or after the Milwaukee Bucks game, grab a beer, and have some fun. We discovered and listed the best places near Fiserv Forum in Milwaukee, Wisconsin:
Old German Beer Hall at 1009 N Old World 3rd St;
Carson's Ribs at 301 W Juneau Ave;
The Mecca Sports Bar and Grill at 1134 N Vel R. Phillips Ave;
Drink Wisconsinbly Pub at 320 W Highland Ave;
Buck Bradley's Saloon & Eatery at 1019 N Old World 3rd St.
---
In addition to Fiserv Forum Parking availability, Parking Access offers affordable overnight parking at countless major airports. Don't hesitate to check out our Milwaukee Airport Parking guide before any trip to find parking deals, get upfront prices, and make a reservation on the spot. We offer on-site parking rates, handicap parking information, and off-airport parking lots with airport shuttles!