With over 1.5 million visitors annually, the National Aquarium is Maryland's most popular tourist attraction. During weekends or holidays, the number of guests peaks at the National Museum which might make parking a challenging endeavor. Our guide offers comprehensive insights on the best places to park in the Inner Harbor, with tips on how to procure tickets and utilize public transportation if you aim to skip the hassle of Baltimore Aquarium parking.
How Much Are Tickets to the Baltimore Aquarium?
The National Aquarium opens at 9 AM daily, but closing hours vary every month. Guests are free to tour the aquarium up to 90 minutes after the last entry time. Here are the rates for general admission, which offers access to all exhibits and presentations. Tickets may be purchased online. 
| | |
| --- | --- |
| Age | Price  |
| 2 and below | Free |
| 3 – 11 | $29.95 |
| 12 – 64 | $39.95 |
| 65+  | $34.95 |
Members get unlimited access for one year, and membership rates start at $75.
The National Aquarium also offers various tours and experiences, such as Dolphin Training sessions and Aquarium Sleepovers. Learn more about these programs and their rates at the National Aquarium website.
Discounted Parking at the National Aquarium
The National Aquarium does not have its own parking facility, but guests can enjoy discounted rates at official partner parking facilities upon validation. The National Aquarium parking prices are below:
| | | | |
| --- | --- | --- | --- |
| Parking Facility | Address | Discounted Price | Distance  |
| Harbor Park Garage | 55 Market Pl | $18  | .01 mi |
| Lockwood Garage | 124 Market Pl | $28 | .01 mi |
| LAZ Inner Harbor Garage | 100 S Gay St | $15 | .03 mi |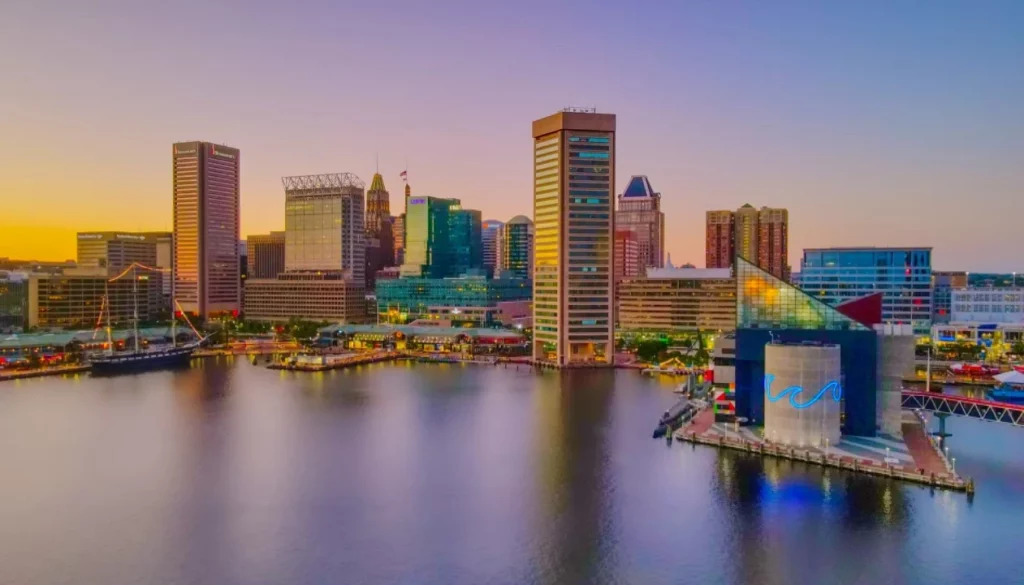 Additional Parking Near the Baltimore Aquarium 
Aside from the options listed above, you'll find several affordable parking garages within the proximity of the National Aquarium. Consider these options when the official partner parking facilities are full. The rates listed below are for a three-hour stay. 
| | | | |
| --- | --- | --- | --- |
| Parking Facility | Address | Price | Distance |
| Pier 5 Garage | 711 Eastern Ave. | $20 | 0.2 mi |
| Harbor Court Garage | 30 E. Lee St. Garage | $20 | 0.6 mi |
| 414 Light Street | 414 Light St.  | $25 | 0.4 mi |
| Gallery Garage | 101 S Calvert St | $29 | 0.3 mi |
Prices may change and differ between parking platforms or at different times of the day. Some of the facilities mentioned above offer free parking extensions through applications such as SpotHero.
ADA Parking Availability
Accessible parking for National Aquarium visitors is available in several locations. Three of the aquarium's official partner parking facilities, Harbor Park Garage, Lockwood Garage, and LAZ Inner Harbor Garage, offer accessible parking spaces.
Street Parking Near the National Aquarium
Street parking can be tricky around the National Aquarium, but you'll find a few options in and around the Inner Harbor. Metered parking rates range from $1 to $4 an hour with a maximum stay of 4 hours. Even then, it may be challenging to look for an available slot. If you're aiming to stay more than three hours, parking at Harbor Garage is more cost-effective and will help you avoid incurring a Baltimore parking ticket. 
Take Public Transportation to the Baltimore Aquarium 
The National Aquarium sits in downtown Baltimore at the center of the Inner Harbor and is accessible by rail and bus. The Penn Station for Amtrak is located just one mile from the National Aquarium. The Light Rail, Metro Subway, and MARC Train also have stops or stations near the aquarium. 
BaltimoreLink is the city's most prominent bus network. Bus lines CityLink Navy, CityLink Yellow, City Link Brown, LocalLink 65, and LocalLink 54 drop by bus stations close to The Aquarium. One-way fares are $1.90, and 1-Day Passes are $4.40.
Park Effortlessly in Baltimore with Parking Access 
Our international team works tirelessly to offer travelers comprehensive parking guides in countless locations across the continent. Aside from the Baltimore Aquarium parking guide, Baltimore residents and visitors can learn parking information about the following places:
If you're thinking of moving to Baltimore, read our comprehensive guide on monthly parking options. Flying out of the city? Learn about BWI Park Sleep Fly Offers, or compare and reserve airport parking slots with our BWI Airport Parking guide.