Whether you got a City of Berkeley parking ticket or want to learn how to avoid one, this is the guide for you! We looked into the city parking regulations and discovered ways to avoid, contest, or pay Berkeley parking tickets. Discover the nitty-gritty of on-street parking, go through the three-step process of contesting the ticket, and find all citation payment options!
The Nitty-Gritty of Berkeley Street Parking
In addition to the conventional single-space meters, Berkeley offers many multi-space parking meters throughout the city. These are in effect Monday through Saturday between 9 AM and 6 PM, except on national holidays. Time limits vary from two to eight hours; for instance, residential parking areas are limited to two hours.
The city has implemented the following rate structures for metered parking:
The goBerkeley program comprises 2,000 parking spaces in the heart of the city, divided into Value (green) and Premium (blue) areas. Parking rates range from

$1.25 to $4.00

per hour, the highest being in Premium spots.

A

$1.50

hourly rate applies on Solano Avenue, Claremont & Ashby, Telegraph Avenue

,

San Pablo Avenue, College & Alcatraz, University Avenue, and the Gilman District. 
The payment process varies according to the meter, but it's always simple! You can pay using your phone or app, while IPS Pay Station machines accept coins, credit cards, and debit cards. Carefully read the instructions and hours on each pay station and parking sign before you park the vehicle.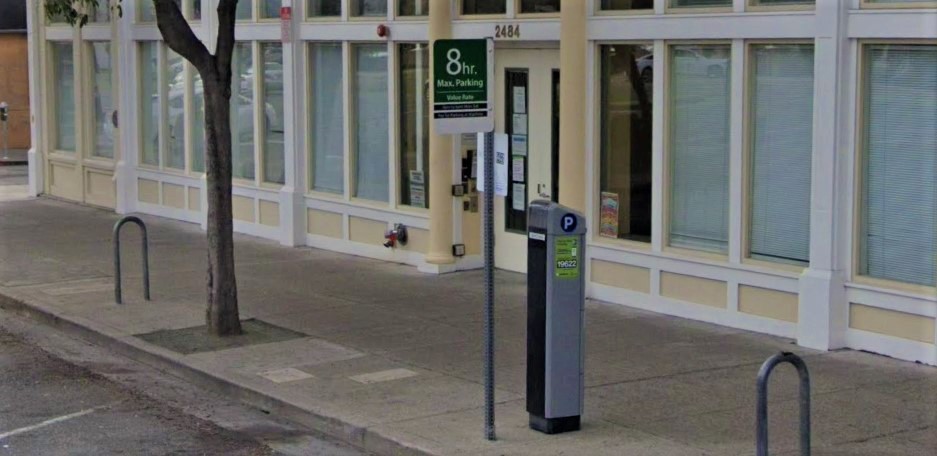 Berkeley Parking Violations & Fines
The Berkeley parking ticket cost varies according to the violation and whether you pay it right away. Here are the most common violations in the City of Berkeley:
| | |
| --- | --- |
| Parking Violation | Fine |
| Expired Meter | $43 |
| Street Sweeping | $49 |
| Overtime Parking at Commercial Zone | $57 |
| Parking at Red Curb/No Parking Sign | $64 |
| Illegal Disabled Parking | $278 |
These are the original ticket fines—note that they increase by $30 after 30 days and by an additional $50 after 49 days. So, in total, you'll spend an extra $80 if you don't pay a Berkeley parking ticket within 50 days of the issuance date.
Already Got a Ticket? Learn How To Contest It!
The State of California and the City of Berkeley issue parking citations and allow drivers to contest them by following the three-level process. See the explanation of each step below.
1. Administrative Review
The first step is requesting an Administrative Review, and you must do it within 21 days of the ticket issuance date. The request should include your statement, the original citation or its copy, and supporting evidence like photos, witness statements, receipts, etc. 
Submit your request online or mail it to the following address: City of Berkeley, Citation Processing Center, P.O. Box  29, Berkeley, CA 94701. Alternatively, drop it off in person at the Customer Service Center, which is on the first floor of the 1947 Center St. building. If you have a question or want to check the review status, call (844) 855-2333.
2. Administrative Hearing
If you're not satisfied with the Administrative Review decision, take the second step—schedule an administrative hearing. Remove the payment coupon from the Administrative Review letter and check the "Hearing in person requested" box. Mail the coupon and the hearing deposit, which is the full amount of your Berkeley parking citation, to the following address: City of Berkeley, Parking Citation Processing Center, P.O. Box 29, Berkeley, CA 94701.
You'll get a notice with the date and time of your in-person hearing via mail. The success of your request for dismissal depends on your supporting evidence, so don't forget to submit all the necessary documents. If you need to reschedule the hearing, call (844) 855-2333.
3. Court Appeal to Superior Court
If the Administrative Hearing Examiner doesn't dismiss your ticket, but you want to continue fighting it, there's only one step left—appeal the decision to Superior Court. You must make an in-person request at the Superior Court within 30 days of receiving the hearing decision. The $25 fee applies, which you'll get back if the judge rules in your favor.
File the Berkeley parking citation appeal at the Alameda County Superior Court at 1225 Fallon Street in Oakland. The business hours are Monday through Friday from 8 AM to 4 PM.
How To Pay a Berkeley Parking Ticket
If you failed to dispute your ticket successfully or don't want to deal with the administration, you have a few ways to pay it.
Online

: Use

Online Service Center

to pay your ticket at any time. Enter the citation number, license plate, and MasterCard or Visa details. Note that there's a $3 transaction fee.

By phone

: Call (855) 435-7112 and take advantage of the 24-hour payment line. You'll also need the citation number and credit card information.  

By mail

: Send a check or money order payable and your parking citation to the following address: City of Berkeley, Parking Citation Processing Center, P.O. Box  29, Berkeley, CA 94701.

In person

: Head to the Customer Service Center at 1947 Center Street. The office is open Monday through Thursday from 8:30 AM to 4 PM.

The city offers another payment method—providing

community service instead of cash

. Reach out to the Finance Customer Service Center on any Wednesday to sign up.
Should you have questions regarding your payment, call the Customer Service team at (844) 855-2333.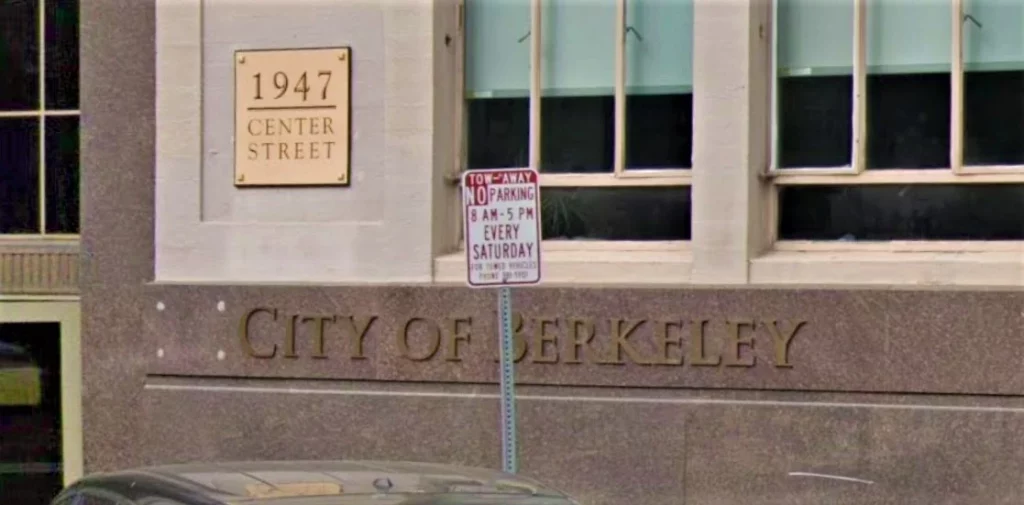 Contest Parking Citations in Any City With Our Help!
Parking Access has everything any driver nationwide may need! Whether you're moving to another city, flying out of any airport, or attending a big event, we'll help you find helpful and up-to-date information. In addition to the Berkeley parking ticket guide, our team has covered the same topic for many other cities.
Also, if you're planning a trip and searching for a discounted parking spot at or near OAK, check out our in-depth Oakland Airport Parking guide!