The Alamo, a historic Spanish mission and fortress established in the 18th century, was the legendary site of the Battle of the Alamo in 1836. With over 2.5 million people visiting the monument every year, it's one of the most famous historic sites in the U.S. If you're looking for convenient parking in the area, the Alamo parking guide will give you the lowdown on San Antonio parking options. You'll also find tips on using public transportation if you're aiming to skip parking altogether. 
The Alamo is located at the following address: 300 Alamo Plaza, San Antonio, TX 78205.
The Alamo Reservations & Hours
The Alamo is open every day (except Christmas Day) from 9 AM to 5:30 PM. It's always free to visit the Alamo grounds, but trips inside the Alamo Church require free timed-ticket reservations. We recommend that you book tickets early as capacity is limited. 
For a knowledge-packed experience, the Alamo offers audio and guided tours. Audio tours include access to the Alamo Exhibit and cost $9 per device. One-hour guided tours cost $40 per adult ages 12 and up and $30 per child ages 5–11. Military discounts are offered to those with a Military ID. Cancellations will not be refunded 24 hours before the tour starts. 
Convenient Parking for The Alamo Visitors
The Alamo does not have its own parking lot, but you'll find several surface lots and garages within 1 mile. Here are the best options for parking near the Alamo in San Antonio. The rates listed below are for a three-hour stay. 
| | | | |
| --- | --- | --- | --- |
| Parking Facility | Rate | Address | Distance  |
| Houston Street Garage | $9 | 111 College St | 0.3 miles |
| Central Library Garage | $5 | 600 Soledad St | 0.8 miles |
| Houston / Nolan Lot | $5 | 1023 E Houston St | 0.3 miles |
| St. Mary's Garage | $10 | 204 E Travis St | 0.5 miles |
| Dolorosa Lot  | $5 | 702 Dolorosa | 1 mile |
Event rates may apply to large-scale conventions, events, and conferences within the vicinity of these city parking facilities.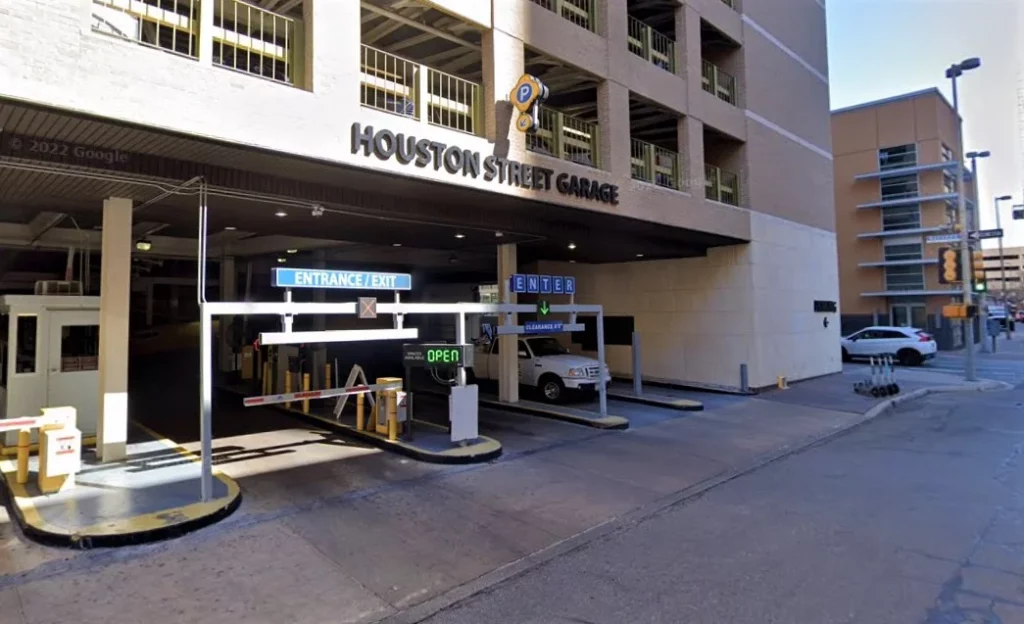 If you're willing to spend more for convenience, the following hotels offer $39 valet parking around the Alamo: 
Courtyard by Marriot

Menger Hotel

Hotel Gibbs Downtown
The Emily Morgan offers complimentary hotel parking for guests only.
Additional Parking Near The Alamo
Platinum Parking offers a number of car parking garages and surface parking lots just 0.2 miles (3-minute walk) from The Alamo. The rates listed below are for a three-hour stay. 
| | |
| --- | --- |
| Address | Rate |
| 849 E. Commerce St. | $9 |
| 300 E. Crockett St. | $9 |
| 241 S. Bowie St. | $20 |
| 812 E. Houston St. | $20 |
Accessible Parking Locations
Several parking facilities in downtown San Antonio offer free parking for travelers with state-issued disabled parking permits. Inform the parking attendant during your transaction about your intention to secure a disabled spot, and be prepared to provide your name, address, license plate number, and phone number.
Alternative Transportation Options
If you're looking to skip the hassle of parking in San Antonio, consider utilizing public transportation. The VIA Metropolitan Transit is the city's bus system and the most popular mode of exploring the town. Several VIA bus lines drop by the Navarro Between Travis & Pecan bus station, just a two-minute walk from the Alamo. The regular bus fare is $1.30.
Find Parking in San Antonio Without a Hassle
Parking Access is the only resource you'll need for parking. We've covered numerous destinations nationwide and developed countless guides to help our readers find the best parking spots and avoid parking tickets. Aside from the Alamo parking guide, you can plan a smooth journey with our resources below: 
If you're flying out of San Antonio soon, learn more about San Antonio Airport to compare airport parking rates and reserve a spot in no time!