Located in Allentown, PA, the popular PPL Center has hosted sports games, concerts, and other major events since 2014. If you plan on visiting the arena soon, the Parking Access team will help you find and book the most convenient spot. Learn about the official PPL Center parking garage, nearby public and private decks, as well as on-street parking restrictions. Purchase parking tickets online before busy weekends to stay ahead of other event attendees. Alternatively, consider using the town's public transportation services to save money; bus stops are a short walk away from the facility. 
Car Parking at PPL Center
Visitors attending any PPL Center event have several parking options: on-site parking spaces, Allentown PA parking decks, and a couple of private lots. Generally, the price for parking is higher across all parking providers when there's an event at the venue. Non-event parking costs $2, while event rates usually range between $7 and $12.
The Arena Deck
The PPL Center parking deck is located northward of the PPL Center and requires reservations. The game-day fee is $7, while the concert parking cost is $12 per vehicle. It's only two minutes from the PPL Center's Northwest gate; the address for directions is 712 W. Linden Street.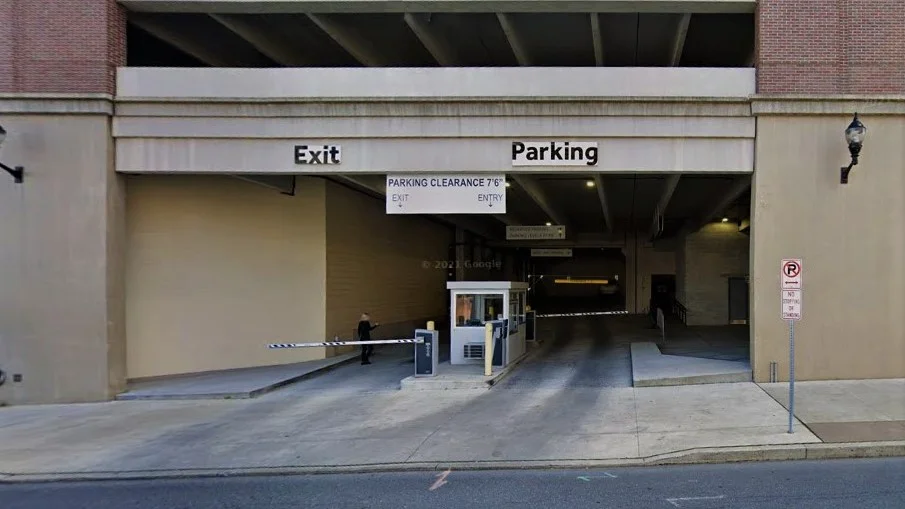 Allentown Parking Authority Decks
APA-operated parking structures are the next best option. They are close to the venue and have the same event rates.
| | | | |
| --- | --- | --- | --- |
| Parking Facility | Event Rate | Address | Walking Distance |
| Spiral Deck | $7–$12 | 836 Linden Street | 3 minutes |
| Community Deck | $7–$12 | 13 S. 6th Street | 5 minutes |
| Government Deck | $7–$12 | 401 Hamilton Street | 9 minutes |
| Germania Lot | $7–$12 | 108 S. Seventh Street | 4 minutes |
Note: You shouldn't back into any parking spot owned by the Allentown Parking Authority. Park properly to avoid fines.
Nearby Street Spots 
PPL Center visitors can find metered parking on several streets around the venue. Meters are in effect from 8 AM to 9 PM Monday through Saturday, but parking is also enforced during Sunday events. The hourly rate is $2, and you can pay with cash, credit/debit cards, or the Park Mobile app. On non-event Sundays, you may park on the streets free of charge.
Public Transportation
The Allentown Transit Center, located at 6th and Linden, is less than a 5-minute walk away from the PPL Center. It is served by LANTA routes 102, 103, 104, 107, 209, 210, 211, 213, 218, 220, 322, and 324. Some of these also make stops on the streets around the arena. A bus ride from Allentown to the PPL Center costs $2. 
We Make Parking Stress-Free
Aside from PPL Center parking, our amazing guides cover other popular venues in Pennsylvania's biggest cities, Philadelphia and Pittsburgh.