Last Updated on August 13, 2022 by Snezana Grcak
The Liacouras Center Parking
Originally opened as The Apollo of Temple, The Liacouras Center is a multi-purpose venue located on the Temple University campus. The arena hosts diverse entertainment events and seats 10,000 people, making it the largest indoor venue north of Philadelphia City Hall. If you're planning a visit, we'll help you find a secure car parking space or skip traffic by using rail. Learn about the multi-level indoor garage, event parking availability, nearby lots or garages, on-street metered spaces, and SEPTA services. Finding a safe spot for your vehicle can be challenging, so use our tips to travel without issues.
Garage Parking at The Liacouras Center
The Liacouras Garage is the central, multi-level parking facility located at 1710 N. 15th Street, between Cecil B. Moore and Montgomery Avenues. It's across the street from the venue and connected via a covered skybridge on the garage's third floor. It opens two hours before any event and charges the following rates.
| | |
| --- | --- |
| University Event | $20 |
| Non-University Event | $28 |
Cash is no longer accepted, but we suggest that you purchase parking in advance anyway. Use the ParkMobile app or website to make a quick reservation, and have your parking pass ready upon entry. Alternatively, see if VividSeats has some good deals. For additional questions, call 215-204-5301 or email at [email protected]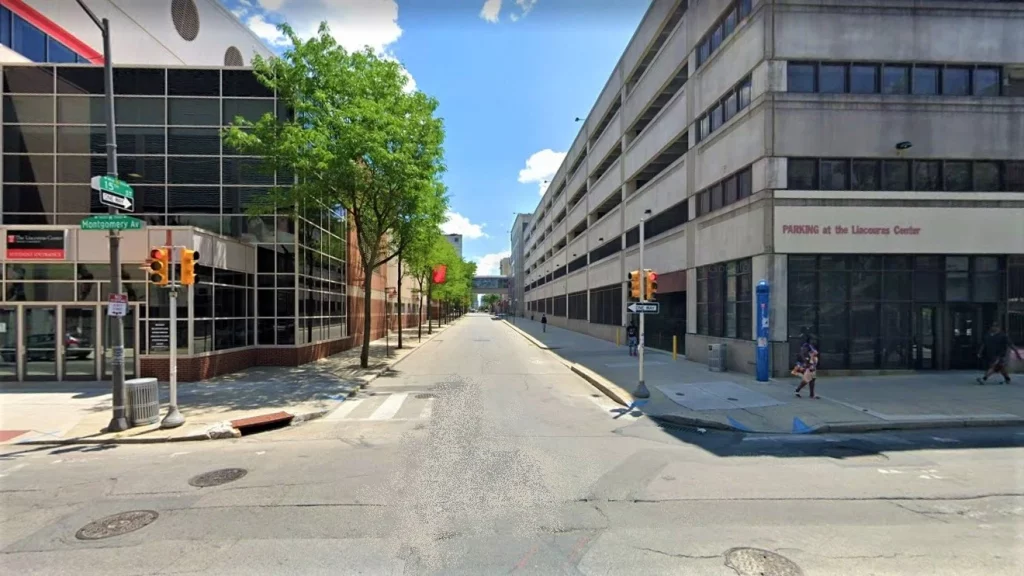 Additional Nearby Lots
Listed below are the best garages and surface lots near The Liacouras Center. The average parking cost for University events is $20, but prices may vary according to the facility or day.
| | |
| --- | --- |
| Parking Structure  | Address |
| 15th Street Lot | 1855 N. 15th Street |
| Temple Towers Lot | 1651 N. 13th Street |
| Cecil B. Moore Lot | 1223 Cecil B. Moore Ave. |
| Tuttleman Lot | 1205 W. Montgomery Avenue |
| Montgomery Garage | 1859 N. 11th Street |
| Bell Garage | 1840 N. 11th Street |
| Diamond Street Lot | 1140 W. Diamond Street |
| Tyler Lot | 1220 W. Diamond Street |
Cecil B. Moore Lot, Montgomery Garage, and Tuttleman Lot are self-automated, metered facilities. The first two charge $5 per hour, while the Tuttleman Lot has a $6 hourly rate. 
Find all nearby Liacouras Center parking options on the following map.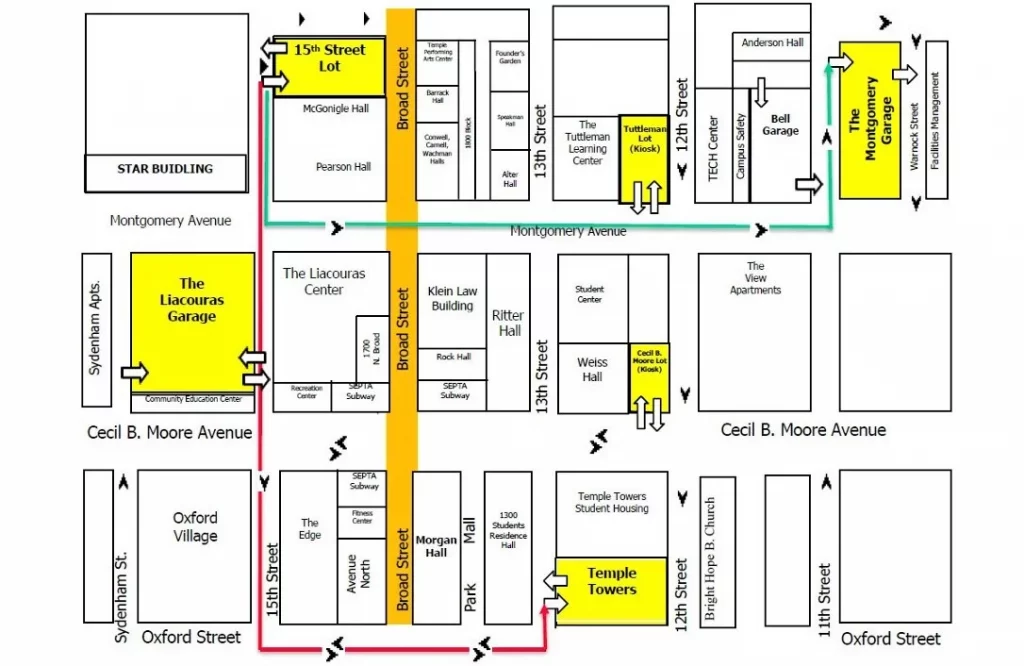 On-Street Parking
Many surrounding streets offer two-hour parking, including Cecil B. Moore Ave., N. Broad St., N. Sydenham St., and N. 16th St. It's in effect Monday through Friday from 8 AM, while the end time varies from 6 to 9:30 PM, depending on the location. Accessible parking spots reserved for those with appropriate permits are on W. Montgomery Ave.
Ride SEPTA
Cecil B. Moore Station is a two-minute walk away from the venue, and it's served by SEPTA's local Broad Street Line subway trains. Regional trains stop at Temple University Station, which is within a ten-minute walk of The Liacouras Center. SEPTA C and 3 buses also make several stops near the venue, while the 23 trolley picks up and drops off on 11th and 12th Streets.
The SEPTA cash fare is $2.50, but you should buy the Key Card if you plan on using public transport a few times. Click here for additional info.
Find Parking in Philly Easily
Aside from The Liacouras Center parking options, you can use our help with the following.
If you're flying out of PHL, don't forget to pre-book discounted Philadelphia Airport Parking.