Did you know that the Miami cruise terminal is the most popular cruise port in the world? When visiting this port, make sure you plan ahead to navigate the crowds and secure your seat on time. If you plan to utilize Miami cruise port parking or stay at nearby hotels, read more to discover the most convenient and cost-effective options.
If you're able to stick around for a few days before or after your trip, you can check out famous and beautiful areas nearby. There is plenty to see in Miami.  Take your family to the Zoo Miami to see exotic animals from Africa and Australia, stop by the Everglades to watch live alligators up close in the wild, or visit South Beach for dining, dancing, and swimming. Tour one of their amazing museums or visit the Oleta River State Park to go mountain biking, canoeing, and camping.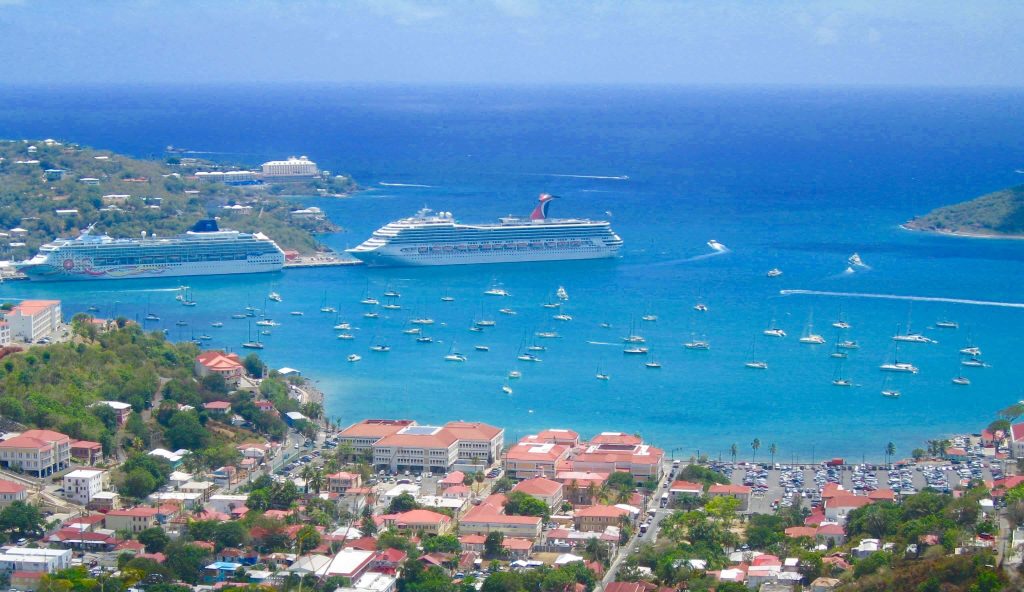 In the midst of all the excitement near the port, make sure you don't miss your boat! Check out our tips for the latest guide on where to sleep, park and find transportation in preparation for your cruise through Miami.
Miami Cruise Port Parking + Hotel Options
For a bargain buy, you can stay at the Holiday Inn Downtown Port of Miami at 340 Biscayne Blvd. This hotel is only 0.1 miles from the port! If you're looking to be right near your ship for departure, you can't get much closer. They offer valet parking at $27/night, along with an outdoor pool and free WiFi.
Another reasonable option is the Courtyard by Marriott Plaza Hotel Miami at 200 Southeast 2nd Avenue. Still, within walking distance at 0.5 miles from the port, you can choose to take the shuttle service down for $8 per person.
If you want to leave your car there, the parking garage will cost you a little more at $37/night. If you're looking for something a bit (or a lot) fancier, try the luxury Gabriel Miami Hotel at 1100 Biscayne Blvd. At 0.4 miles from the port, they offer a full-service spa and several fabulous amenities. Reviews are excellent if you're willing to pay the price to stay there. Valet parking rates are listed at $35/night. There's also an additional "resort fee" of $20/night if you're staying overnight.
At 0.6 miles or more from the port, there are several more hotels to choose from that range from high-end luxury to family/budget-friendly. Several nearby hotels offer packages that include a ride to the port. There is no shortage of places to stay in Miami, but it's never a bad idea to book accommodations in advance, especially if you have a certain budget in mind.
Ride Services From the Airport
If you're arriving via the Miami International or Fort Lauderdale airports for your cruise line, you can easily opt for a rideshare service to the port, like Lyft or Uber. This will get you straight to your destination. Although more direct, you do pay extra for the convenience. A Miami shuttle service could be a cost-effective option as well.
If you don't mind navigating the public transportation system, you can actually save quite a bit of money. Traveling from the Miami Airport to the cruise ship can be done for a low rate of just $2.25/person and takes about an hour.
According to Cruzely.com, the route would go as follows:
MIA Mover at Airport –> Rental Car Center/Metrorail Train Station (Free)
Orange Line –> Brickell Station ($2.25)
Miami Trolley (Coral Way Route) –> Port of Miami (Free)
The route from Fort Lauderdale is a bit more complex, but can still save you a lot of money if you're willing to be patient and make a few transfers:
FLA-1 Commuter Connector at the airport –> Fort Lauderdale/Hollywood International Airport Station at Dania Beach for Tri-Rail (Free)
Tri-Rail –> Metrorail Transfer Station ($3.75/$5.00)
Green Line –> Brickell Station ($2.25)
Miami Trolley (Coral Way Route) –> Port of Miami (Free)
Map out your route out in advance and double-check the dates to make sure public transportation will be up and running. Some services are not available on Sundays.
Where to Find Parking at Miami Cruise Port
If you'd prefer to drive yourself and leave your car at the port waiting for when you get back, you have some options.
Premier Cruise Parking, Safe Cruise Parking, We Park Miami, and Best Cruise Parking are all less than 4 miles from the cruise terminal and offer airport shuttles if needed. Prestige Easy Park and Jet Port Park & Ride Center are a bit further away, but still under 10 miles from the cruise lines. These also have airport shuttles available to get you back on your plane ride home. 
Prices for the different lots seem to vary depending on when you travel but based on some test dates they average about $6.50 – $10/day with free cancellation anytime.
Snooze & Cruise
Aside from the nearby hotels that charge for overnight parking, there are some that offer free Port of Miami cruise parking during your vacation if you stay a night at the hotel. Hotels can be up to miles away from the port, but they typically offer free or cheap shuttles.
Since it has so much traffic, there aren't a ton of hotels near Miami Cruise Port with free parking and shuttle. However, it's still worth looking into "Cruise & Snooze" deals (also called Park and Fly) if you plan to stay at a hotel anyways!
Conclusion
Always check online for up-to-date rates based on your trip dates. Most Miami hotels near the port offer a discounted rate for long-term parking or short-term parking lots if you stay as a guest. There are several options for transportation, from shuttle services, to rideshare, and public transportation.
If you stay at a hotel close enough, you can easily walk to the terminal and board your Royal Caribbean or Carnival cruise ship with your luggage on wheels. With Miami being such a busy spot for travel, there are many options to choose from. If possible, allow extra time at the beginning or tail end of your trip to enjoy all that Miami has to offer. You can even search through private Miami boat rentals to rent your own boat and cruise the city!
Make sure to check through the various Miami cruise port parking lots available to find the best deal. Bon Voyage!
READ ABOUT: Port Everglades or Port Canaveral Cruise Port Parking and Hotels
Port Canaveral Cruise Port Parking and Hotels