Compare Reviews and Features To Find Top World Cruise Center Parking
Finding secure parking is so simple with Parking Access! We can help you reserve a car parking spot at the Port of Los Angeles, as well as many other ports, airports, and ballparks. Discover the best Los Angeles Cruise parking offers and make your discounted parking reservation without any delay!
If driving into the city, you're probably wondering where to park your car while on your cruise vacation. Several public parking structures, available at and near the Port of Los Angeles, provide a convenient place to leave your vehicle while you're sailing. You can choose among uncovered or covered parking services, daily parking, garage parking, etc.
Official Port of Los Angeles Cruise Parking
With a huge port on one side and a residential area on the other, there isn't a lot of space for independent cruise port parking garages. Still, you have several good choices, including the official port parking (Battleship IOWA, Catalina Sea and Air Terminal, Los Angeles World Cruise Center).
The Port of Los Angeles provides the most convenient parking. No cruise parking reservations are required, and you can use the on-site parking structures for overnight parking. Parking Lots 1 and 2 are open from 9 AM to 6 PM, while Parking Lots 6, 7, and 8 are open 24/7. Free shuttle bus service is available to and from the cruise ship terminal. 
All cruise terminal parking facilities at the Port of Los Angeles have the same parking rates, and you can check them out below.
| | |
| --- | --- |
| Duration | Parking Rate |
| First hour | Free |
| Each additional hour | $2 |
| 1 day | $20 |
| 3 days | $60 |
| 5 days | $100 |
| | $40 |
Tip: Getting a monthly parking permit at the Port of Los Angeles is more affordable than 5 days of parking—you can purchase it for as low as $90.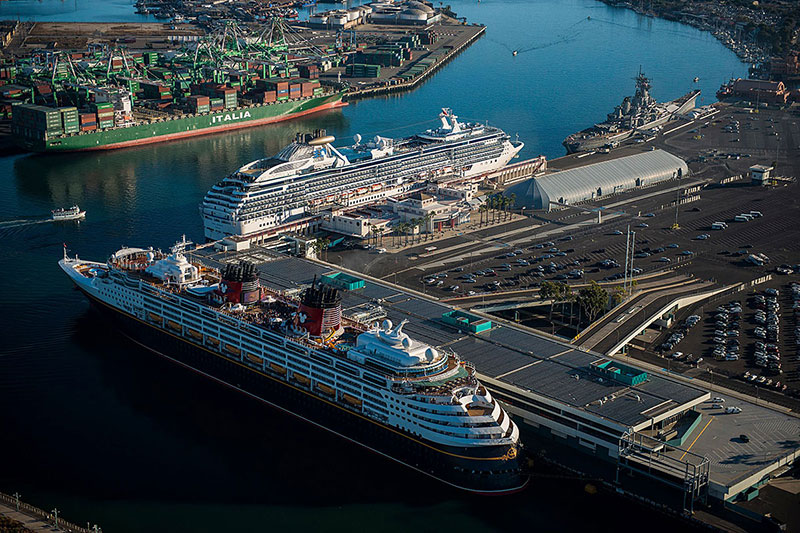 Most passengers choose to park here, and these lots are available on a first-come, first-served basis. It is great for short-term parking.
Accessible Parking
Handicapped parking is available in all cruise terminal parking areas. Vehicles using designated parking spots at the Los Angeles World Cruise Center have to own a disabled parking permit, license plate, or an ADA placard. Note that courtesy shuttle buses are not wheelchair-accessible. Standard parking rates apply.
Port of Los Angeles Map
If you're going to the port for the first time, click here to check out the Los Angeles Cruise Port map to easily find any World Cruise Center parking lot before your trip.
Off-Site Los Angeles Cruise Parking
Off-site parking facilities offer the best parking value. If you're one of the budget travelers, there are a few self-parking options offered by the LA Waterfront that you might consider. The following cruise terminal parking lots can provide you with free parking services or very affordable parking spaces on an event day. Not only are they cheap, but the lots are also located within a short distance of the World Cruise Center terminal.
See our list below for more low-cost parking information.
| | | |
| --- | --- | --- |
| Los Angeles Parking Lot | Address | Rate |
| CRAFTED at the Port of Los Angeles | 112 E 22nd Street | Free |
| San Pedro Fish Market | 1200 Nagoya Way, San Pedro | Free |
| 22nd and Miner Streets Lot | West 22nd Street & Miner Street | Free ($5 during events) |
| Crowne Plaza Los Angeles Harbor Hotel | 601 South Palos Verdes Street | $10 per day |
| Holiday Inn Long Beach Airport | 2640 North Lakewood Boulevard | $12 per day |
The Port of Long Beach is a short drive away from the World Cruise Center—check out our guide to Long Beach Cruise Parking to see if there's an off-site parking lot that might suit you, too.
Hotels With Cruise Parking & Shuttles
The Park & Cruise Packages provided by various Los Angeles hotels are the best parking alternative for anyone who wants to stay the night in LA before the cruise. Book a room in a hotel to get free parking or a discounted parking space for the duration of your vacation. Most of them also provide shuttle service to the Cruise Port of Los Angeles.
Below listed are the best and the cheapest Los Angeles hotels with cruise terminal parking:
Best Western Plus San Pedro – from $149
Crowne Plaza Los Angeles Harbor – from $110
DoubleTree by Hilton Hotel San Pedro – from $132
Vagabond Inn San Pedro – from $92
Monterey Inn Hotel – from $50
In Conclusion 
The Port of Los Angeles has several parking structures available to all cruise ship passengers. You can leave your vehicle in any on-site parking area or use a more affordable off-site parking lot. Each off-site parking facility is a great choice since they are close and free or very cheap. For those coming a day before the cruise, we've listed the Park and Cruise hotels that allow you to arrive a day earlier, get a good night's sleep, and use free shuttles to the World Cruise Center.
Parking Access offers a quick and very simple way to book your cruise parking deals! In addition to the Port of Los Angeles, we cover other major cruise ports in the United States, such as Seattle Cruise Port, Port Tampa Bay, and the Port of New Orleans. All of them serve major cruise lines, such as Carnival Cruise Lines, Royal Caribbean, Celebrity Cruises, and Norwegian Cruise Line. Search through our in-depth guide to easily find the best spot. Happy cruising!