Cheap Long-Term Parking Near Cruise Port Tampa Bay
Looking for a cheap and secure parking structure at the Port of Tampa Bay? Search no more because Parking Access can provide you with a wide range of secure parking facilities with low-cost Tampa Cruise parking rates and free shuttle service to/from the terminals. Make a reservation on the spot and rely on Parking Access to get you a discounted parking rate!
Port Tampa Bay is less than a mile away from downtown Tampa. Its great location allows you to find many convenient parking spots in the Tampa area. The Port of Tampa serves Carnival Cruise Lines, Royal Caribbean Cruise Line, Holland America, MSC Cruises, Celebrity Cruises, and Norwegian Cruise Line. It's the largest port in Florida but less busy than the Port of Miami or Fort Lauderdale. For this reason, Port Tampa Bay cruise terminals are a sensible choice for all cruisers.
Let's dig into Tampa Cruise Port parking options!
Tampa Cruise Parking
The Port of Tampa Bay offers secure parking services located a block away from the cruise ship terminal. Whether you are searching for convenient valet service, a self-parking garage, public parking for RVs, or an accessible parking spot, you will easily find it at this port!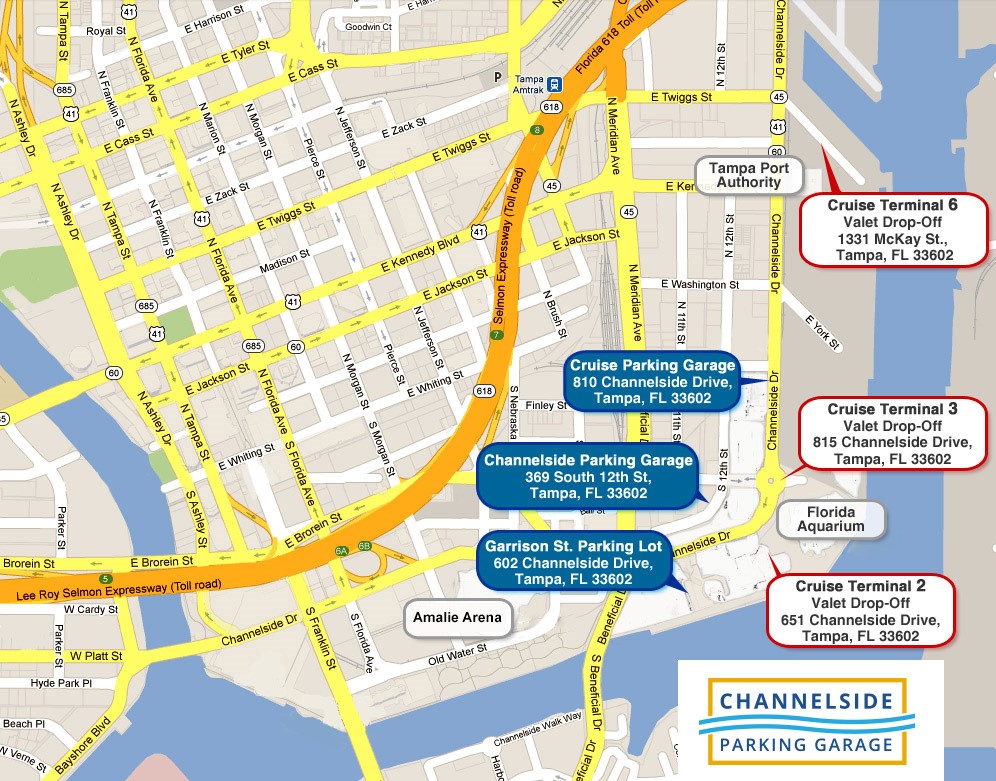 The Channelside Garage Parking is situated at 810 Channelside Drive, Tampa, half a mile away from the cruise port terminal. It has 24/7 surveillance and many covered parking spaces – so, you will not have to worry about weather conditions or the safety of your vehicle. Free shuttle service to Port Tampa Bay is not provided to and from the official parking garage.
Listed below are the cruise parking rates for Tampa cruise parking on Channelside Drive:
| | |
| --- | --- |
| Parking Option | Daily Rate |
| Self-Park | $15  |
| Valet Parking | $15 plus $20 one-time service fee |
| Parking for Oversized Vehicles | $30 per day |
Disabled parking is available free of charge for 100% disabled veterans and vehicles with any of the following modifications: foot or hand controls, extended pedals, wheelchair lift, or wheelchair ramp. To get a free parking space at the cruise port, a driver needs DV Plates from DMV with Vehicle Registration or some of the modifications listed above.
You can find out more if you call the Channelside Garage Parking at (813) 905-5072.
Off-Site Tampa Cruise Parking 
Off-site parking is an affordable parking alternative for all Port Tampa Bay budget-conscious passengers. Many downtown Tampa parking companies can provide you with a low-cost parking area. All of them are a short drive away from the Tampa Bay cruise port. Check out our list below to find out their locations and estimated daily parking rates.
| | | |
| --- | --- | --- |
| Parking Lot/Garage | Starting Rate | Distance to the Port |
| Park4Cruise | $5.97 | 0.8 miles |
| 717 Parking | $6.95 | 0.3 miles |
| One-Stop Parking | $7.99 | 0.5 miles |
| Parking Doctors | $9 | 0.4 miles |
Pre-book and pre-pay your Port Tampa Bay parking spot online to get the best deal!
Returning to Your Long-Term Parking Lot
If you park in the on-site parking facility, getting back to your car will be quick – there are no shuttle buses, but the walk to the vehicle takes up to 10 minutes. However, if you book one of the off-site public parking structures, please arrange a post-cruise shuttle bus service after making a reservation.
Since all parking garages and parking lots are close to the port, the shuttle ride to the Port of Tampa will be fast and convenient. When it comes to the price, it depends on the lot—some of them may offer free shuttle service to the cruise terminals.
Park Snooze and Cruise Deals
Coming to the city of Tampa a day before your cruise ships' embarkation? Stay in one of the Tampa hotels with discounted or free parking and shuttles to the cruise port. This Tampa cruise port parking alternative is one of the best long-term parking options for passengers that live outside the city. This way, you can also use your free time and do some sightseeing—visit the Museum of Science & Industry, the USF Sun Dome, Tampa Riverwalk, the Tampa Florida Aquarium, etc.
Listed below are the best Tampa hotels with Park and Cruise deals. Check them out to find the one that meets your requirements.
| | | |
| --- | --- | --- |
| Tampa Hotel | Starting Rate | Distance |
| Quality Inn and Suites Ybor City | $83 | 4.4 miles |
| Hampton Inn & Suites Ybor City | $160 | 1.2 miles |
| Holiday Inn Express Tampa East Ybor City | $166 | 4.7 miles |
| Hilton Garden Inn Ybor Historic District | $180 | 1.6 miles |
| Tampa Marriott Water Street Hotel and Marina | $189 | 1.6 miles |
Rates are subject to change; call any hotel for more information on cruise parking deals and prices.
Overall
The process of finding a suitable valet or self-parking space near Tampa Cruise Port is quite straightforward. The official garage is located on Channelside Drive and costs $15 per day. There's no shuttle service, but it's within walking distance, so you don't even need it. Off-site parking services are more suitable if you're traveling on a budget. Choose Park4Cruise or 717 Parking Lot to significantly reduce your Tampa Port parking expenses and pay only $5.97 per day. Finally, hotels provide another alternative—Park, Snooze & Cruise deals are offered by hotels like Hampton Inn and are ideal for travelers who wish to get a good night's rest before their trip. In addition to Tampa Cruise parking, nearly all the hotels also provide shuttle service that will drop you off at your cruise terminal.
Apart from the best Tampa Cruise Parking deals, Parking Access gives you easy access to car parking lots at Tampa International Airport and all major airports around the world. Don't forget to try us out for any cruise vacation or business trip—use our simple reservation process to get the best overnight parking rate and travel stress-free!
People also search for: