Cheap Long-Term Parking Near Seattle Smith Cove Cruise Terminal
Passengers departing from the Smith Cove Cruise Terminal have a lot of public parking options in the area, but they can be quite expensive. For this reason, it would be better if someone could drop you off and pick you up later. However, if you have to drive yourself, we suggest checking out our Seattle Cruise Parking Guide to discover how to save both time and money! Learn where to park, discover off-site parking lots, and the best Seattle hotels.
Seattle Cruise Port is about a mile away from downtown Seattle. It has two terminals – Pier 66 and Pier 91 Smith Cove Cruise Ship Terminal. Park at Pier 66 for Norwegian Cruise Line and Oceania Cruises—the address is 2225 Alaskan Way, Seattle, WA 98101. Park at Pier 91 for Princess Cruises, Carnival Cruise Line, Celebrity Cruises, Holland America, and Royal Caribbean Cruise Lines.
Seattle Cruise Parking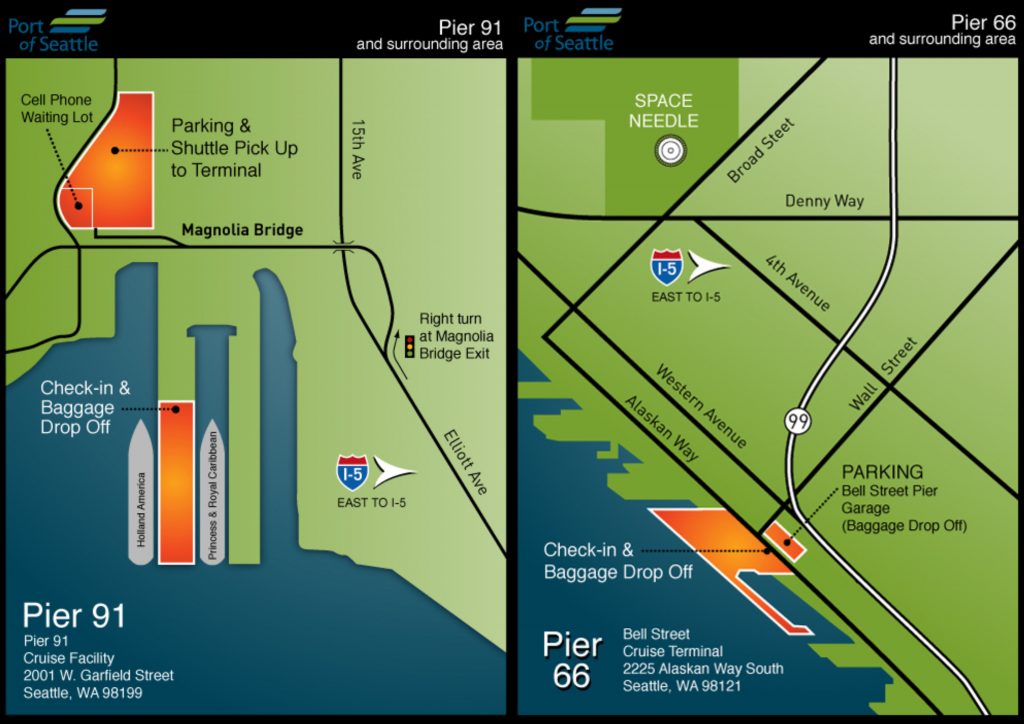 The main on-site cruise parking service is operated by Republic Parking Northwest. The Seattle Cruise Port parking map shows the location of both self-parking parking lots—Pier 91 Lot D and Bell Street Pier 66 Garage. Depending on your cruise lines, choose one of the two parking areas:
| | | | |
| --- | --- | --- | --- |
| Parking Facility | Type of Facility | Online Rate | Drive-Up Rate |
| Bell Street Pier 66 Garage Parking | Covered Parking | $23 per day | $24 per day |
| Pier 91 Parking Lot D | Surface Lot | $26 per day | $27 per day |
The Bell Street Pier parking garage provides 1500 car parking spots connected to the terminal via a sky bridge. You can enter from Wall Street, but you have to arrive after 11 AM. Passengers that are driving oversized vehicles should note that the height clearance is 6'6". The Bell Street Pier 66 garage is open 6 AM–12 AM.
The surface parking lot has 1100 parking spaces close to the cruise terminal. A free shuttle service is provided to/from this parking area. Since it is an outdoor lot, it is a great parking structure for oversized vehicles and offers RV parking. The Pier 91 Lot is open from 7 AM to 5 PM.
According to its website, Republic Parking Northwest facilities are safe and patrolled 24/7. A shuttle bus service operates daily to and from Pier 66/Pier 91. We suggest that you make an online car parking reservation to save money on long-term parking near the cruise terminal. Republic Parking Northwest accepts Visa, Master Card, and American Express.
Accessible Parking
Both Seattle Cruise parking structures offer multiple handicapped parking stalls for passengers with disabilities. Anyone who occupies an ADA parking space must own a disabled parking permit, placard, or license plate. Standard parking rates apply.
Please drop all your luggage and extra passengers at the cruise terminal prior to parking.
Off-Site Seattle Cruise Parking
Off-Site Seattle Cruise Parking is available in the downtown Seattle area, but not many affordable parking services are available in the area. After checking out all options near the Seattle Cruise Terminal, we discovered the best off-site parking company.
Seattle CruisePark
Seattle CruisePark is your go-to choice if searching for secure and low-cost parking near the cruise port! It is located around 6 miles from the cruise terminals and 3.5 miles from downtown Seattle. Its features and amenities include:
Self-parking
Valet parking
Discounted parking prices
Free shuttle service every 10 minutes
Online reservation system
A week-long car parking rate is $157, which means that the daily parking cost is approximately $22.50. If you need a Seattle Cruise parking space for 10 days, you will get a special rate of $17.50 per day.
There's one more alternative! Check out off-site Seattle-Tacoma Airport parking lots that offer much cheaper prices. The downside is that they are located approximately 15 miles from the Cruise Port of Seattle. However, it is worth the cost when the particular lot provides courtesy shuttles to Seattle Smith Cove Port.
Returning to Your Long-Term Parking Lot
Whether you use an on-site Seattle Cruise Terminal parking facility or an off-site parking structure, you should arrange the post-cruise shuttle service. Seattle CruisePark shuttles run every 10 minutes, and the ride to the lot takes 3-8 minutes. Alternatively, you can grab a taxi cab if you're in a hurry since all overnight parking options are close to the Port of Seattle terminals.
Park Snooze & Cruise Deals
Seattle, WA, is one of the most expensive cities when it comes to cruise parking, so we tried to find additional cost-effective options for you. If you want to come to the city a day before your cruise ships' embarkation, stay the night in a nearby Seattle hotel that offers Seattle Cruise parking services. 
Park Snooze & Cruise deals also allow you to check out some Seattle attractions before your trip, such as the Seattle Space Needle, the EMP Museum, Seattle Waterfront, Pike Place Market, Seattle Art Museum, Pioneer Square, the Museum of Flight, etc.
Many Seattle hotels provide discounted or free parking to passengers who spend a night there. Find out the top 5 Seattle Park and Cruise packages at hotels near the port with car parking and shuttles:
The prices vary based on the duration of your stay, the number of passengers, and your cruise line (Royal Caribbean, Princess Cruises, Oceania Cruises, etc.). Don't hesitate to reach out to any establishment and require more information.
Bottom Line
Passengers starting a journey at the Port of Seattle have a decent number of choices when it comes to cruise terminal parking near Pier 66/Pier 91. The on-site options—Bell Street Pier 66 Garage and Pier 99 Lot D—are the most convenient. However, with the rates starting at $23 and $26 per day, passengers often look for alternatives. Seattle CruisePark is ideal for extended stays—the rates are competitive, and the shuttle service is reliable. When it comes to downtown Seattle parking lots, it's best that you choose one of the Seattle hotels. They often offer free parking to the cruise terminal passengers and shuttles to/from their location. If the downtown hotel is within a short distance of the Seattle Cruise Port, you can even hop on a taxi to reach the terminals.
Feel free to try us out for your next beach cruise vacation trip! Our simple booking system allows you to reserve a secure and convenient parking area—and a shuttle to your cruise ship—in no time. Parking Access can also help you book long-term and short-term parking at other major cruise ports and airports, including Seattle-Tacoma Airport. See our Sea-Tac Parking Guide for additional info!
People also searched for: