La Jolla is San Diego's top place for snorkeling and scuba diving, and La Jolla Cove is one of the most beautiful beaches in Southern California. This is the place for anyone who wants to enjoy ecologically protected nature and admire spectacular views. If your accommodation doesn't offer to park, or you're planning a day trip, Parking Access will help you find a suitable La Jolla Cove parking spot. You'll discover all car parking options, learn how to get discounted parking, and find information about La Jolla hotels and transportation alternatives.
Is There Parking at La Jolla Cove?
When it comes to parking, La Jolla Cove visitors have plenty of options, but finding a convenient spot is stressful during peak season. If you want to stop by La Jolla Shores Beach, chances are you'll find a spot in the adjacent surface parking area if you come before noon. However, the walk from this lot to La Jolla Cove takes more than 30 minutes, so those headed to the cove should check out the car parking services below.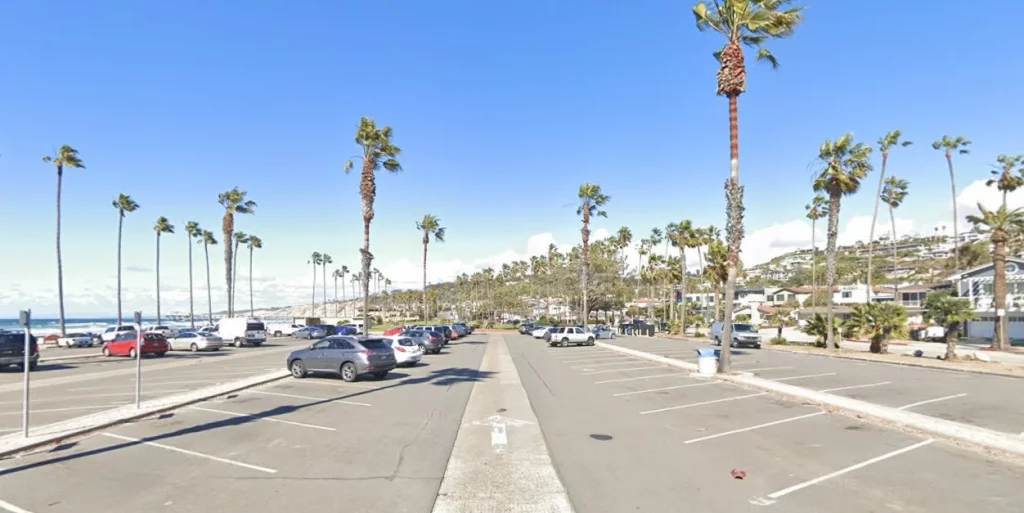 Free Street Parking at La Jolla Cove
La Jolla Cove street parking is the go-to choice, and free on-street spots are available along Coast Boulevard and nearby side streets. Time limits vary from 2 to 3 hours according to the location. For instance, 3-hour parking is available in front of Brockton Villa at 1235 Coast Blvd.  (see the photo below). The best times to secure a spot here are before 8 AM or in the late afternoons.
Although street spaces are the most convenient La Jolla Cove beach parking option, the number is restricted and strictly monitored from 8 AM to 6 PM. Therefore, be sure to read the posted signs and park properly to avoid getting a San Diego parking ticket.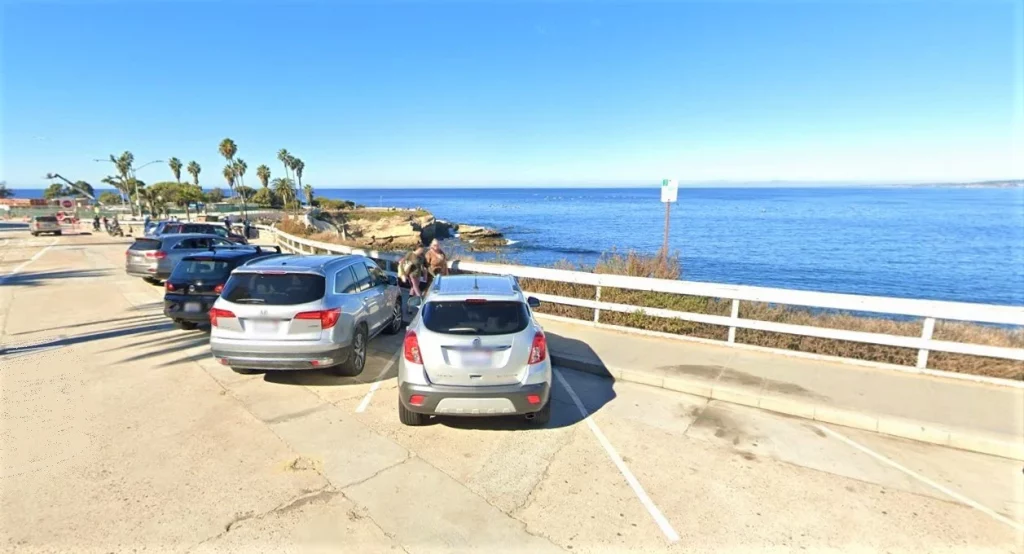 Find Discounted Parking Near La Jolla Cove
At La Jolla Cove, free parking on the streets is limited and hard to find on peak days, but you can take advantage of several excellent alternatives. Discounted parking is available at multiple locations across La Jolla. 
ACE Parking provides $5 parking at selected facilities, such as the Pacific Premier Bank or Union Bank Lot. Reserve parking easily online or via the phone app. You can also find discounted valet parking at 1250 Prospect St. or 1270 Prospect St. for approximately $12.
Several establishments offer validated parking for their guests, including the Shores Restaurant, El Pescador, and La Jolla Brewing Co. If you plan on grabbing a drink or meal, ask the staff whether they provide free or discounted spots for guests.
Additional La Jolla Parking Garages & Lots
Finding affordable parking near La Jolla Cove doesn't have to be a pain in the neck. Our team did a little digging and discovered several garage parking structures and outdoor lots near the beach. Check out our top picks in the following list.
| | | |
| --- | --- | --- |
| Parking Location | Address | Parking Rate |
| LAZ Parking Lot #140239 | 1044 Wall St. | $8 |
| Wagener Lot | 1025 Prospect St. | $10 |
| Keller Williams/The Ivanhoe | 7817 Ivanhoe Ave. | $14 |
| La Valencia Hotel  | 1132 Prospect St. | $15 |
| Ace Parking Lot #113 | 1298 Prospect St. | $15 |
| La Jolla Financial Building | 1200 Prospect St. | $15 |
| El Patio Building | 7946 Ivanhoe Ave. | $18 |
These are the prices for 8 hours of parking; note that they are subject to change and may vary across parking platforms or depending on the time of the day.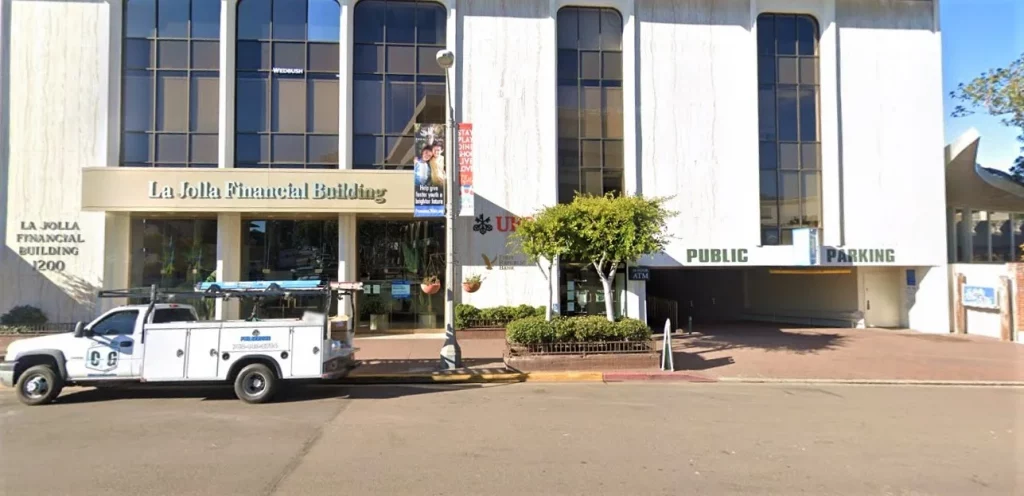 La Jolla Cove Hotels With Free Parking 
Free La Jolla Cove hotel parking is obtainable to guests of several establishments. Our team singled out the top three hotels with complimentary parking for La Jolla Cove visitors staying there.
La Valencia Hotel

's overnight resort fee includes free valet service for one standard vehicle. This is the best option for those who want to stay near the beach.

La Jolla Beach & Tennis Club

provides complimentary self-parking to their guests and members. 

Holiday Inn Express & Suites

has free on-site parking and limited street parking available for their guests at the 6700 Electric Avenue entrance.
Courtesy parking availability is subject to change, so be sure to reach out to the hotel of your choice and check if they still offer the service.
Alternative Transportation to La Jolla, CA
If you're planning a trip during peak season, we suggest that you make use of public transportation services. 
Residents and tourists coming from San Diego can catch an MTS Bus 30 to La Jolla for only $2.50. Hop on a bus in downtown San Diego or Old Town, and get off at Silverado St. & Herschel Ave. Stop. This bus stop is close to La Jolla Cove, restaurants, shops, and other points of interest. Visitors can also take Express Route 140 from Balboa Station to downtown La Jolla.
Those who plan to use the Coaster or Amtrak services cannot get directly to La Jolla. Hop off the train at Sorrento Valley Coaster Station or Old Town Transit Center, and grab a taxi or shuttle to La Jolla Cove. The ride should take approximately 15 minutes.
San Diego International Airport is around 12 miles from La Jolla. If you're flying into SAN and searching for a safe transfer, we recommend booking a San Diego Airport Shuttle.
Find Parking in San Diego County Without Any Hassle!
The Parking Access team has created an extensive parking network and in-depth guides to finding convenient parking at countless locations. We cover most points of interest in the country and all major airports worldwide. In addition to the La Jolla Cove parking information, San Diego residents and visitors can use our help to learn more about the following.
Aside from city attractions and event parking, we'll assist you in finding discounted spots at and near SAN. Check out the San Diego Airport Parking guide to compare prices and find what works for you in no time!