Officially known as the Benedum Center for the Performing Arts, the venue serves as a theater and concert hall that seats up to 2,800 people. It's conveniently located at 237 7th St, Pittsburgh, making the building easily accessible by car and public transit alike. Our guide will help you find the best Benedum Center parking spot by comparing top locations, distance from the venue, and event rates. You'll also learn about local buses and subway lines that stop in the area and are the best alternative to driving.
Main Parking for the Benedum Center Visitors
The Benedum Lot at 641 Penn Ave. is a one-minute walk away. It's open from 7 AM to midnight Monday through Friday and between 4 PM and midnight on Saturdays. The lot is closed on Sundays unless there's an event at the venue.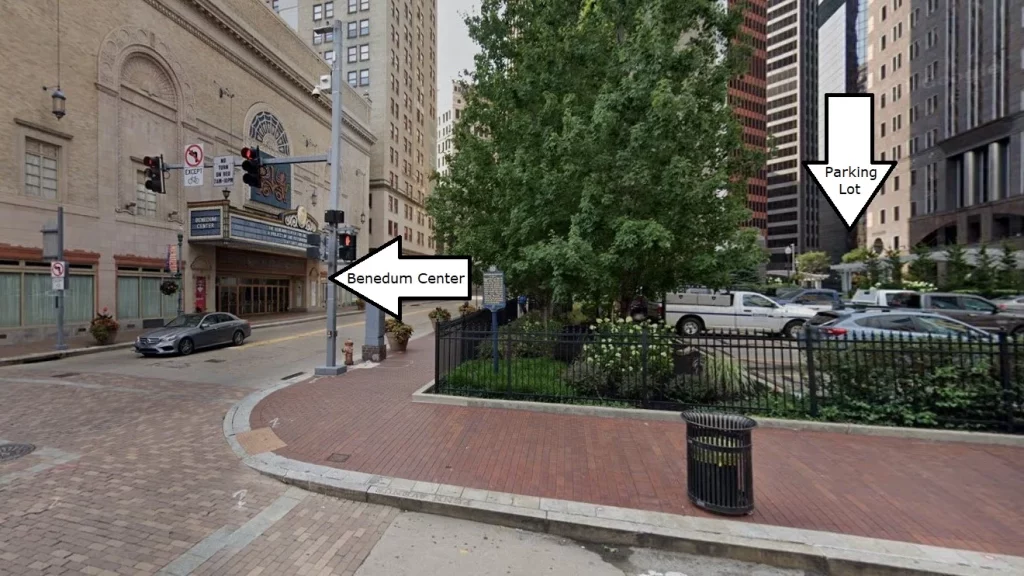 Here are the event parking rates, and you can pay with cash or your credit card.
| | |
| --- | --- |
| 7 AM to 4 PM Monday–Friday | $20 |
| After 4 PM | $25 |
| All day Saturday–Sunday | $25 |
The lot is operated by Alco Parking, and you can call the main office at 412-323-4455 for any additional questions. 
Book a Spot in a Nearby Garage
If the Benedum Center parking lot is full or too pricey for your budget, consider booking a spot in one of the nearby structures. Use platforms like ParkPGH, SpotHero, or Vivid Seats to make a reservation in a few clicks. 
To help you find what works for you, we listed the best and most affordable options in the area.
| | | | |
| --- | --- | --- | --- |
| Parking Facility | Event Rate | Address | Walking Distance |
| Westin Convention Center Garage | $4 | 1001 Liberty Ave. | 7 minutes |
| Riverfront Center Garage | $8 | 625 Stanwix St. | 6 minutes |
| US Steel Tower Garage | $8 | 44 Bigelow Sq. E  | 8 minutes |
| Smithfield & Liberty | $6 flat rate after 4 PM | 629 Smithfield St. | 4 minutes |
| 6th & Penn Garage | $15 | 540 Penn Ave. | 3 minutes |
| Three PNC Plaza | $15 | 225 Fifth Ave. | 5 minutes |
| Theater Square Garage | $20 | 120 7th St. | 2 minutes |
Note: Book your spot as early as possible to secure the best deal in the nearest lot. 

Park on the Street
If you come across an available on-street parking space, be sure to read the posted signs and park properly to avoid getting a ticket. Downtown meters are in effect from 8 AM to 6 PM, Monday through Saturday, and hourly rates vary according to the location. You may find a free spot after 6 PM or on Sundays.
Take Public Transportation
Thanks to Pittsburgh Regional Transit, visitors can take advantage of bus and subway routes to get to the venue. The cash fare is $2.75, while a Day Pass costs $7.00. 
Plenty of bus lines make stops on the surrounding streets, including 1, 2, 4, 6, 7, 8, 11, 15, 29, 31, P10, P12, etc. Alternatively, you can take the subway; Blue, Red, and Silver Lines stop at the Wood Street Station, just a minute away from the Benedum Center. Plan your trip here.
Find Cheap Spots Near Other City Venues
Aside from the Benedum Center parking guide, our fantastic team has created multiple other articles covering popular city venues:
Additionally, you can use our booking form to find the best deal near Pittsburgh Airport.