Point State Park parking
Point State Park is a 36-acre park situated where three of Pittsburgh's rivers converge (Ohio, Allegheny, and Monongahela). This green urban space is one of downtown Pittsburg's most popular venues for recreation and outdoor events. Aside from the venue's official parking lot, visitors will find several surface lots, commercial garages, and on-street parking in the area. Read our guide to learn about the most convenient options, updated rates, parking restrictions, and transportation.
Park Hours and Admission
Public access to the park and Fort Pitt Blockhouse is free, but The Fort Pitt Museum, also located inside the park, charges admission to enter. The park is open from 7 AM to 11 PM every day.
Parking at Point State Park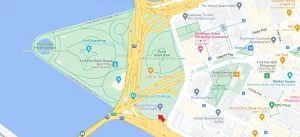 The park's official parking lot is situated along Commonwealth Place, right across from the Post Gazette Building. This lot is open from 6 AM to 11 PM and charges $10 for all-day parking. ADA parking spaces are available in this lot as well.
Additional Options Near the Venue 
If the Point State Park parking lot is sold out, consider these surface lots and garages within walking distance from the venue. Rates may change without notice. 
| | | | |
| --- | --- | --- | --- |
| Facility  | Address | Rate  | Distance |
| River Vue | 300 Liberty Ave | $21 | 450 ft |
| United Steelworkers Garage | 60 Boulevard of the Allies | $14 | 0.2 mi |
| Eleven Stanwix Street Garage | 11 Stanwix Street | $22 | 0.3 mi |
| Gateway Center Garage | 400 Liberty Ave | $22 | 0.1 mi |
| Boulevard of Allies & Stanwix Street Lot | 114 Boulevard of the Allies | $12 | 0.2 mi |
On-Street Options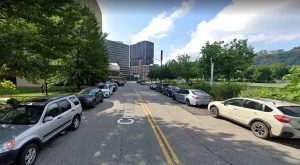 Several metered parking areas are located along Commonwealth Place and Boulevard of the Allies. The rate is $4 per hour. Metered parking is enforced Monday to Saturday, 8 AM to 6 PM, with free parking outside these hours. Street parking is free all day on Sunday. Keep an eye out for posted signs and time limits to avoid incurring a pricy Pittsburgh Parking Ticket. 
Take Public Transit
Several Port Authority bus lines, including 27, 36, 61B, 86, 87, and 91, drop by stations near the park. Alternatively, visitors may ride the Port Authority RED subway line to the Wood Street subway station, just an 8-minute walk from the park. There is no fee to ride the bus or the light rail system (subway) within the Golden Triangle. Visit the Port Authority website for stops, schedules, and fares.
Park Easily With Our Guides in Pittsburgh
Going on a city tour? Visitors and residents of Pittsburgh can find cheap or free parking in the following locations.
In addition, check out our guide on Pittsburgh Airport Parking if you're flying out of the city!