This post also contains affiliate links and we will be compensated if you make a purchase after clicking on our links.
White Rock Lake parking
Situated nearly 5 miles from downtown Dallas, White Rock Lake is one of the city's most-visited recreational areas. The sprawling, 1,015-acre lake and urban park is a playground for outdoor enthusiasts looking to hike, bike, fish, or kayak. Fortunately, parking is easy to find, with plenty of free lots and off-street options to accommodate visitors. Read our guide and learn about the best options, updated costs, parking restrictions, and transportation alternatives.
White Rock Lake at a Glance
While many visitors engage in water activities, the lake is most commonly used for its encompassing 9.3-mile hike-and-bike trail. Many of the lake's parking lots offer convenient access to the trail, allowing visitors the freedom to choose which part of the lake they want to explore.
Free Lots Around the Lake
The lake is surrounded by plenty of free parking lots. While you may encounter crowding on weekends, finding an available spot shouldn't pose much of a challenge. 
This detailed map from DallasParks.org displays all available free parking lots in the area, most of which are conveniently situated near points of interest like the Bath House Cultural Center, the White Rock Lake Dog Park, and the White Rock Boat Club. Be sure to park only within designated parking spaces to avoid a Dallas Parking Ticket. 
Alternative Parking Option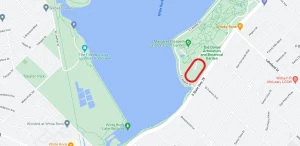 Aside from the lots indicated on the map, the Dallas Arboretum and Botanical Garden, situated on 8525 Garland Rd, offers its own parking lot. The rate is $15 for all-day parking. 
Use Public Transporation 
Visitors may ride the DART (Dallas Area Rapid Transit) bus line 214 to the Garland @ Whittier – N – Ns bus station, just a 5-minute walk from the lake. Visit the DART website for stops, schedules, and fares.
Park Without Trouble in Dallas 
Aside from White Rock Lake parking, our guides to the city's top attractions and venues will help you find the best parking spaces. 
Our team can also assist you with finding and reserving Dallas Love Field parking and DFW parking.