This post also contains affiliate links and we will be compensated if you make a purchase after clicking on our links.
SHI Stadium Parking
The SHI football stadium is located at Rutgers University and offers several parking options for those with and without parking passes. Learn about various parking options, ticket prices, ADA parking availability, and transportation with our in-depth car parking guide. 
The SHI Stadium sits at the following address: 1 Scarlet Knight Way, Piscataway, NJ 08854.
Find Parking at SHI Stadium
Several SHI Stadium parking lots are available for parking pass holders. Rates vary depending on the event and may be purchased in advance via StubHub. Another way to secure parking passes is to participate in the Football Season Parking Selection Process, which requires you to be a season ticket holder and R Fund donor. Below is the stadium parking map: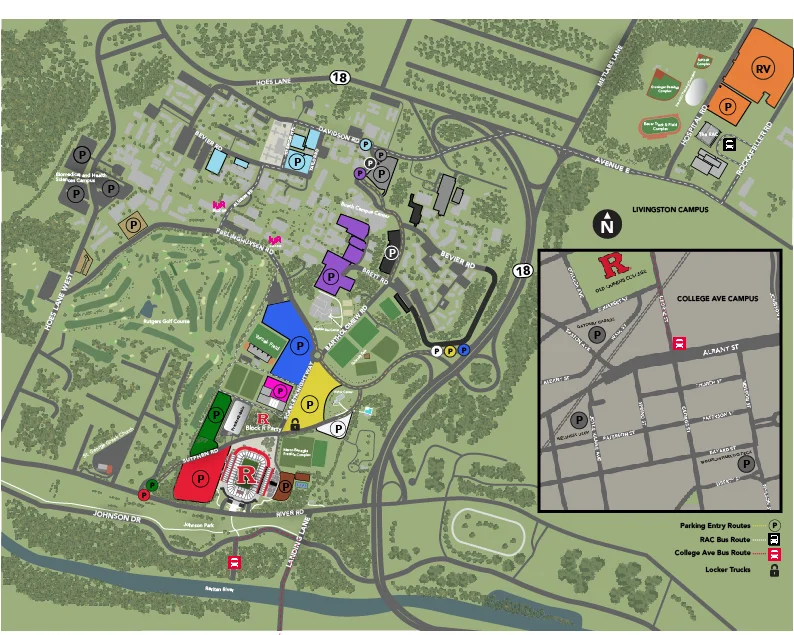 Rutgers SHI Stadium Parking lot directions are available on the Scalet Knights website. 
Those without parking passes may park in several game-day cash parking lots located on specific campuses:
Campus
Parking Facility
Rate
Walking Distance

Livingston 

Jersey Mike's Arena

$25

29 minutes

College Avenue 

Lot 26

$25

31 minutes 

Lot 30

$25

31 minutes 

College Avenue Parking Deck

$25

29 minutes 

Busch 

Johnson Park

$40

16 minutes

Hoes Lane West

$25

23 minutes 
Street Parking Around the Stadium
If the on-site parking area is full, consider metered parking. The closest metered parking spaces are located near Rutgers College Avenue Campus. Metered parking is enforced Monday to Saturday, 8 AM to 8 PM. The rate is $1.50 per hour with a maximum of 8 hours. Pay attention to the posted time limits to avoid incurring a parking ticket.
Accessible Parking 
Game day ADA parking spaces are located at Jersey Mike's Arena. Feel free to use an ADA-specific free shuttle bus available in front of the facility that can get you to the stadium. 
The Busch Campus offers disabled parking on a seasonal basis. A handicapped placard or license plate and your Rutgers Scarlet Knights Handicapped Parking Pass must be displayed to gain access to ADA spaces. Call the ticket office at 866-445-4678 for inquiries.
Park Without the Hassle in New Jersey
Make parking easier with our guides on popular New Jersey attractions: 
Additionally, read our parking guide to Newark Liberty International Airport if you're flying out of the city.