Last Updated on June 6, 2022 by Snezana Grcak
Tempe Town Lake Parking
The perennial reservoir in the Phoenix Metropolitan area, is one of Arizona's most visited destinations. Despite the attraction's popularity, parking is easy and widely available. Our parking guide offers in-depth information about the cheapest parking lots in the reservoir area, alternatives, and public transportation tips for those who want to skip the parking hassle.
Parking Around Tempe Town Lake
Most nearby car parking lots are on the South Bank, particularly in Downtown Tempe. We listed the best options for parking near Tempe Town Lake; learn more about them below.
Free Parking Garages
The most convenient free parking lot for Tempe Beach Park visitors is at the Rio Salado Parkway, located north of the Ash Avenue Intersection. The garages listed below offer more than three hours of free parking and are only free on specific days and time windows.

Paid Parking Options
Downtown Tempe is home to several paid surface lots and garages, and we selected the most affordable options nearest to the reservoir. The rates listed below are for a one-hour stay, and event parking rates may differ.
| | | |
| --- | --- | --- |
| Facility | Address | Hourly Rate |
| Tempe Beach Park Surface Lot | 250 W Rio Salado Pkwy | $2 |
| Hayden Ferry Lakeside Garage | 68 E Rio Salado Pkwy | $3 |
| Marina Heights Garage | 300 East Rio Salado Pkwy | $3 |
| Mission Palms North Lot | 281 S Mill Ave | $3 |
| Hayden Square Garage | 154 W. 5th Street | $2 |
| Mission Palms South Lot | 301 S Mill Ave | $3 |
Downtown Street Parking 
If you're making a quick visit, we recommend metered parking. The meter rates fluctuate depending on time and location; the price per hour is $1 to $2 with a maximum stay of 2 to 3 hours. 
Meters are enforced from 8 AM to 10 PM Mondays to Fridays and from 11 AM on Saturdays. Free parking is available on Sundays and holidays. All meters in Downtown Tempe accept credit/debit cards, coins, and online payments made via the ParkMobile App. 
Find Free ADA Parking
Vehicles with a handicap placard enjoy free street parking in Downtown Tempe with time limits still enforced. If you're planning to spend more time at the attraction, you'll find plenty of accessible surface lots and garages throughout Downtown. 
The nearest parking garages that offer ADA-compliant parking spaces are Hayden Ferry Lakeside Garage, 201 S. Ash Garage, and Mission Palms Lots.
Skip Parking With Public Transporation 
Valley Metro is in charge of Tempe's light rail and bus services, and the Mill Avenue/Third Street rail station is three minutes away. Valley Metro's EART bus line stops at the Rio Salado Pkwy & Hayden Ferry stop, a several-minute walk from the attraction. Both the rail and bus fare is $2 per ride. The Tempe Streetcar runs through the heart of Tempe, and it's another convenient way to reach the attraction for only $1.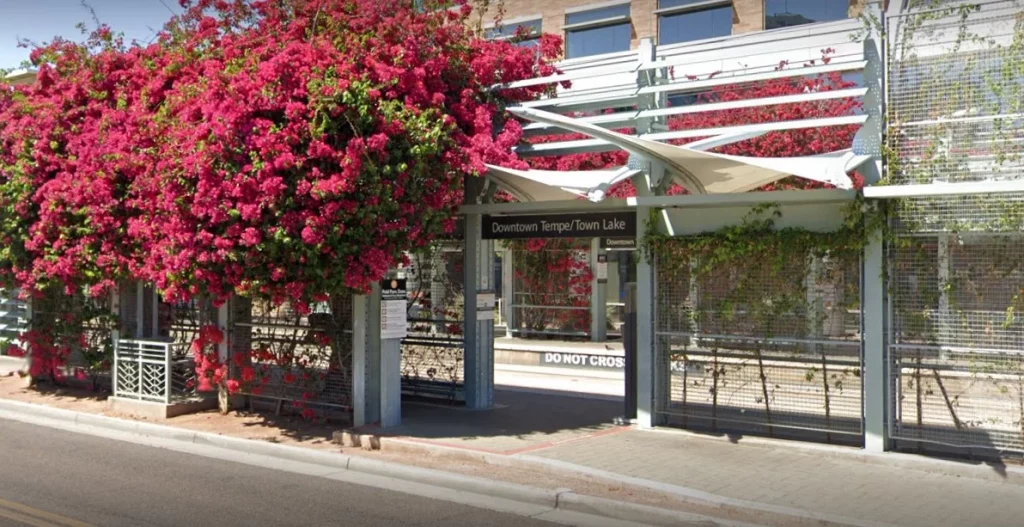 Remove the Hassle of Parking in Tempe
We've written hundreds of parking guides on popular tourist spots across the United States, so you can trust Parking Access to help you park conveniently and affordably for your next visit. Aside from Tempe Town Lake parking, we can help you find Sun Devil Stadium Parking if you plan to attend a sporting event. Additionally, if you're planning a trip, read our Phoenix Sky Harbor Int'l Airport Parking guide to compare and reserve parking spaces in airport lots.