The Port Everglades in Fort Lauderdale is a mainstay economic hub in Florida that directly supports over 230,000 jobs locally. It's a major cargo port for petroleum products, including jet fuel and gasoline. It holds the title of one of the top three busiest cruise ports in the world. If you're sailing out of Fort Lauderdale's port and searching for Port Everglades parking, you've come to the right spot!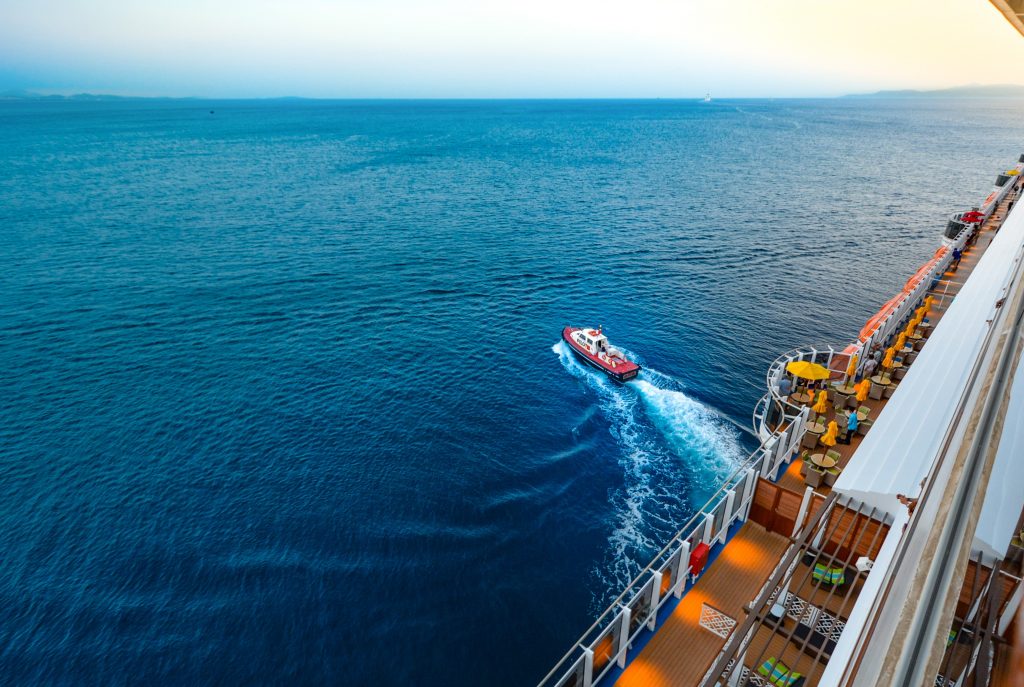 Cruise lines that serve Port Everglades are Carnival Cruise Line, Celebrity Cruises, Holland America Line, Princess Cruises, Royal Caribbean International, Balearia Caribbean, Cunard, and Silversea Cruises.

Getting Into The Port Everglades
There are three entrances to the port. On Eisenhower Boulevard, there's the 17th Street Causeway. On Spangler Boulevard, there's an entrance through State Road 84. You can also get in via I-595 East. It's recommended that you don't arrive at Port Everglades before noon in order to avoid high traffic in the morning. 
When driving into the port, make sure you have your cruise documents and government-issued photo ID handy for the security checkpoint. If you don't drive in yourself, you can use public or private transportation to get dropped off after flying into the nearby Fort Lauderdale International Airport (only 2 miles away) or Miami Airport. 
On-Site Parking At The Port Everglades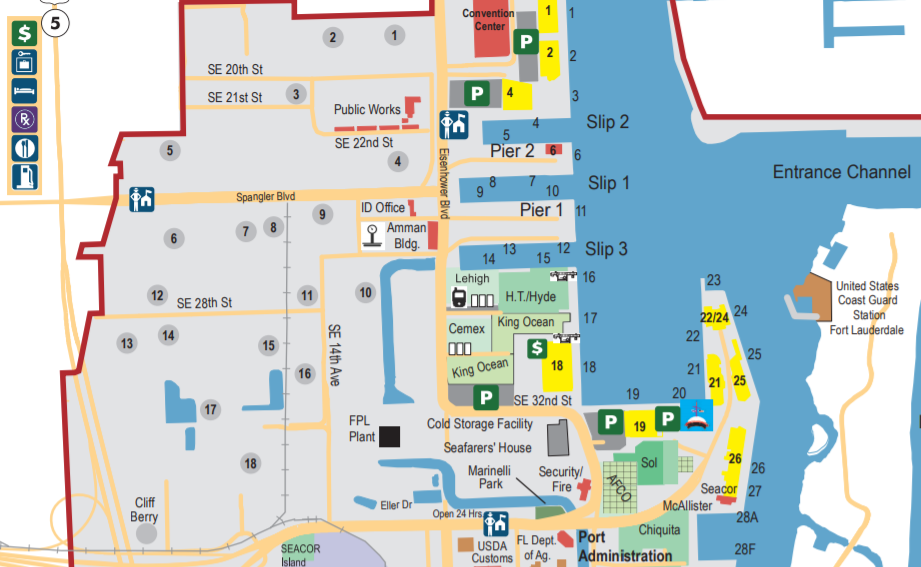 On-site Port Everglades parking garages and lots are available within walking distance. Special accommodations are available for disabled parking and oversized vehicles. Terminals 4, 18, and 19 have outdoor service lots. Garages nearby include the Northport Parking Garage and the Midport Parking Garage, and you can see the Port Everglades parking map for exact locations of car parks.
Port Everglades parking is close to the terminals, but it's suggested that you drop off other passengers with your luggage directly in front of your designated cruise terminal before your park the car. If you park at the Midport Garage, you can take a free shuttle straight to Terminal 29. Heron Parking Garage is near terminals 2 and 4, while Palm Parking Garage is convenient for cruisers who start their journey at terminals 19, 21, 25, 26, 27, and 29. Terminal 18 offers its own surface parking lot.
How much is parking at Port Everglades?
| | |
| --- | --- |
| Duration | Parking Cost |
| 0-1 hours | $3 |
| Up to 5 hours | $6 |
| Every additional hour | $1 |
| Daily maximum | $15 |
| Daily max for oversized vehicles | $19 |
The price of $15 per day is the same in all surface parking lots and each cruise parking garage. Cash and credit cards are accepted as you leave the lot and finish your parking stay. If you come back to find your car with a flat tire or dead battery, emergency service is available to help.
Off-Site Port Everglades Cruise Parking
Located at 101 Eller Drive, Ft. Lauderdale, Park 'N Go requires that you leave your keys and use their valet parking attendants to bring your car to a parking lot with security. Ratings for this service are excellent. After you drop off your keys, a shuttle service brings you to the port at no extra charge. They also provide free assistance with luggage. For this option, it's cheaper to book in advance—the online rate is $7.99 per day.
For longer cruises, you can also try Park 'N Fly, which is less than a mile from the port. They provide valet parking and shuttle service directly to your cruise terminal. The cost per day is cut significantly (by almost 50%) if you plan to park for six days or more. If you won't be back on land for a while, this is definitely an option worth checking into. The online price is $9.99 per day.
Alternative Off-Site Port Everglades Parking
Getting Dropped Off At The Port
If you don't want to bother with your own car, you can use rideshare, taxi, or a paid shuttle bus available through many transportation companies. Complimentary shuttles are not available, but calling up a local car rental company will give you the current rate for a shuttle to the cruise port.
A few trains also go by the port, including Brightline, Tri-Rail, and Amtrak. Brightline provides local connections from Miami and West Palm Beach. Its Fort Lauderdale stop is located at 101 NW 2nd Avenue. The Tri-Rail is a commuter line with its nearest stop to the port located at 500 Gulf Stream Way in Dania Beach. The Tri-Rail provides direct transportation to the Miami International Airport. Amtrak stops are all over the country, and it has two locations near the Port Everglades: Fort Lauderdale Station (200 S.W. 21st Terrace) and Hollywood Station (3001 Hollywood Boulevard). Amtrak can be pricey depending on how far you plan to go, but it offers some nice perks for travelers (like WiFi).
Several local bus lines are also available to deliver you to the port. Apart from local Florida buses, you can also use larger nationwide buses (Greyhound and Megabus). If you're staying in a hotel, call ahead about shuttle services to the cruise port. Many area hotels offer transportation to the port for guests.
Park & Cruise Deals by Fort Lauderdale Hotels
There are many Cruise & Snooze deals available at Fort Lauderdale hotels near Port Everglades. Plus, most park and fly hotels offer cruise options. Some examples include: 
Hilton Garden Inn is 5 miles from the Port Everglades has a package deal that includes an overnight stay, parking for $4/day, and a 24-hour shuttle to the port. 
A stay at the Cambria Hotel and Suites includes Port Everglades cruise parking plus a $10 shuttle to the cruise terminal.
If you want to stay near the airport, you can choose the Comfort Suites for as low as $7/day parking and a $10 shuttle to the cruise port.
The Best Western Plus only costs $5/day for parking while you're on the cruise and has a $12 shuttle to the airport.
Conclusion
If you wish to leave your car at the Port Everglades, there seems to be no reason not to. Other than having to pay the daily fee, there are no downsides to Port Everglades parking either on-site or using a nearby valet service. You have several convenient lots to choose from that have great reputations.
If you fly to Florida, the Fort Lauderdale International Airport will get you close to the Port Everglades. From there, you can choose from a variety of affordable ride services and shuttles. If you decide to fly into the Miami Airport, check into local trains or buses to avoid the cost of a private ride. 
Whichever way you get there, be sure to give yourself extra time to check out the artwork featured at the cruise terminals before embarking on your cruise. You should plan to arrive two hours before your scheduled departure time to make sure you don't miss your boat. Don't fret about the wait time, the terminals are comfortable with air conditioning, snack machines, and WiFi.
People also searched for: