Parking Lot Name: US Park

Address: 1025 Airline Drive, Kenner LA

Date of Review: 7/28/19

By: Andrew Doughty
Lot Review Summary (1 out of 5 stars) 
Shuttle: 4 out of 5
Staff: 5 out of 5
Facility: 3 out of 5. 
Location: 5 out of 5
Ease to Find: 5 out of 5
The Bottom Line: 
The lot was easy to find and very easy to find a parking spot. Nearly as soon as I stepped out of my car, the shuttle was there to take me to the airport. The staff was nice and polite, even though the facilities are a little dated. The experience was a very good one from start to finish. It was easy to find and easy to find a parking spot.
As soon as you get out of the vehicle the shuttle is there to pick you up. The drivers are nice and help you load your luggage. They also give you a ticket to help you find your car when you return. They drop you off at the terminal you will be flying from then pick you up downstairs in the waiting section. You feel very well taken care of when you decide to park here.
That goes a long way to helping overlook the dated feel to the facilities. They go out of their way to make you feel very secure in your decision to use their lot.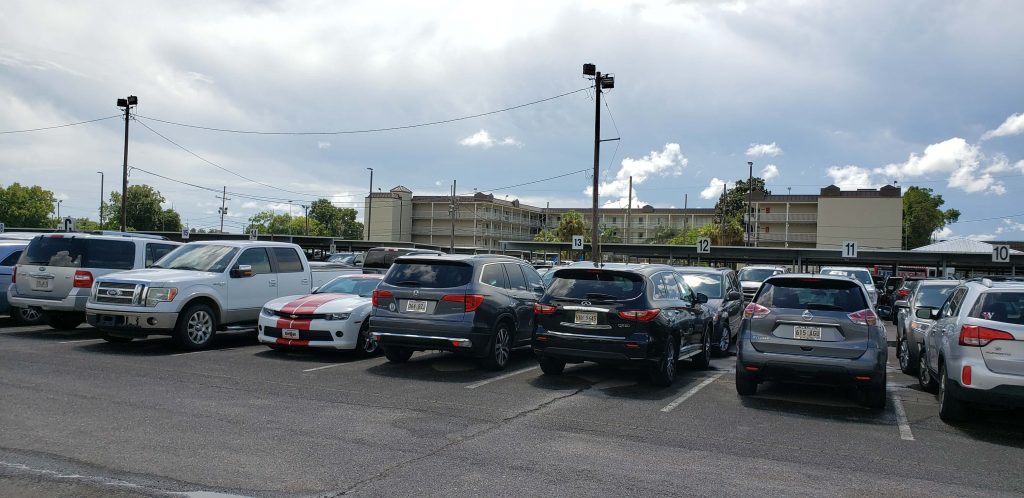 Pros: 
The parking lot is easy to find and not confusing., -The staff is polite and very helpful.-The parking is well planned and easy to navigate. 
Cons: 
The parking lot and facilities need an update. It really needs a face-lift.- No major amenities. They do offer covered parking but not much else really.  
Operation Hours:
There are no signs that dictate the hours but they are open 24/7 with staff on the grounds day and night.  
Arrival Info: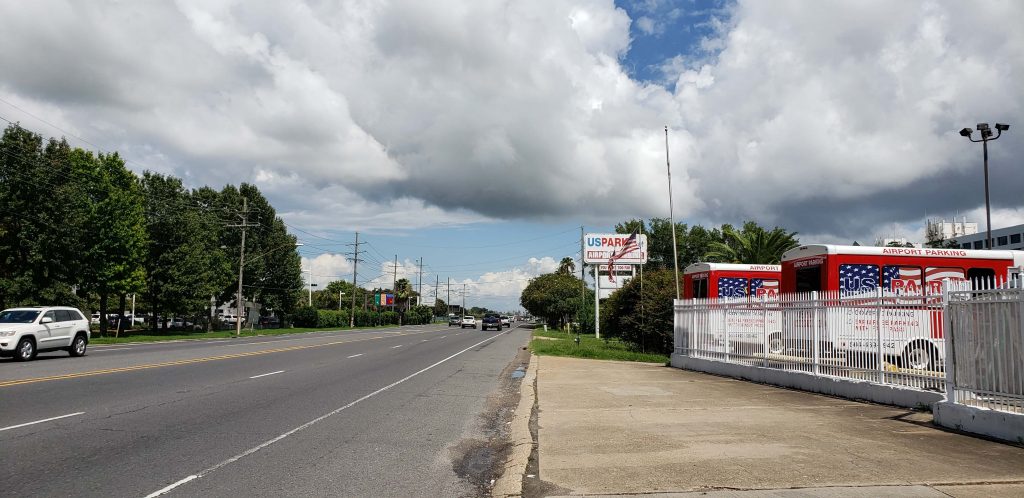 The entrance is right across the airport. There is a large sign and an office that you can't miss. Pulling up the gate has a guard who gives you a ticket and instructs you on where to park. They will give you easy instructions to follow, then inform a shuttle driver which row you are on who will come directly to pick you up. There are easy to follow signs that direct you exactly where to go. The guard will give you instructions to the appropriate lane to park your car. They also give you a ticket you will need to keep track of to return when you come back. After finding your aisle they will have a shuttle ready to pick you up. The entrance and exit are located at the same place, the attendant will take your ticket and charge you the appropriate amount when you are leaving the gate. After that, it is a straight shot onto the airline. There are shuttles running every few minutes during the busy hours.  
Shuttle: 

The shuttles here are a bit older. The drivers though are very polite and helpful. They still run fine, and the driver gives you a ticket upon boarding so that you will remember where you parked. They arrive nearly as soon as you get out of your vehicle and promptly pick up the other passengers before driving to the airport. When arriving back in the lot, you will hand your ticket to the driver of the shuttle and they will take you directly to your car. The shuttles run throughout the whole day and night. Driver's are typically tipped a few dollars upon delivery. It is a very smooth operation with the minimal hassle that makes it easy and less confusing for anyone who decides to use this facility to park. All in all, riding in the shuttle was a good and informative experience. Typically at the end of each ride, you will give the driver a few dollars as a tip.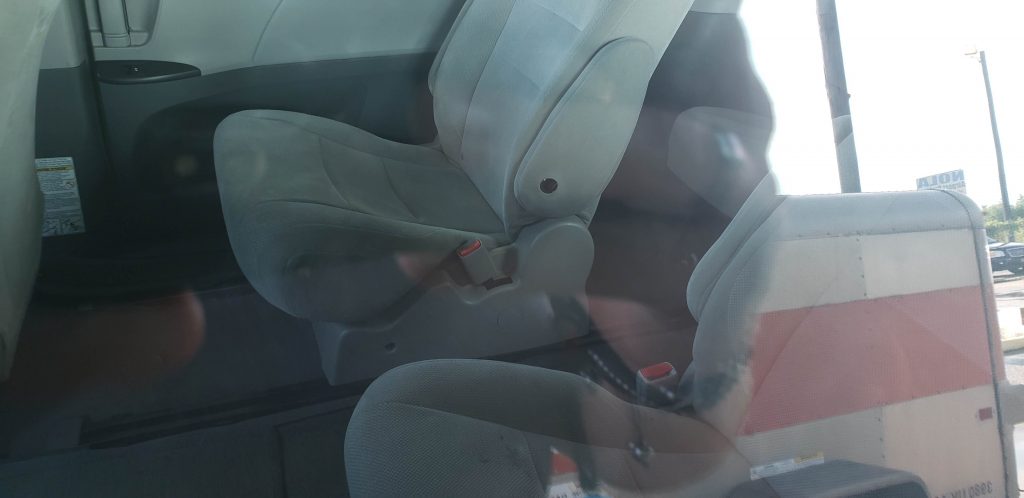 Lot Amenities: 
The lot offers covered parking but not much else. This is one department they could really improve and step up their game in. While they do offer awesome customer service, they could definitely make a huge improvement by offering amenities like washing your vehicle, valet parking, and detailing of the interior.  
Facility: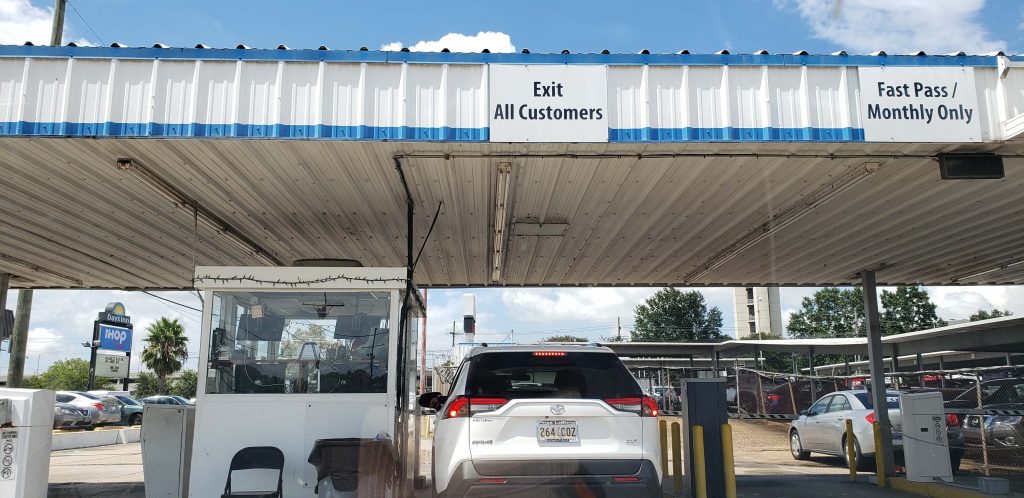 The facility is large and spacious if a little bit dated. They could certainly use a face-lift to help improve their appearance. Of course, their system is well thought out and laid out in a natural manner to make it as hassle-free as possible.  It is well laid out and organized which makes finding a parking spot easy and less of a stressful factor. The communication and signs directing you to your parking location make it so much easier than it would otherwise be.  
Summary: 
Overall the experience was very good. From the moment you arrive, you don't feel confused or hassled at all. It seems that most everything that can be taken care of is. This is a valuable asset to anyone who is traveling because it can already be fairly stressful. The staff make the experience wonderful with their kind demeanor and are a showcase of southern hospitality. Some of the facilities are out of date but that is overshadowed by the ease with which there was to find a parking space and how quickly I found myself at the airport. The system they have worked. They make sure to keep everything running smoothly and efficiently.   On top of it, the staff is very polite and accommodating. They look for ways to help you and go out of the way to make sure you are taken care of.  They do charge $14 dollars a day but the cost is more than covered with the wonderful customer service they offer.  In addition to the secure feeling and stress free parking of their lot. It takes a lot off the mind to know that your belongings will be safe while you are out traveling. In short, they make the stressful nature of going through an airport a little more stress free than it would otherwise be. 
New Orleans Airport Parking Reviews
The following table includes a complete list of all the parking lot reviews on parkingaccess.com.

All of these parking lots were visited by one of our staff.

Each staff member visits the facility as an actual parking customer, without the parking lots knowledge, leaves there car, rides on the shuttle to and from the airport and experiences as much of the parking facility as it has to offer.
| | | | | |
| --- | --- | --- | --- | --- |
| Parking Lot Name | Score | Price | Type |  Review |
| Park 'N Fly | 90% | $$$ | Valet/Self-park | Read Review |
| US Park | 95% | $$ | Self-Park | Read Review |
| NOLA Airport Parking | 70% | $$ | Self-Park | Read Review |