Being the state's largest exhibition center, the modern Hawaii Convention Center hosts an array of events on the Oahu island. Its convenient on-site garage accommodates nearly 700 vehicles and is ADA accessible. The Parking Access team will help you reach your destination via car or public transportation and find an affordable Hawaii Convention Center parking space. You'll also learn about accessibility, bicycle stalls, the closest free lots, and on-street parking restrictions in the area. Use our guide to safely travel and park your vehicle in the urban Waikiki district.
The venue's address for directions is 1801 Kalākaua Avenue, Honolulu, HI 96815.
Parking at Hawaii Convention Center
Accessible from Kalākaua Avenue, the Hawaii Convention Center parking structure is open during regular opening hours (5 AM–11 PM) and all events. EV charging stations are available, too.
The garage offers free parking for up to 30 minutes, while the standard parking fee is $12 per vehicle.
If you're arriving from the north, look for the green sign from the following photo to reach the main parking entrance, or click here for the interactive map.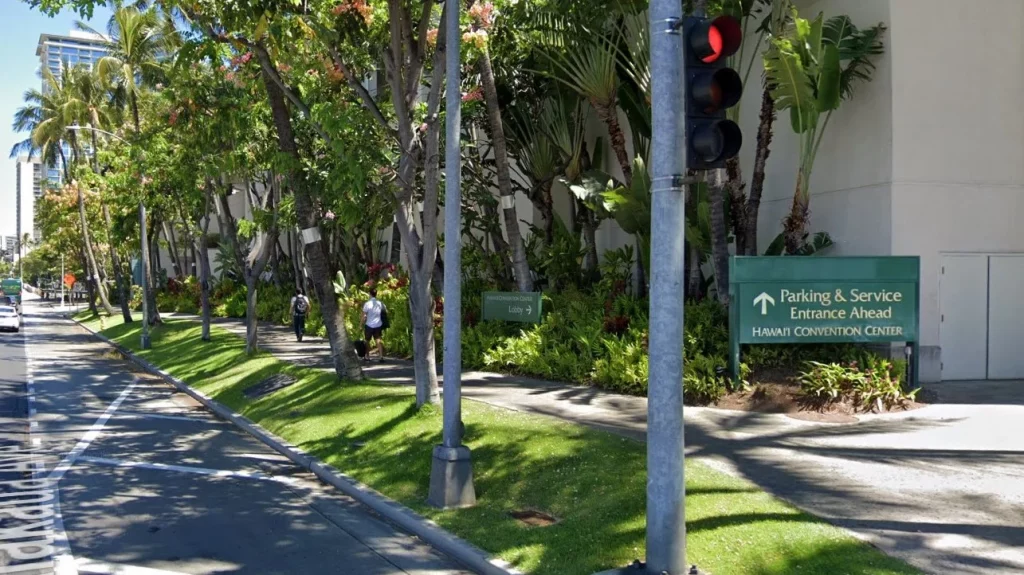 ADA Parking Availability
Accessible parking spaces are obtainable on a first-come, first-served basis in Row A. Any driver who occupies an ADA spot must display a disabled parking permit. The maximum vehicle height is 8'11", and oversized vehicle drivers must make a reservation at (808) 943-3018.
Bicycle Racks
If you plan to ride a bike to the convention center, find the racks in front of the building on both Kapiʻolani Blvd. and Kalākaua Ave. The venue is also a part of the city's new bike-share program called Biki Stop; click here for all the info.
Nearby Lots & On-Street Meters
Ala Moana Beach Park is within a 10-minute walk west of the center and offers free daily parking from 4 AM to 10 PM. The lot tends to get crowded on weekends or during peak hours.
Parking meters in Waikiki charge around $1.50 per hour. However, street parking is hit-and-miss, and regulations vary according to the zone, so we recommend off-street lots. If you find an available street spot, read the posted signs carefully to dodge pricey parking tickets.
Public Transportation
Honolulu's TheBus system allows easy and affordable access to the venue. Bus routes 2, 4, and 13 stop on Kalākaua Avenue, and a cash bus fare is $3. For additional info, maps, and schedules, click here or call (808) 848-5555.
We Make Parking Effortless
Aside from Hawaii Convention Center parking, we've covered other popular city locations, including the following.
Also, if you're flying out of HNL, don't forget to book cheap Honolulu Airport Parking.